Climate Change Harming Hundreds of Migratory Bird Species
WASHINGTON, DC, March 17, 2010 (ENS) – Climate change is putting pressure on hundreds of species of migratory birds, already stressed by habitat loss, invasive species and exposure to toxic chemicals, a new U.S. government report concludes. In part to meet their needs for protection, the Department of the Interior is laying the groundwork for a network of science-based landscape conservation cooperatives.
"The State of the Birds: 2010 Report on Climate Change" indicates that the warming climate will have an increasingly disruptive effect on bird species in all habitats, with oceanic and Hawaiian birds in greatest danger.
"Just as they did in 1962 when Rachel Carson published "Silent Spring," our migratory birds are sending us a message about the health of our planet," said Interior Secretary Ken Salazar, releasing the report on Thursday.
"That is why – for the first time ever – the Department of the Interior has deployed a coordinated strategy to plan for and respond to the impacts of climate change on the resources we manage," he said.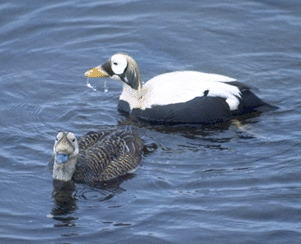 A pair of spectacled eider sea ducks in Alaska. The species is federally listed as threatened. (Photo courtesy USGS)
On March 4, Secretary Salazar announced that the first of eight new regional climate science centers planned by Interior Department would be based at the University of Alaska. The centers are expected to develop practical, landscape-level strategies for managing climate change impacts on birds and on land, natural, and cultural resources within the eight regions.
The centers will provide scientific and technical expertise to help support a new federal government network of landscape conservation cooperatives.
With an initial federal investment of $25 million in FY2010, the landscape conservation cooperatives are intended to become applied conservation science partnerships between the U.S. Fish and Wildlife Service and other federal agencies, states, tribes, nongovernmental organizations, universities and the public within each of the eight regions.
Rather than create a new conservation infrastructure from the ground up, said Salazar, the landscape conservation cooperatives are expected to build upon explicit biological management priorities and objectives. They will incorporate the science available from existing fish habitat partnerships, migratory bird joint ventures and flyway councils, as well as species-based and geographic-based partnerships.
The landscape conservation cooperatives will address landscape-scale stressors, such as habitat fragmentation, genetic isolation, invasive species, and water scarcity, all of which are accelerated by climate change.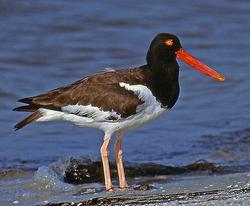 An American oystercatcher in San Carlos Bay, Florida (Photo by Peter Wallack)
The new State of the Birds report, a collaboration among experts from the U.S. Fish and Wildlife Service and conservation organizations, identified common bird species that are likely to become species of conservation concern as a result of climate change, such as the American oystercatcher, common nighthawk, and northern pintail.
For bird species that are already of conservation concern such as the golden-cheeked warbler, whooping crane, and spectacled eider, the added vulnerability to climate change may hasten declines or prevent recovery.
"Birds are excellent indicators of the health of our environment, and right now they are telling us an important story about climate change," said Dr. Kenneth Rosenberg, director of Conservation Science at the Cornell Lab of Ornithology. "Many species of conservation concern will face heightened threats, giving us an increased sense of urgency to protect and conserve vital bird habitat."
Oceanic birds are among the most vulnerable species because they raise few young each year; they face challenges from a rapidly changing marine ecosystem; and they nest on islands that may be flooded as sea levels rise. All 67 oceanic bird species, such as petrels and albatrosses, are among the most vulnerable birds on Earth to climate change.
"All of the effective bird conservation efforts already taking place to protect rare species, conserve habitats, and remove threats need to be continued." said David Mehlman of The Nature Conservancy "Additionally, they need to be greatly expanded to meet the threat climate change poses to bird populations."
Hawaiian birds such as the endangered puaiohi and 'akiapola'au already face multiple threats and are increasingly challenged by mosquito-borne diseases and invasive species as climate change alters their native habitats.
"The State of the Birds: 2010 Report on Climate Change" follows a comprehensive report issued last year showing that that nearly a third of the nation's 800 bird species are endangered, threatened or in decline.
"While there is much to be concerned about in this report, we can reduce the impact of climate change by taking immediate action to reduce carbon emissions and find creative conservation solutions to help birds adapt to the changes that are already in process." said David Pashley, vice president American Bird Conservancy.
Birds in coastal, arctic-alpine, and grassland habitats, as well as those on Caribbean and other Pacific Islands show intermediate levels of vulnerability.
The report concludes that most birds in arid lands, wetlands, and forests show relatively low vulnerability to climate change.
"The dangers to these birds reflect risks to everything we value: our health, our finances, our quality of life and the stability of our natural world," said the National Audubon Society's Glenn Olson. "But if we can help the birds weather a changing climate, we can help ourselves."
Copyright Environment News Service (ENS) 2010. All rights reserved.
Environment News Service (ENS) © 2010 – 2012 All Rights Reserved.