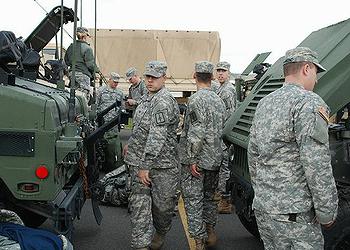 NEW YORK, New York, October 28, 2012 (ENS) – Large and "extremely dangerous," the National Weather Service says Hurricane Sandy is expected to bring "life-threatening storm surge flooding" to the Mid-Atlantic coast, including Long Island Sound and New York Harbor, on Monday morning. Winds are forecast to blow up to hurricane force at landfall, and heavy snow is expected in portions of the Appalachian mountains.
In New York City, Mayor Michael Bloomberg has ordered the evacuation of some 375,000 people from low-lying areas in all five boroughs.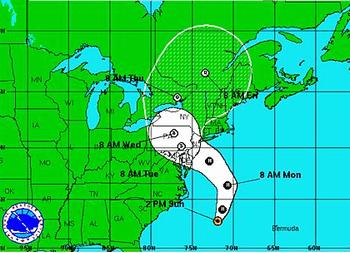 "They now are talking about a surge from six to 11 feet," the mayor told media today. "The gale-force winds are going start late this afternoon and growing overnight. The worst of the storm will still be on Monday night, and that's the worst of the surge. But tides overnight this night will lead to flooding in low-lying coastal areas – those designate as Zone A."
Low-lying areas – Zone A – include: Coney Island, Manhattan Beach, and Red Hook and other areas along the East River in Brooklyn; all of the Rockaways, and also Hamilton Beach and Broad Channel in Queens; almost all the coastal areas of Staten Island; City Island, a small patch of Throgs Neck, and other patches of the South Bronx are also part of Zone A; and Battery Park City and stretches of the West Side waterfront and of the Lower East Side and East Village in Manhattan.
New York transportation officials have ordered all subway, bus, and commuter railroad service to be shut down at 7 pm, Sunday; some subway vent shafts and station entries are already blocked with plywood to prevent flooding underground. The duration of the service suspension is unknown, and there is no timetable for restoration.
New York MTA Bridges and Tunnels' seven bridges and two tunnels will remain open Sunday evening. Closures will be determined on a case-by-case basis based on high winds, rainfall and roadway conditions. Sustained winds of 60 mph or more may require bridge closures. Service on the Staten Island ferry and the East River ferry has been suspended until further notice.

"Let me stress," said Mayor Bloomberg. "If you don't evacuate, you're just putting your own life in danger; you are endangering the lives of first responders who may have to come in and rescue you. And we hope you don't face those kinds of dire situations, but you could."
"My concern is for all the people, and particularly for the first responders who are willing to put their lives on the line, but there's no reason to have extra risks just because some people said, 'Well, maybe I'll wait it out,' and then later on changed their mind,'" the mayor said.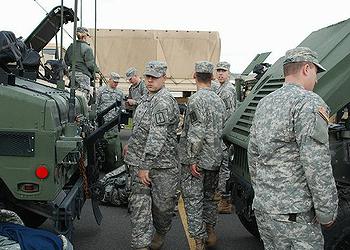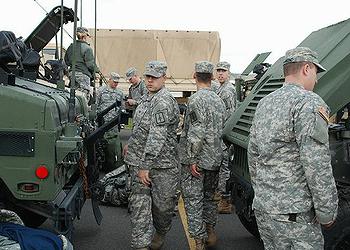 In anticipation of the high winds and heavy rains driven by Hurricane Sandy, all New York City public schools will be closed Monday.
New York Governor Andrew Cuomo Friday declared a state of emergency in New York, ordering up more than 1,100 New York Army National Guard soldiers. Starting today, 200 National Guard soldiers will go on duty in New York City.
Sandy is one of the largest storms ever recorded in the Atlantic Basin. The worst impacts will be felt Monday through Tuesday, but at 2pm, the Southeast coast was already experiencing the hurricane.
Tropical storm conditions with winds of 75 miles per hour are already occurring over coastal North Carolina and Southeastern Virginia with the storm center located about 270 miles southeast of Cape Hatteras, North Carolina and moving northeast at 14 mph. A turn to the north and then the northwest is expected tonight and early Monday.
Gale force winds are expected to arrive along parts of the Mid-Atlantic coast later today with rainfalls totaling between three and eight inches, with isolated maximum rainfall of 12 inches possible.
 Amtrak canceled Northeast Corridor service north of New York City as of 7 pm tonight, and nearly all service on the eastern seaboard on Monday, including the Acela Express, Northeast Regional, Keystone and Shuttle trains.

President Barack Obama cancelled his campaign trips and returned to the White House to oversee federal response and support for the states. The President today declared an emergency exists in the states of Maryland, New York, Massachusetts, New Jersey, Connecticut and the District of Columbia and ordered federal aid to supplement state and local response efforts.
"As Hurricane Sandy makes its way north, I urge all Maryland residents to prepare for extreme weather," said Maryland Governor Martin O'Malley.
Hurricane Sandy may bring significant snowfall to Maryland, warns the state's emergency management agency, saying, "Heavy snowfall in the region has the potential to knock out power supplies, heat, telephone service and result in a shortage of supplies if the continues for a few days."
Governors along the entire Atlantic Seaboard have declared states of emergency, opened shelters and mobilized emergency workers.
New Jersey Governor Chris Christie has suspended gaming activity as of 3:00 pm today to protect coastal Atlantic City. "Division of Gaming Enforcement staff have been in constant dialogue with the casinos to ensure an orderly shutdown of gaming operations on Sunday," he said. "They have also assured me that the necessary security, surveillance, maintenance operations and personnel are in place to secure the properties gaming equipment and assets."
Delaware Governor Jack Markell issued a mandatory evacuation order for flood-prone areas along Sussex County's coastline and major waterways, effective 8 pm Saturday.
"This storm is severe and its potential damages significant. It is critical that residents in areas of greatest risk leave those areas now before the storm's full force is felt and lives are put at greater risk," said Markell, who spent Saturday with emergency responders and state workers at the Delaware Emergency Management Agency and in flood-prone areas.
"The prospects of Sussex County dodging a bullet this time are looking less and less by the hour," said the county's Emergency Operations Center Director Joseph Thomas. "Now is the time to move as we get closer to this storm coming ashore. If you've experienced flooding from any storm in the past, you're going to have flooding from this one. For anyone who doesn't get out now, it may be days before help can get to you."
Weather officials forecast that the storm will be slow moving. It may take a long time to clear and also for power companies to clear trees and restore power outages.
Speaking from the Washington, DC headquarters of the Federal Emergency Management Agency, President Obama said this afternoon, "My first message is to all the people across the Eastern seaboard, Mid-Atlantic, going north, that you need to take this very seriously and follow the instructions of your state and local officials, because they are going to be providing you with the best advice in terms of how to deal with this storm over the coming days."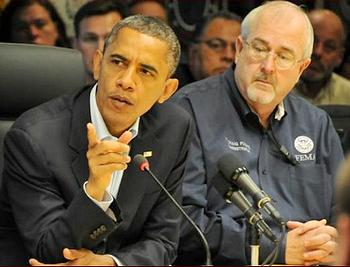 After meeting with the FEMA team, headed by Craig Fugate, and officials from the Department of Defense, the Department of Energy and other responding agencies, the President spoke by phone with regional officials, the governors of the potentially impacted states, and officials of major cities in the region.
On that call the President was joined by Homeland Security Secretary Janet Napolitano, FEMA Administrator Fugate, Deputy Chief of Staff Alyssa Mastromonaco, Deputy Assistant to the President for Homeland Security Richard Reed, Virginia Governor Robert McDonnell, Maryland Governor Martin O'Malley, Delaware Governor Markell, Pennsylvania Governor Tom Corbett, New Jersey Governor Christie, New York Governor Andrew Cuomo, Connecticut Governor Dan Malloy, Massachusetts Governor Deval Patrick, District of Columbia Mayor Vincent Gray, Baltimore Mayor Stephanie Rawlings Blake, Philadelphia Mayor Michael Nutter, Newark Mayor Cory Booker.
"At this stage," Obama said, "everybody is confident that the staging process, the prepositioning of resources, commodities, equipment that are going to be needed to respond to this storm are in place. But as Craig has emphasized, this hasn't hit landfall yet, so we don't yet know where it's going to hit, where we're going to see the biggest impacts. And that's exactly why it's so important for us to respond big and respond fast as local information starts coming in."
"My message to the governors, as well as to the mayors, is anything they need, we will be there," said Obama. "And we're going to cut through red tape. We're not going to get bogged down with a lot of rules. We want to make sure that we are anticipating and leaning forward into making sure that we've got the best possible response to what is going to be a big and messy system."
Fugate advised members of the public to go to Ready.gov for information on how to protect them and their families. "Also check on your neighbors," said Fugate. " This is going to be a big storm. We need to be there for each other."
Copyright Environment News Service (ENS) 2012. All rights reserved.