SANTA FE, New Mexico, April 5, 2021 (ENS) – New Mexico Governor Michelle Lujan Grisham, a Democrat, today signed into law a bill banning traps, snares, and poisons on public lands across the state nicknamed The Land of Enchantment.
Called "Roxy's Law" in honor of a cattle dog who was strangled to death in a neck snare on public lands in 2018, this new law will go into effect in 2022 and will save native wildlife, recreationists and companion animals from cruel and indiscriminate traps, snares, and poisons on public lands.
The state legislature gave final approval to the bill on March 18. "Tonight's final vote to ban leg-hold traps, snares and poisons on New Mexico public lands is historic. Starting April 1, 2022, we will know there will be fewer wolves, dogs, coyotes, cats, elk, fox, birds, beavers and other animals that will experience terror, pain, permanent injury and even death," New Mexico State Senator Brenda McKenna, a Democrat, said then.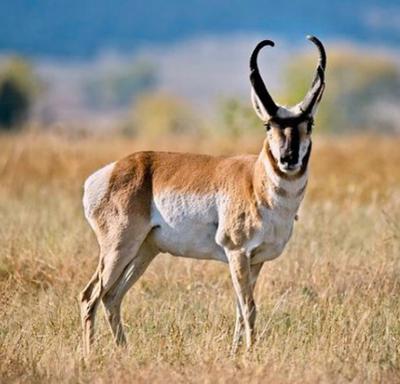 Since 2008, private trappers in New Mexico have killed nearly 150,000 native animals such as bobcats, swift foxes, badgers, beavers, ermine, and coyotes, according to the nonprofit NGO WildEarth Guardians. Critically endangered species, such as the Mexican gray wolf, have been killed and hurt in traps, including two wolves caught in traps in New Mexico in the past six months.
"This is a monumental victory and a tremendous day for native wildlife in New Mexico and for the public lands that they call home. It's also a day on which the Governor has signaled that outdoor recreation and public safety are critical to New Mexico's economic future," said Chris Smith, southern Rockies wildlife advocate for WildEarth Guardians.
"Getting this bill signed into law has been a priority for WildEarth Guardians for a decade. We applaud every citizen advocate and elected official who made this possible over the last decade. It is wonderful to catch up to our neighbors in Colorado and Arizona and show other western states the way forward in terms of respecting wildlife and protecting public lands."
The bill was supported by a coalition of environmental groups, including the Center for Biological Diversity, Animal Protection Voters, Conservation Voters New Mexico, Defenders of Wildlife, the Endangered Species Coalition, New Mexico Wild Action Fund, New Mexico Veterinary Medical Association, Project Coyote, the Southwest Environmental Center, the Rio Grande Chapter of the Sierra Club and WildEarth Guardians.
"The legislature's thoughtful and humane vote will spare so many vulnerable animals," said Michael Robinson of the Center for Biological Diversity in Silver City. "Bobcats, foxes, badgers and ringtails play vital ecological roles and don't deserve horrific deaths just so their pelts can be sold internationally. And I'm particularly grateful that banning these traps means we won't see any new three-legged Mexican wolves limping through the Gila National Forest."
State Representative Matthew McQueen, who was among the bill's co-sponsors, said, "This bill is supported by the majority of New Mexicans and will contribute to New Mexico's bright outdoor recreation future."
© 2021, News Editor. All rights reserved.