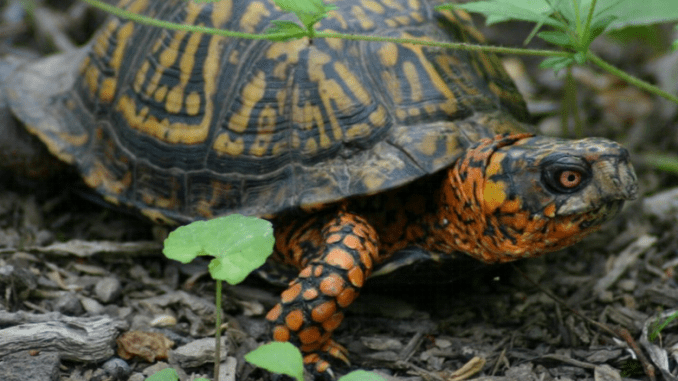 CAMDEN, New Jersey, October 8, 2021 (ENS) – "The extradition of a foreign national who had never set foot on American soil for financing a turtle-trafficking ring in the U.S. sends an important message – those who exploit imperiled wildlife for profit will be brought to justice," said Edward Grace, assistant director for the U.S. Fish and Wildlife Service Office of Law Enforcement at the sentencing Wednesday of a Chinese citizen extradited to the United States from Malaysia.
Kang Juntao, 25, of Hangzhou City, China, had previously pleaded guilty in U.S. District Court in Camden, New Jersey, to financing a nationwide ring of people who smuggled at least 1,500 protected turtles, valued at more than US$2.25 million, from the United States to Hong Kong.
On October 6, Kang was sentenced to 38 months, a little over three years, in prison and one year of supervised release on a federal money laundering conviction. The court ordered Kang to pay a $10,000 fine, equaling the total assets he held in the United States.
From at least June 12, 2017, to December 3, 2018, Kang recruited a network of poachers, shippers and middlemen to illegally obtain and export turtles. He sent money through U.S. banks, including one in New Jersey, to pay for the turtles and their shipments. He arranged for the turtles to be sold illegally in the Chinese pet market for thousands of dollars each.
Kang sent money via PayPal, credit cards or bank transfers from China to the United States to purchase turtles from sellers advertising on social media or reptile trade websites.
These suppliers then shipped the turtles to middlemen across five different states. The middlemen were typically Chinese citizens who entered the country on student visas.
Kang paid and instructed these intermediaries to repackage the turtles in boxes with false labels for clandestine shipment to Hong Kong. The turtles were inhumanely bound with duct tape and placed in socks so as not to alert customs authorities.
The United States, Malaysia, China and 181 other countries are signatories to the Convention on International Trade in Endangered Species, CITES, an international treaty that restricts trade in species threatened with extinction.
Kang trafficked in five turtle species protected by the treaty.
The wood turtle (Glyptemys insculpta) has been protected under CITES since 1992.
The eastern box turtle, Terrapene carolina carolina, the Florida box turtle, Terrapene carolina bauri, and the Gulf Coast box turtle, Terrapene carolina major, are subspecies of the common box turtle, Terrapene carolina, and have been listed in CITES since 1995.
The spotted turtle, Clemmys guttata, is a semi-aquatic turtle listed by CITES as of 2013.
The turtles are worth on average between $650 to $2,500 each in the Asian market. Female turtles with rare markings have been sold for as much as $20,000.
Neither Kang nor his associates declared the turtles to United States or Chinese customs authorities or obtained the required CITES permits.
Kang had never entered the United States, but the U.S. money laundering statute provides jurisdiction when someone outside of the country passes more than $10,000 through the U.S. financial system to promote specified unlawful activities, such as smuggling wildlife.
The Royal Malaysia Police arrested Kang when he traveled to Kuala Lumpur on January 23, 2019. Kang was extradited to the United States to stand trial in the District of New Jersey in December 2020 in accord with the extradition treaty between the United States and Malaysia.
Grace said, "This investigation illustrates the global reach of the [U.S. Fish & Wildlife] Service's Office of Law Enforcement made possible by close coordination with partners, including the government of Malaysia, and our resolve to stop international wildlife trafficking from source to consumer."
Featured image: Adult male eastern box turtle, Terrapene carolina carolina, central Indiana, 2007 (Photo public domain courtesy Wikipedia)