Nationwide Partnership Seeks to Halve Honeybee Losses
UNIVERSITY PARK, Pennsylvania, May 19, 2011 (ENS) – A new nationwide network to monitor and maintain honeybee health is being created by the Bee Informed Partnership.
Their goal is to help honeybees to recover from assaults such as mites, fungii, pesticides, competition by alien species, the disappearance of flowering plants, air pollution and climate change that have caused bee colonies to collapse not only across the United States but around the world.
The five-year, $5 million program led by Pennsylvania State University received notice on Tuesday that it is being funded by the U.S. Department of Agriculture's National Institute of Food and Agriculture.
"We would like to reduce honeybee mortality, increase beekeeper profitability and enhance adoption of sustainable management systems in beekeeping," said Dennis vanEngelsdorp, senior extension associate in Penn State's College of Agricultural Sciences, who will lead the multi-state project.
"At the same time," he said, "we want to increase the reliability of production in pollinator-dependent crops and increase the profitability of pollinator-dependent producers."
VanEngelsdorp says the team hopes that their work, and especially their educational efforts to introduce the best management practices, will reduce national losses in honeybee populations by 50 percent over the next five years.
Beginning in October 2006, some beekeepers began reporting losses of 30 to 90 percent of their hives. While colony losses are not unexpected during winter weather, the magnitude of loss suffered by some beekeepers was unusual and is still ongoing.
Called Colony Collapse Disorder, the stricken hives do not show piles of dead bees, but there are no adult honey bees or a low number of them present with a live queen. Often there is still honey in the hive, and immature bees are present.
The Bee Informed Partnership will use an epidemiological approach to identify common bee management practices and use them to develop best practices that can be widely shared with beekeepers.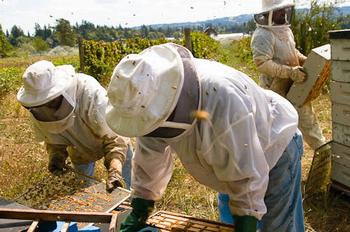 Oregon beekeepers remove honey from hives. (Photo by Shawn Linehan)
"By surveying beekeepers about their management practices as well as their colonies' overwintering success, we can use epidemiological methods to tell beekeepers which practices work and which do not," said vanEngelsdorp.
The partnership will include many institutions already involved in pollinator work but also will reach out to include citizens involved in beekeeping.
Co-investigators on the project are the University of California, California Cooperative Extension; University of Illinois; University of Georgia; University of Tennessee; University of Minnesota; North Carolina State University; Appalachian State University; Lincoln University; USDA-ARS and the Florida Department of Agriculture.
Other collaborators include NASA and USDA-Animal and Plant Health Service.
Penn State and project partners will create and maintain a dynamic honeybee-health database with an interactive, Web-based interface.
The teams also will survey colony mortality, pathogens and parasites, as well as beekeeping management strategies, costs and outputs.
They will create a pollinator quality and availability reporting system and an emerging-issues alert system.
Some of the surveys planned by the partnership include the continuation of the colony winter-loss survey, an annual survey of management practices and a survey of pollinator availability. Other surveys will focus on determining colony mortality, parasite loads and socioeconomic factors.
VanEngelsdorp presented a "Plea for Bees" as a TED talk in July 2008. See it here.
Copyright Environment News Service (ENS) 2011. All rights reserved.