VANCOUVER, British Columbia, Canada, May 19, 2011 (ENS) – Bedbugs carrying Methicillin-resistant Staphylococcus aureus, or MRSA, a superbug that is resistant to many antibiotics, and Vancomycin-resistant Enterococcus, or VRE, have been identified in a downtown Vancouver hospital.
Marc Romney, MD, a medical microbiologist at Vancouver's St. Paul's Hospital/Providence Health Care, and Christopher Lowe of the University of Toronto say they have found evidence of disease transmission by bedbugs.
"Bedbugs carrying MRSA and/or VRE may have the potential to act as vectors for transmission," they state in an article slated for the June issue of the journal "Emerging Infectious Diseases," published by the U.S. Centers for Disease Control and Prevention.
"Three patients, all residents of Vancouver's Downtown Eastside – an impoverished community in Vancouver with high rates of homelessness, poverty, HIV/AIDS, and injection drug use – were hospitalized and found to be infested with bedbugs," write Romney and Lowe.
"Hypothesizing that these parasites may be vectors for the transmission of antimicrobial drug-resistant pathogens, we collected 5 bedbugs and tested them for drug-resistant organisms."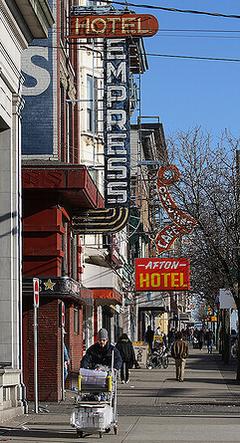 Cheap hotels in Vancouver's Downtown Eastside (Photo by Tilo Driessen)
For two patients, VRE was isolated from one bedbug each. These bedbugs were also resistant to the antibiotics ampicillin, teicoplanin and aminoglycosides.
For one patient, MRSA was isolated from three bedbugs. These bedbugs were also resistant to the antibiotic erythromycin but were still susceptible to vancomycin, clindamycin, trimethoprim/sulfamethoxasole, tetracycline, and rifampin.
As in other cities worldwide, Vancouver has seen "an alarming increase in bedbugs," particularly in Downtown Eastside, where 31 percent of residents have reported bedbug infestation, write Romney and Lowe.
The recovery of VRE from bedbugs could result from the relatively unhygienic living conditions encountered in the Downtown Eastside and the high level of interconnectedness between St. Paul's Hospital – where a large pool of patients with VRE colonization/infection reside – and the surrounding community, they speculate in the article.
MRSA is also a major problem in Vancouver's Downtown Eastside. It has been cultured from 54.8 percent of skin and soft tissue infections of patients seen at the emergency department of St. Paul's Hospital, they write.
"More recently, among wound infections in injection drug users in this community, 43 percent were colonized or infected with MRSA consistent with USA300, the predominant community-associated MRSA strain in Vancouver," write Romney and Lowe.
Given the high prevalence of this strain of MRSA in hotels and rooming houses in the Downtown Eastside, bedbugs may become colonized with community-associated MRSA.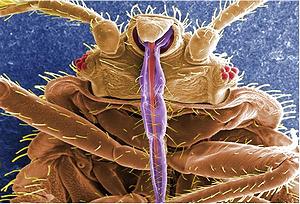 Digitally-colorized scanning electron micrograph of a bedbug (Image by Janice Harney Carr, Centers for Disease Control and Prevention)
"Consequently, these insects may act as a hidden environmental reservoir for MRSA and may promote the spread of MRSA in impoverished and overcrowded communities," warn Romney and Lowe.
The authors say more research is needed but suggest that because of bedbugs' ability to get under the skin their host, and the propensity for MRSA to invade damaged skin, "bedbugs may serve to amplify MRSA infections in impoverished urban communities."
St. Paul's Hospital is an acute care, academic and research hospital located in downtown Vancouver that is part of Providence Health Care, one of Canada's largest faith-based health care organizations.
Dr. Romney is currently medical director for infection prevention and control at Providence Health Care.
In addition to his work with Providence, Dr. Romney is a clinical assistant professor in the Department of Pathology and Laboratory Medicine at the University of British Columbia in Vancouver.
Copyright Environment News Service (ENS) 2011. All rights reserved.