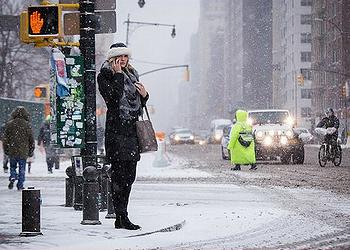 NEW YORK, New York, January 27, 2015 (ENS) – Due to a monumental blizzard bearing down on the East Coast, New York Mayor Bill de Blasio has issued a winter weather State of Emergency for New York City. All non-emergency vehicles were ordered off all roads in the city by 11:00 pm Monday, and until further notice.
Weather forecasters all predict that a blizzard will hit the New York City area and New England Monday night through Tuesday, bringing many communities to a standstill. New Jersey public transit has already been suspended as the first wave of snow blankets the area.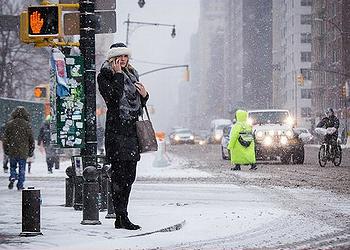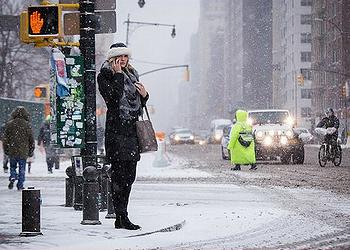 "This will most likely be one of the largest blizzards in the history of New York City," said Mayor de Blasio. "We have great first responders, great agencies, ready to do what they do to keep us safe, but it's up to all of us to do the smart thing – get off the roads, get off the streets, get off the sidewalks – as this emergency deepens."
All New York City parks are now closed to protect the public against falling tree branches.
In advance of the storm Monday that is predicted to dump more than two feet of snow from southern New Hampshire to central Long Island, travel bans and states of emergency have been declared for many areas.
Flight cancellations are mounting and travel bans and state of emergencies are being issued ahead of the major blizzard that will halt travel, cut power and endanger anyone who ventures out into the storm.
Although there is a high chance of airports closing, the Federal Aviation Administration reports that as of midnight January 27, all airports are still operating and flight delays are less than 15 minutes.
Airlines have preemptively cancelled more than 7,500 flights through Wednesday, according to the website FlightAware, most to and from airports in New York, New Jersey, Massachusetts, Pennsylvania, Illinois, Washington, DC and Toronto, Canada.
The National Weather Service has modified its blizzard forecast, saying at midnight, "The high impact snowstorm affecting Southern New England and Long Island will probably end up about 90 miles east of our forecast area. It will have spared Eastern Pennsylvania and much of New Jersey. The coastal areas of New Jersey, especially Monmouth and Ocean counties, may still get substantial snow this morning."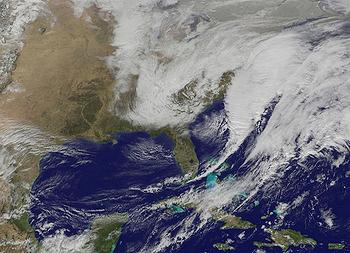 "Bands of snow will affect much of the area, including the I-95 corridor this morning," the National Weather Service said.
Travel will be halted from New York City to Boston north to Portland, Maine as thick snow blankets the area. Motorists run the risk of becoming stranded.
With snow blowing in winds of 35 miles per hour visibility will be zero at times. Wind gusts near hurricane force on Cape Cod early Tuesday morning.
Mark Leberfinger of AccuWeather.com predicts that the year's first blizzard "will slam the New York City area and New England Monday night through Tuesday, bringing many communities to a standstill."
Conditions are expected to quickly deteriorate from New York City to Boston through Monday night, then from Portland to Bangor, Maine, and north to Saint John, New Brunswick, Canada on Tuesday.
Coastal flooding is expected from New Jersey northward.
Forecasters expect drifting snow to pile up as high as 10 feet. Roofs may collapse, and residents must prepare for lengthy power outages.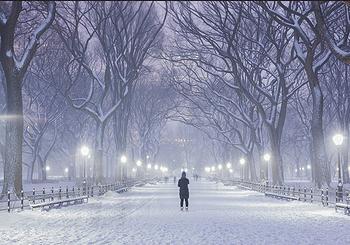 New York's power utility, Con Edison warns that "Snow can accumulate on tree branches, causing them to snap and bring down power lines and knock customers out of service. In addition, road salt will mix with melting snow and could damage underground electrical wiring, possibly leading to outages."
Power outages, snow-packed roads and school closures could last for days after the blizzard, city officials and forecasters warn.
To prevent New York residents from being left freezing in the dark, Mayor de Blasio said, "People who have any problems with heat and hot water can report immediately to 3-1-1 so city officials can act on it now."
Boston Mayor Martin Walsh declared "a snow emergency" at 6 pm Monday at 6 pm and Boston Public Schools will be closed Tuesday, January 27 and Wednesday, January 28.
"Boston has been through blizzards before and I'm confident we are prepared," said Mayor Walsh. "But a storm of this size poses a threat to the safety of our residents in many different ways, and we are taking it very seriously. We are implementing our emergency operations system, collaborating closely with the state, private utilities, medical facilities, and homeless shelters, and deploying all available resources across City departments."
"I urge everyone to do their part: to put safety first; stay off the roads as much as possible; to look out for their neighbors; pay attention to the restrictions, the information, and the warnings we are providing; and allow the city, state, and emergency services to do their work," said Mayor Walsh.
The Boston Public Works Department began pre-treating roads early Monday afternoon. Working with contractors, PWD has nearly 800 pieces of equipment ready and over 35,000 tons of salt to keep roads as clear as possible.
New York has some 500 salt spreaders that were out before the snow hit, all equipped with plows and 255,000 tons of salt. Mayor de Blasio said Monday, "As we accumulate two inches of snow on any given street, the snowplows swing into action. Over 1,800 snowplows have been deployed. That's up from the projection of 1,500 yesterday. We have, in grand total of all vehicles with plowing capacity, over 2,300. And we'll be bringing in, on top of that, 250 pieces of additional equipment from other city agencies."
The New York Fire Department is adding 500 firefighters in addition to the normal complement and the mayor said New York is adding 40 percent more ambulances than usual.
The New York City Department of Homeless Services is out looking for those who are homeless who can be brought in to safety. "If you see someone
homeless who is in danger, call 9-1-1," the mayor said. "Call 3-1-1 if it's a typical situation; if it's life-threatening, call 9-1-1."
Copyright Environment News Service (ENS) 2015. All rights reserved.