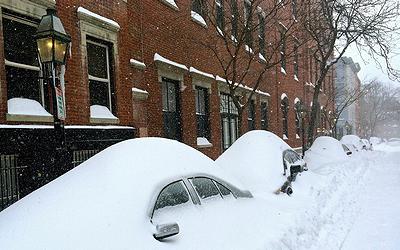 NEW YORK, New York, January 27, 2015 (ENS) – The powerful storm that brought heavy snowfall and blizzard conditions to the Northeast on Monday persisted Tuesday as heavy snow and blizzard conditions paralyzed travel from eastern Long Island to Maine. Snow and strong winds began tapering off from south to north Tuesday night into Wednesday morning as the blizzard system slowly moves northeast into eastern Canada.
While the National Weather Service has posted blizzard warnings for eastern New Hampshire and Maine overnight, and periods of heavy show are still possible across eastern New England, the storm did not prove to be the record-breaker that forecasters had warned of originally.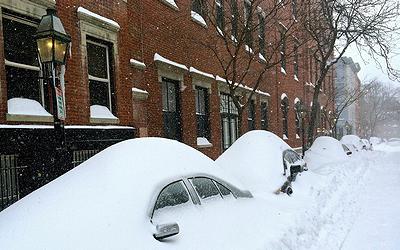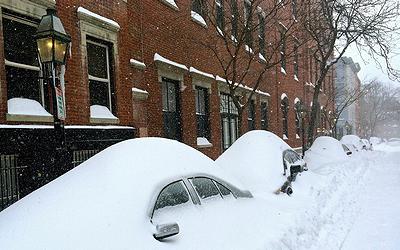 More than 7,700 flights were cancelled, and schools, businesses, government offices and transit systems shut down. But the storm tracked farther east than forecasters had predicted.
Three feet of snow did fall on Lunenberg, Massachusetts, northwest of Boston, and the city of Boston was buried beneath a 27-inch snowfall, but the city of New York, which had prepared for these amounts, was largely spared.
New York's deepest snow accumulated on the northern tip of Long Island in the town of Orient, New York, which got 30 inches, but just seven to 10 inches blanketed most of New York City.
Two deaths, both on Long Island, were tied to the storm by police – a 17-year-old man crashed into a streetlight pole while snow-tubing, and an 83-year-old man with dementia was found dead in his back yard.
New York Mayor Bill de Blasio said, "We obviously missed the worst of this storm, which is a blessing for New York City. We have an old saying that we live by around here – prepare for the worst, and hope for the best. We got a much better result than the original projections had portrayed, and we were spared the worst of this storm."
"Just 20, 30 miles east of the city border, in Long Island, they got exactly what was originally projected for here," said de Blasio. "Our friends in Boston got what was projected for here."
"So, this storm was real, and it was as big as it was projected to be, but it moved eastward, and thank God for that," he said. "The bottom line is, we got lucky."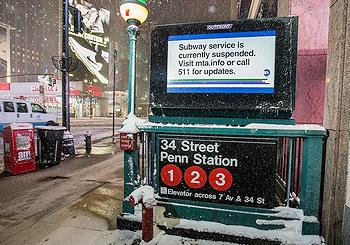 Mayor de Blasio lifted the travel ban for city streets at 7:30 this morning, and shortly after that all bridges and tunnels were re-opened. The roads were slick with ice and snow, but bus, subway and transit services resumed this morning for New York and New Jersey.
Amtrak rail service is now operating between New York and Albany. Amtrak Northeast Regional and Acela Express service is operating on a reduced schedule between New York and Washington, but service remains suspended between New York and Boston.
New York City parks re-opened mid-morning despite downed limbs and slippery walkways. Schools remained closed, but they are set to re-open on Wednesday morning.
Boston is bearing the brunt of the storm, and Mayor Martin Walsh is still warning residents to stay off the roads.
"Boston is still in the middle of a winter storm of historic proportions," said Mayor Walsh. "People should only be driving under emergency circumstances. We are doing everything we can to dig out and stay on top of every safety concern, but we need everyone's co-operation. It is not time for anyone to relax or get complacent."
The Boston Public Health Commission reports that shelter facilities were able to maintain adequate capacity for the demand, and outreach teams continue to identify individuals in need of shelter.
Boston Public Schools will remain closed on Wednesday and a decision has not yet been made about school for Thursday.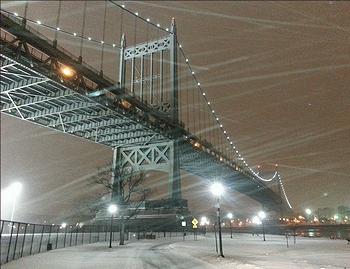 Cape Cod, Massachusetts endured hurricane-force winds of 75 miles per hour, causing power outages and coastal flooding was felt in Massachusetts and Connecticut, but generally, the storm was not the record-breaker forecasters had predicted.
National Weather Service Director Louis Uccellini said his agency should have done a better job of communicating the uncertainty in its forecast. But he also said that in some parts of Massachusetts the storm may prove to be one of the biggest ever.
According to AccuWeather.com Chief Meteorologist Elliot Abrams, "The storm was more compact than we thought it would get. As a result, the back edge of the heavy snow and strong winds were farther to the east."
Weather Underground's Dr. Jeff Masters put the blame on forecasters who followed the European computer model, which put the storm 100 miles farther to the west than the American model. "Forecasts that relied too heavily on the European model put too much snow over New York City," he said.
"Heavy snow forecasts are notoriously difficult, since our computer models struggle to accurately predict where the very narrow bands of heavy snow with snowfall rates of 2 – 4″ per hour will set up," said Masters. "Furthermore, an error of 50 miles in predicting the track of the storm can make a huge difference in snowfall amounts, and a 50-mile error in track in a 24-hour forecast is fairly common for a storm system 1,000 miles across."
Copyright Environment News Service (ENS) 2015. All rights reserved.