Megacities Slash Greenhouse Gases, Share Best Practices
RIO de JANEIRO, Brazil, June 19, 2012 (ENS) – Mayors of the world's megacities today announced that the existing actions of the cities in their organization, the C40 Cities Climate Leadership Group, will reduce greenhouse gas emissions by 248 million tonnes a year by 2020.
Based on new data released today, the mayors said the annual reduction could amount to more than one billion tonnes by 2030, equivalent to the annual greenhouse gas emissions of Mexico and Canada combined.
The announcement was made by Rio de Janeiro Mayor Eduardo Paes and C40 Cities Chairman New York Mayor Michael Bloomberg during the organization's annual meeting, taking place parallel to the UN's sustainable development summit, Rio+20, which is happening in the city all week.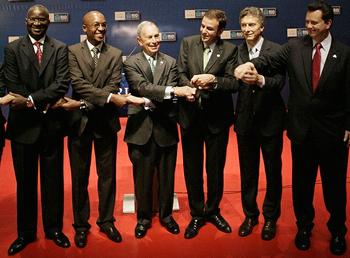 C40 Cities mayors in Rio, from left: Lagos Mayor Babatunde Fashola, Johannesburg Mayor Mpho Franklyn Tau, New York Mayor Michael Bloomberg, Rio Mayor Eduardo Paes, Buenos Aires Mayor Mauricio Macri, Sao Paulo Mayor Gilberto Kassab, June 19, 2012. (Photo courtesy C40 Cities)
"I am encouraged that we, as mayors and citizens, are implementing plans to promote change and reduce carbon emissions in an effort to halt climate change," said Mayor Paes. "When mobilized as one, cities wield sufficient collective power to influence opinion and nudge policy further up the legislative agenda."
"Cities have more freedom than nation states to put into place progressive strategies that are already changing people's lives and today's announcement is testament to the action and unity that is thriving at a municipal level around the globe," the Rio mayor said.
C40 Cities includes 58 of the world's largest cities. Inhabited by one in every 12 people on Earth, they account for approximately 14 percent of global greenhouse gas emissions, according to recent reports by the Carbon Disclosure Project and the UK-based consulting firm Arup.
The C40 mayors today announced two new initiatives.
First, C40 Cities will establish a new solid waste peer-to-peer learning network to assist local governments to reduce methane emissions through solid waste management.
Methane is a greenhouse gas with many times the potency of carbon dioxide, the most abundant greenhouse gas. Landfill methane can be collected and used to generate electricity, as a fuel for industrial purposes, or enriched and sold to gas pipelines.
With support from the World Bank and the Climate and Clean Air Initiative of the U.S. State Department, C40 partners will provide technical assistance to help cities cut methane gas production.
"Mayors and cities don't have the luxury of just sitting around and talking about problems because on a whole range of critical issues, the buck stops at City Hall," said Mayor Bloomberg. "Because of mayors' commitment to action, cities are making great progress in reducing greenhouse gases, which helps beat back climate change and makes our cities better, more liveable places. The data we are releasing today is more evidence that cities have been and will continue to lead the way."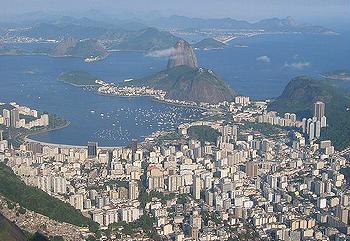 Rio de Janeiro, population 6.3 million, is Brazil's second largest city, after Sao Paulo. (Photo by arigerdes)
C40 cities have undertaken 4,734 climate-related actions since the network was formed in 2005. Research by the Carbon Disclosure Project shows that cities are financing many of their climate change actions without external support, as 64 percent of city initiatives are funded through general municipal funds.
In Rio, the mayors are calling on national governments and international organizations to provide more financing and policy support for local climate actions.
Second, the mayors announced today that the best practices of all C40 Cities will now be shared with the world through a new library on the newly launched C40 website: www.C40.org.
The sharing of best practices started 18 months ago as the Joint Initiative on Urban Sustainability, a pilot exchange program between the C40 cities of Rio and Philadelphia, Pennsylvania, conducted with the support of the U.S. Environmental Protection Agency. Philadelphia Mayor Michael Nutter this week was named president of the U.S. Conference of Mayors.
Governor of Jakarta Fauzi Bowo welcomed the two initiatives, saying, "Any partnership which allows sharing of knowledge and best practices aiming to fight climate change is crucial in order that greenhouse gas emissions are reduced."
"Different cities face different challenges in confronting climate change," said Governor Bowo. "The basic approach Jakarta has taken in reducing greenhouse gas emissions has been a holistic approach based on the basic policy implemented in managing Jakarta, which is pro-poor, pro-jobs, pro growth and pro-environment. These four factors cannot be separated from each other."
The C40 Cities Climate Leadership Group works in partnership with the Clinton Climate Initiative, a program of the William J. Clinton Foundation.
Former U.S. President Bill Clinton, a founding C40 Cities partner, joined today's event by videoconference.
"My foundation has been working since 2006 with the mayors of many large cities around the world to help them reduce their greenhouse gas emissions," Clinton said. "Today's announcements prove that, through creative partnerships, we can help reduce our carbon output to protect our environment and create jobs to grow our economies."
Copyright Environment News Service (ENS) 2012. All rights reserved.