Canada's New Budget 'Guts' Environmental Protections
OTTAWA, Ontario, Canada, June 19, 2012 (ENS) – Late last night, Canada's House of Commons passed Bill C-38, the budget of the majority Conservative government, ignoring thousands of Canadians who spoke up for nature and democracy.
The budget bill includes sweeping changes to environmental protection laws and paves the way for industrial development that opposition parties and conservationists warn risks the future of Canada's land, water, fish stocks and climate.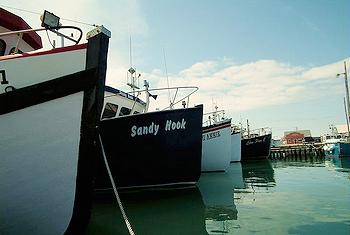 Fishing boats on the Magdalen Islands, Quebec, Canada (Photo by FantAAmette)
In a marathon vote on the 425-page Conservative Budget Implementation Act 2012, all opposition amendments failed to pass because Prime Minister Stephen Harper leads a majority government. With a majority, a Canadian prime minister can have any law passed, regardless of the opposition of elected officials or citizens.
Natural Resources Minister Joe Oliver says more than C$500 billion could be invested in major energy and other natural resource projects in Canada in the next 10 years alone, giving economic growth and job creation a significant boost.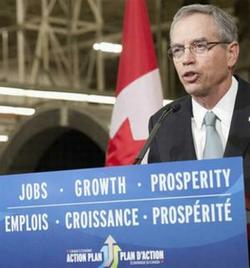 Minister of Natural Resources Joe Oliver announces "responsible resource development," which streamlines the environmental review process, April 17, 2012. (Photo courtesy Natural Resources Canada)
"As part of Economic Action Plan 2012, the Government introduced legislation to modernize Canada's federal regulatory regime to attract investment, create jobs, build long-term prosperity and encourage national competitiveness while strengthening its world-class environmental standards," he told the International Economic Forum of the Americas in Montreal on June 12.
But the New Democratic Party, the official opposition in Parliament, calls C-38 a "Trojan Horse" that sneaks in "hundreds of pages of harmful new measures" in disguise.
The legislation repeals the Kyoto Protocol Implementation Act so that Canada is no longer responsible for meeting its obligations to cut greenhouse gas emissions under the treaty, a move the Harper government last year signaled it would take.
The NDP says the measure "guts" Canada's environment assessment process for big energy projects by dismantling the Canadian Environmental Assessment Act and handing responsibility for most environmental assessments to provinces, "leaving our air, land and water exposed and at risk."
At the same time, the legislation gives final say over pipeline projects to Conservative cabinet ministers, regardless of environmental impacts.
"Canada can be a leader in sustainable development. But Conservative oil and gas insiders have taken over the agenda as environmentalists are attacked and scientists muzzled," the NDP said in a statement.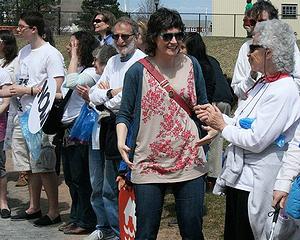 NDP Environment Critic Megan Leslie at a climate impacts rally, Halifax, Nova Scotia, June 4, 2012 (Photo courtesy Office of MP Leslie)
On World Oceans Day June 8, NDP Environment Critic Megan Leslie said, "The Conservative government is putting our oceans and marine environment at risk with their recently announced cuts to Fisheries and Oceans Canada, their gutting of the Fisheries Act and regressive changes to environmental protections made by their Trojan Horse budget bill."
"Oceans are being negatively affected by things like climate change, pollution and acidification," warned Leslie. "The Conservatives' reckless approach will have serious consequences on the protection of our oceans, and the coastal communities that rely on them."
Elizabeth May, the lone Green Party Member of Parliament, says the Conservative MPs do not even understand this legislation.
"I have been concerned through all phases of the debate on C-38 that so many members of Mr. Harper's caucus, including Cabinet Ministers, seem so unfamiliar with the devastating nature of the legislation they are passing," May said. "Before we take the final vote on C-38 Wednesday evening, I would like to be more reassured that at least some of the Conservative caucus has read the bill."
May reserved a room in the Parliament Building today as an examination room for any Conservative MP willing to demonstrate knowledge of the content of Bill C-38 by taking a short written quiz, with a copy of the bill available to them for reference. Not one MP took the challenge.
In the massive bill is a provision that will make it permanently legal for United States agents to be certified as police in Canada for both maritime and land-based interdiction. It is on track to be passed into law in the form of amendments to the RCMP Act, the Criminal Code, and the Customs Act.
Senior officials with Canada's federal police force, the Royal Canadian Mounted Police, told the Senate Committee on National Security and Defence on May 14 that the program gives U.S. Federal Bureau of Investigation and Drug Enforcement Administration agents the authority to pursue suspects in Canada.
"We recognized early that this approach would raise concerns about sovereignty, of privacy, and civil liberties of Canadians," said RCMP Chief Superintendent Joseph Oliver, director general, Border Integrity, Federal & International Operations, RCMP. "We said 'Let's take baby steps, let's start with two agencies to test the concept, let's demonstrate to Canadians and Americans that such an approach might work."
Mike Cabana, RCMP deputy commissioner for federal policing, told the committee, "The discussion started with respect to marine environments. … A marine-based version was seen as probably the most logical place to start to explore the possibilities."
Conservationists object that the legislation attempts to silence voices of dissent, in part by making it more difficult for environmental charities to participate in the public policy process.
"This bill marks a step backwards for our democracy and economy, as well as for the protection of the air, water and land on which we and our children depend," said Peter Robinson, CEO of the David Suzuki Foundation. "By weakening environmental laws and smothering the voices of First Nations and other concerned Canadians it will undermine communities, add to our economic uncertainty and inhibit investment over the long term."
"Nurses are very concerned about the health of Canadians and the budget bill increases risk to Canadians of factors that contribute to ill health – poverty, environmental degradation and reduced access to services and social supports," said Linda Silas, president of the Canadian Federation of Nurses Unions.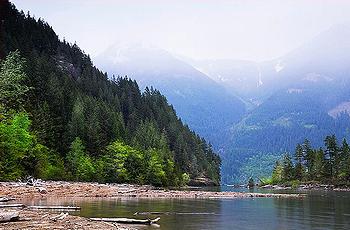 Forest and mountains at Harrison Lake, British Columbia (Photo by Veronica Caron)
Stewart Phillip, president of the BC Union of Indian Chiefs, said, "Ignoring democracy and silencing First Nations in environmental assessments of major projects will only bring conflict to our territories. It is time for people to put down their Starbucks and wake up: this bill will define the future of our country in ways we may not want."
The Wilderness Committee warned, "Now that Bill C-38 has been signed off by the federal government, British Columbians can look forward to low protection for wild salmon, fewer environmental safeguards for large industrial projects, less science and more political interference with Canada's remaining environmental laws," said Gwen Barlee, policy director at the Wilderness Committee.
"This budget ignores the true goals of Canadians by changing our laws to fast-track risky major infrastructure projects like the Northern Gateway pipeline," says Rick Smith, executive director of Environmental Defence. "Gutting of environmental safeguards and democratic process puts all Canadians at risk."
Critics say that with 752 different clauses in the 425-page document, and amendments to more than 60 pieces of legislation combined in a single bill, they have serious concerns about the democratic process, as policymakers were not given adequate opportunity to debate and challenge individual elements.
"Concerns about democracy and nature won't just go away because the bill has passed," said Eric Hebert-Daly, national executive director, Canadian Parks and Wilderness Society. "This marks the beginning of a new sustained effort to mobilize Canadians to speak out for nature and democracy. We're more committed than ever to providing the means for everyone who cares about the future of our environment and our democratic rights to have a voice."
For previous ENS coverage of the Harper Government's cuts to environmental protection, see: Canada Chops Environmental Reviews, Fires Scientists, Responders
Copyright Environment News Service (ENS) 2012. All rights reserved.
© 2012, Jim Crabtree. All rights reserved.