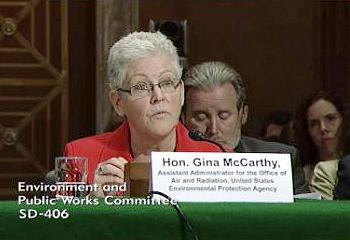 WASHINGTON, DC, July 18, 2013 (ENS) – The U.S. Senate voted 59-40 this afternoon to confirm Regina McCarthy as to head the U.S. Environmental Protection Agency, after a record 136-day confirmation battle.
The Republicans' delay of the nomination for almost five months, makes it the longest period on record that the agency has been without a leader. In the interim the EPA was headed by Acting Administrator Bob Perciasepe.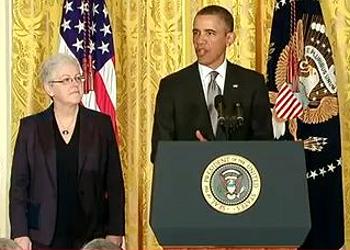 The vote follows a deal struck by Senate leaders earlier this week to allow up-or-down votes on President Barack Obama's nominees for administrative positions. Republicans agreed not to filibuster McCarthy's nomination and those of six others as part of a deal to avoid Senate rule changes limiting the minority's right to filibuster executive branch nominees.
Today's vote shows six Republicans voted with all Senate Democrats except one to confirm McCarthy in the EPA's top spot.
GOP Senators Lamar Alexander and Bob Corker of Tennessee, Jeff Flake and John McCain of Arizona, Susan Collins of Maine and Kelly Ayotte of New Hampshire voted for McCarthy's confirmation, while Democrat Joe Manchin of West Virginia joined most Republicans in voting against her. Senator Roger Wicker, a Mississippi Republican, did not vote.
President Barack Obama said, "I am pleased that today the Senate took bipartisan action to confirm Gina McCarthy as the next Administrator of the Environmental Protection Agency. With years of experience at the state and local level, Gina is a proven leader who knows how to build bipartisan support for commonsense environmental solutions that protect the health and safety of our kids while promoting economic growth."
"Over the past four years," said the President, "I have valued Gina's counsel and I look forward to having her in my Cabinet as we work to slow the effects of climate change and leave a cleaner environment for future generations."
On March 4, President Obama nominated McCarthy to replace Lisa Jackson as head of the EPA. Confirmation hearings started April 11, 2013.
A Boston native, McCarthy has worked on environmental issues at the state and local levels and has developed policies on economic growth, energy, transportation and the environment. In her 25 years in public administration, she has been an environmental advisor to five Massachusetts governors, including former Governor Mitt Romney.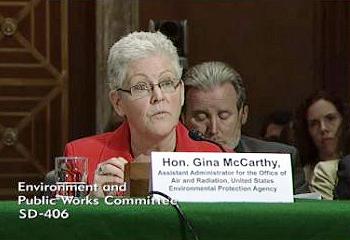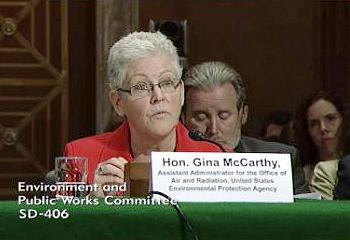 From 2004 to 2009 she was commissioner of the Connecticut Department of Environmental Protection, where she implemented a regional policy to trade carbon credits to reduce greenhouse gas emissions from power plants.
Since 2009, McCarthy has served as assistant administrator for EPA's Office of Air and Radiation.
The Environment and Public Works Committee approved McCarthy's nomination on May 16. Senator Barbara Boxer, a California Democrat who chairs that committee said today, "I am so pleased that the full Senate has confirmed Gina McCarthy to be EPA Administrator, because she is the right person for the job. With more than three decades of public service experience, Gina has a deep understanding that public health and a growing economy depend on clean air and clean water."
Senator James Inhofe of Oklahoma, ranking minority member of the Environment and Public Works Committee, voted against McCarthy's confirmation, but said after the vote, "Ideological differences aside, I am committed to developing a healthy working relationship with Administrator McCarthy that ensures an open and honest dialogue, much like the one I enjoyed with former Administrator Lisa Jackson."
Inhofe is critical of what he calls President Obama's "unprecedented war on fossil fuels that will destroy millions of jobs and prevent America from becoming energy independent." About the Obama policies that McCarthy will help to implement, Inhofe said today, "His greenhouse gas regulations alone will cost $300 to $400 billion per year, and his new ozone regulations are a direct threat to Oklahoma's economy."
McCarthy has broad support from environmental groups and business stakeholders, including such groups as Small Business Majority, American Sustainable Business Council, United States Hispanic Chamber of Commerce, Growth Energy, Society of Chemical Manufacturers and Affiliates, Evangelical Environmental Network, American Public Health Association, and American Association of People with Disabilities.
Robert M. "Mike" Duncan, President and CEO of the American Coalition for Clean Coal Electricity, said, he looks forward to "a constructive working relationship with the EPA under Administrator McCarthy's leadership."
"To date, the coal-fueled electricity industry has invested more than $110 billion in technologies that have reduced emissions by nearly 90 percent," said Duncan. "The industry will invest another $100 billion to develop clean coal technology over the next 15 years. We are hopeful that Administrator McCarthy's tenure at EPA will set the agency on a more balanced path that recognizes America's continued need for coal and the importance of clean coal technology."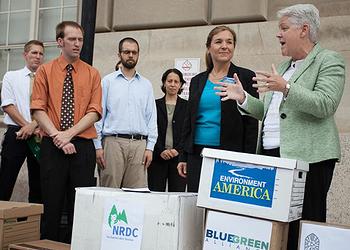 Those on the other side of the coal debate also look forward to McCarthy's support for their cause.
Appalachian Voices Executive Director Tom Cormons said, "We are encouraged by Ms. McCarthy's understanding of the impact on American families and communities from the air and water pollution that come from extracting and burning fossil fuels, and urge her to bring an end to one of the most destructive industrial practices occurring today – mountaintop removal coal mining in Appalachia."
Messages of support for McCarthy poured in from environmental groups immediately after the vote.
Fred Krupp, president of Environmental Defense Fund, said, "McCarthy has always been an ideal candidate for this crucially important job. She has exceptional qualifications and experience, and she has a well-earned reputation for bipartisanship. She has a history of working with both environmental advocates and industry stakeholders, and for pursuing a regulatory approach that is flexible, cost-effective and environmentally effective."
Larry Schweiger, president and CEO of the National Wildlife Federation, called McCarthy "a true champion for America's conservation heritage." Her confirmation is "great news for America's families, as she's a passionate advocate for reconnecting children with nature and outdoor education," he said.
"President Obama will need her leadership at EPA as he works to implement his plan to act on climate change," said Schweiger. "Cutting industrial carbon pollution has strong bipartisan support and Americans have written a record-breaking three million comments in support of EPA action."
Andy Igrejas, director of the nonprofit Safer Chemicals, Healthy Families said, "As the Congress takes its most serious look at our chemical safety laws in generations, we urge Ms. McCarthy to leverage the power of her office to fulfill its promise to protect Americans from hidden dangers in the chemicals we buy and use."
Copyright Environment News Service (ENS) 2013. All rights reserved.