Maryland Could Be Entirely Powered by Offshore Wind
BALTIMORE, Maryland, February 20, 2010 (ENS) – Maryland's feasible wind resource off of the state's Atlantic coast could provide 67 percent of the electric load, finds a new report from researchers at the University of Delaware's Center for Carbon-free Power Integration.
Offshore wind could provide 179 percent of Maryland's electric needs as the industry matures and deeper water technologies become commercialized, the researchers calculate. The energy generated over and above Maryland's needs could help power neighboring states, with financial benefits to Maryland.
Sponsored by the Abell Foundation of Baltimore, the report focuses on federal and state waters off of Maryland's Atlantic coast, and does not consider potential within the Chesapeake Bay.
"Development of Maryland's offshore wind power appears to be the easiest and most cost-effective way for Maryland to meet its renewable portfolio standard with in-state generation, serve increasing electric load with new generation as needed, improve on the environmental goals of improving air quality and reducing carbon dioxide, and modernize and diversify its economy," said Jeremy Firestone, associate professor in the College of Earth, Ocean, and Environment, lead researcher on the study.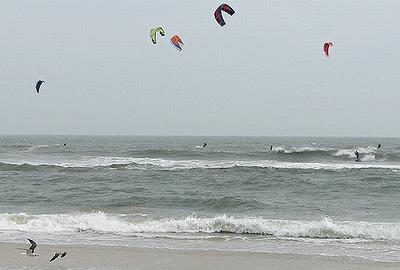 Windsurfers enjoy the strong winds off Assateague Island, Maryland. (Photo by Big Mike 42)
Based on their analysis, Firestone and his team conclude that offshore wind represents an opportunity to Maryland to reduce carbon dioxide emissions by the state's electric power sector and improve air quality in the region.
Utilizing offshore wind could also lead to economic growth in the state's offshore construction, maintenance, supply chain and/or turbine manufacturing.
By contrast, the report states, "continuing to buy fossil electricity from the market, delivered from distant fossil power plants, will not meet environmental goals and is unlikely to have any beneficial effect on the Maryland economy."
The researchers found that the difficult environmental conflict would be the effects of offshore wind turbines on seabirds, which might collide with a wind turbine or lose their habitat in the wind turbine project area.
For advice, Firestone and his team consulted ornithologist Paul Kerlinger of Cape May, New Jersey, who specializes in solutions to avian issues in the wind power siting, permitting and operating process.
Kerlinger advised that any offshore wind power projects in Maryland waters exclude the area within one nautical mile of the shore. "This area was recommended because it is within the Atlantic flyway for migratory bird species and fits with the behavior of migratory birds, which tend to hug the shoreline," the report states.
A visual exclusion zone was incorporated into the study area – a zone in which coastal residents or beachgoers may prefer to not have offshore wind turbines installed because of the way their appearance.
There are two coastal areas where residents and visitors would likely be most sensitive to visual impairments – Ocean City, a tourist destination, and Assateague Island, a national seashore.
Previous scientific research at the University of Delaware has found that the value placed on moving turbines further out to sea is diminished once the turbines reach a distance of eight nautical miles from shore.
After placing an eight nautical mile semi-circle around Ocean City and Assateague Island, Firestone and his team determined that "the overlap was such that it warranted an eight nautical mile visual exclusion zone for the entire coastline."
Maryland has a stake in installing wind turbines offshore within the next 12 years. Maryland's legislature passed a Renewable Energy Portfolio Standard that requires all Maryland utilities and competitive retail suppliers to obtain an increasing percentage of their electric power from renewable energy sources. By the year 2022, 22.5 percent of retail sales must be sourced from renewables, 18 percent of which can be from wind energy.
Click here for a full report of the researchers' findings and a summary for policymakers, released on February 18.
Copyright Environment News Service (ENS) 2010. All rights reserved.