American Idol Viewers Can Help the UN Help Haiti February 25
LOS ANGELES, California, February 20, 2010 (ENS) – Haiti's earthquake survivors will benefit from a new partnership between American Idol and the United Nations Foundation. The January 12 earthquake claimed more than 200,000 lives, leaving over 300,000 others injured and one million Haitians homeless.
American Idol Kris Allen, winner of the eighth season of the popular singing competition, traveled to Haiti Friday to spend several days meeting with Haitians and UN staff working in the country to find out their needs for the months of recovery ahead. One-third of the population was affected by the 7.0 magnitude earthquake.
"It is heartbreaking to see the devastation that Haiti is currently facing," said Allen, a singer-songwriter from Jacksonville, Arkansas. "The people of Haiti are rebuilding their country, and the UN is there to help them every step of the way."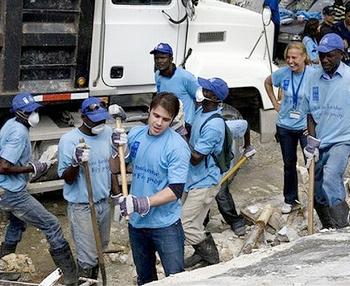 Kris Allen, 2009 American Idol winner, third from left, is seen with a crew of Haitians working for the "Work for Cash" UNDP program in Carrefour, Port- au-Prince. Kathy Calvin is second from the right. February 19, 2010. (Photo by Pasqual Gorriz courtesy UN Foundation)
The American Idol results show next Thursday will be dedicated to Haiti. Allen will perform and will share video footage of his trip to Haiti with the UN Foundation to raise awareness and funds that will benefit the United Nations as it works with Haitians to help rebuild the country.
During the show, viewers will be asked to support the efforts in Haiti by donating much-needed funds to one of this year's Idol Gives Back beneficiaries, the UN Foundation. Donations will be accepted online and via text-messaging.
"I look forward to sharing the images and stories from my trip with Idol viewers across the country," Allen said.
"We are proud to partner with FOX and American Idol on this special episode," said CEO of the United Nations Foundation Kathy Calvin, who is with Allen in Haiti.
"We are working directly with the UN to help Haiti address the medium and long-term challenges of reconstruction," Calvin said. "The UN needs our support to continue to provide food, water, shelter, medicine, security, and economic opportunities to the earthquake victims."
Since the earthquake, the United Nations has been working hand-in-hand with Haitians to help them recover. In the months ahead, the UN's life-saving work will continue, including delivering food and water to millions of Haitians, providing jobs opportunities for employment to more than 200,000 people, ensuring women and children are safe, and mitigating diseases such as measles and malaria.
"Calvin said, "The UN and Haiti are rising to the challenge and we all have a chance to help them rebuild their future."
The UN Foundation, a public charity, was created in 1998 with entrepreneur and philanthropist Ted Turner's historic $1 billion gift to support UN causes and activities. The UN Foundation is an advocate for the United Nations and a platform for connecting people, ideas, and resources to help the UN solve global problems.
The Haiti American Idol special is on FOX Thursday, February 25 (8:00-9:00 pm ET live/PT tape-delayed).
Copyright Environment News Service (ENS) 2010. All rights reserved.
© 2010 – 2012, Jim Crabtree. All rights reserved.