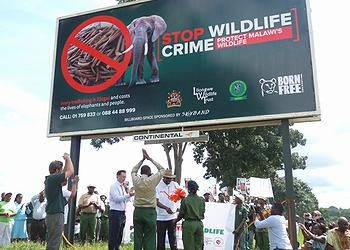 By Victoria Mopiwa
LILONGWE, Malawi, April 16, 2014 (ENS) – Several new cases of illegal ivory trafficking have come to light within a month of the official launch of Malawi's "Stop Wildlife Crime" campaign, a joint effort of the Department of National Parks and Wildlife and the Lilongwe Wildlife Trust.
On March 23, 30 kilograms of ivory bound for Lagos, Nigeria was intercepted at Kamuzu International Airport in Lilongwe, the capital and largest city of of this southeast African country.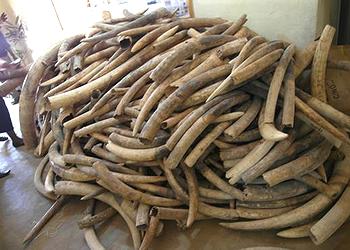 The ivory was traced to 38-year-old Nigerian national Nduisi Nwude. While the ivory was confiscated. the man escaped from the airport and is still at large.
On April 7, however, airport authorities were more successful. A Malawian national, Michael Kingsley Phiri, a clinical officer at Kamuzu Central Hospital in Lilongwe, was arrested at the same airport with 80kg of ivory.
Phiri's case was heard this week at Lilongwe Magistrate's Court and he was given a sentence of either six years imprisonment or MK1 million (equivalent to US$2,300). He chose to pay the fine.
With ivory fetching between US$750 and $7000 per kilogram on the international market, many are arguing for harsher punishment. However, this case does represent a significant improvement over previous sentences.
In October 2013, a Malawian trafficker was fined just MK150,000 after being found in posession of 28 ivory tusks.
Both the Department of National Parks and Wildlife, DNPW, and the leading Malawian wildlife NGOs expressed their disappointment with the sentence and planned to appeal.
The changing attitude comes as a result of increasing international and local pressure.
Following the October ruling, three local NGOs – Lilongwe Wildlife Trust, Wildlife Action Group and the Wildlife and Environmental Society of Malawi – joined forces with the Department of National Parks and Wildlife and mobilized schools to take part in a march to say "no" to the ivory trade.
The march finished at the Parliament building in Lilongwe where a petition was presented to the government calling for harsher penalties to stop the ivory trade.
In February, ahead of the UK's international conference on illegal wildlife trade, the British High Commission hosted pre-conference talks at the Lilongwe Wildlife Centre, which included representatives from NGOs and government departments including the DNPW, the judiciary and the police.
DNPW Director Brighton Kumchedwa then attended the London talks to highlight Malawi's commitment to the cause and to appeal for support from the international community.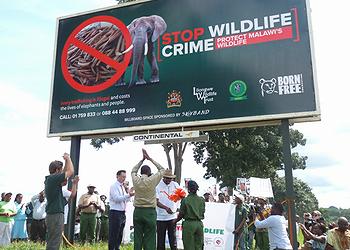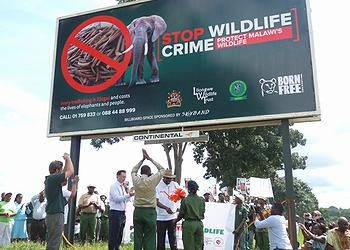 In March the country's first Stop Wildlife Crime campaign, run jointly by Department of National Parks and Wildlife and Lilongwe Wildlife Trust, was officially launched by the Minister of Tourism and Wildlife Moses Kunkuyu.
The six-month campaign aims to raise awareness of the importance of protecting Malawi's Wildlife and includes a program of regular TV, radio and press coverage and community sensitization around protected areas and border posts.
A wildlife crime hotline has been set up and billboards on ivory trafficking have been sponsored in Lilongwe, and in the cities of Mzuzu and Blantyre.
The establishment of a multi-agency task force made up of wildlife crime enforcement institutions was the subject of a meeting earlier this month, called by Principal Secretary for Tourism and Culture Elsie Tembo, the "Daily Times" reported.
Last year an estimated 36,000 elephants were killed for their ivory tusks in Africa, equating to one life lost every 15 minutes. At the current rate of poaching African elephants could face extinction in the wild by 2025.
Malawi's own elephant population is under severe threat. The situation is exacerbated by the fact that Malawi is being targeted and exploited as a source and transit route for illicit wildlife trade.
Evidence to that effect shows that between 2011 and 2014, a total of 23 arrests were made at Kamuzu International Airport alone, with 69 pieces of ivory confiscated.
In May 2013 the Malawi Revenue Authority intercepted 781 pieces of ivory weighing 2.6 tonnes that originated from Tanzania.
While the source of this month's hauls are yet to be officially confirmed they are believed to have come from outside Malawi.
Copyright Environment News Service (ENS) 2014. All rights reserved.