Kauai Birds, Picture-Wing, Plants Listed as Endangered
HONOLULU, Hawaii, March 10, 2010 (ENS) – Today, the U.S. Fish and Wildlife Service finalized endangered species listings for 48 species from the island of Kauai with designation of critical habitat for all but one of them. Two of the species are birds, one is a picture-wing fly, and 45 of the species are plants. Many have been on the candidate list for decades awaiting protection.
The listing comes after a 2004 petition and a lawsuit from the national nonprofit Center for Biological Diversity, and lobbying for their protection from many conservation groups, both in Hawaii and on the mainland.
"Protection for these 48 species is long overdue," said Tierra Curry, conservation biologist at the Center for Biological Diversity. "These 48 highly endangered species now have a shot at survival and recovery."
Secretary of the Interior Ken Salazar said today, "Our action today reflects President [Barack] Obama's determination to base conservation decisions on the best available science and to move quickly to protect our nation's wildlife and ecosystems when, like the fragile ecosystem of Kauai, they are at risk."
But Curry said the Obama administration is "moving too slowly to reduce the backlog of species waiting for protection."
Before listing these 48 species, the Obama administration had only listed two, the fewest number of species listed in the first year of any administration since President Ronald Reagan took office in 1981.
President Obama's first major listing protects endangered species in his home state of Hawaii, where he was born and attended high school.
Salazar said the designation of critical habitat for these 47 species overcomes the deficiencies of previous critical habitat designations in Hawaii that created an "overlapping patchwork of habitat."
"The ecosystem-based approach that our scientists used to make this decision represents an efficient and innovative model for conserving imperiled species and their habitats," said Salazar.
"By highlighting species that share ecosystems and common threats, we can more effectively focus conservation management efforts to address these threats and restore ecosystem function for these species and the entire ecological community," he said.
"This extensive listing provides new hope for Kauai's many endangered species," said Suzanne Case, Hawaii executive director for The Nature Conservancy. "The ecosystem approach being adopted is the right approach because it will focus protection efforts on large-scale threats like invasive weeds and feral pig and goat populations. Controlling these threats will not only help ensure the survival of listed species, it will benefit entire ecosystems."
Executive Director of the Hawaii Conservation Alliance Deanna Spooner called the Kauai listings "an important milestone both for species protection and native ecosystem management in Hawaii."
"This new approach not only helps to address the backlog of candidate species awaiting federal protection, it recognizes that the overall health of an ecosystem is vital to species recovery," Spooner said.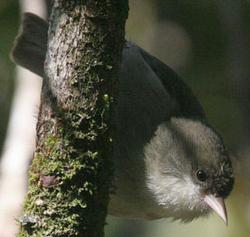 An akikiki in the wet forests of Kauai (Photo by Eric VanderWerf courtesy USFWS)
The two bird species added to the endangered species list are both Hawaiian honeycreepers in the finch family – the akekee, or Kauai akepa, and the akikiki, or Kauai creeper. Both species were considered common in the late 1800s and into the early 1960s.
The akekee population appeared to be relatively stable at that time, even while other endemic Kauai birds were declining, and its population was estimated at nearly 8,000 birds in 2000. But the population dropped to some 3,500 birds by 2007.
The akikiki population has declined even further, by about 80 percent in the last 40 years, to approximately 1,300 birds in 2007.
These two species join 33 other Hawaiian bird species listed as endangered and another listed as threatened.
Hawaiian honeycreepers are vulnerable to rats and cats that prey on adults, chicks, and eggs. Introduced pigs, cattle, sheep, and goats degrade their natural habitat, and exotic plants out compete native plants resulting in additional habitat degradation and the loss of food plants and insects with which they co-evolved.
In 1826, mosquitoes were introduced to the Hawaiian Islands, and multiple introductions of exotic bird species brought two serious avian diseases, avian pox virus and avian malaria, to which the Hawaiian honeycreepers have no natural resistance.
Drosophila sharpi is a large species of Hawaiian picture-wing fly found in Kauai's wet forests. The species joins 12 other Hawaiian picture-wing flies on the endangered species list. Hawaii is inhabited by 111 species of picture-wing flies with colorful wing patterns and intricate mating rituals that evolved from a single female that migrated from the mainland some five million years ago.
The 45 plant species now listed as endangered include ferns, vines, shrubs and trees found nowhere else in the world. Twenty-three of the plant species have fewer than 50 individuals remaining in the wild, and some have not been seen for several years, although they are still believed to exist in remote areas.
One fern, Diellia manii, was thought to be extinct since the early 1900s, but a single individual was rediscovered in 2002 at Kokee State Park. The addition of these plant species to the endangered species list brings the total number of endangered Hawaiian plants to 309. Another 10 are considered threatened.
The one species that will not receive critical habitat is being excluded for its own protection. Critical habitat for the plant Pritchardia hardyi, or loulu, was determined not to be prudent because this rare palm is attractive to collectors and biologist believe a critical habitat designation could alert collectors to its location.
Of the 26,582 acres in six different ecosystem types being designated as critical habitat, 98 percent overlaps existing critical habitat for other species. The majority is located on state-owned lands, while 4,918 acres are located on private lands.
An additional 1,052 acres proposed as critical habitat were excluded because the designation would have had a negative effect on the private landowner's voluntary ongoing and future conservation activities. Located in the Upper Wainiha Valley, the land is owned by Alexander & Baldwin, Inc., and is managed by The Nature Conservancy for the long-term protection of the watershed.
"This monumental ruling is historical in its scope and significance," said Chipper Wichman, director and CEO of the National Tropical Botanical Garden, headquartered on Kauai.
"Recognition of Kauai as a hotspot in the battle to prevent species from going extinct brings even greater focus to the importance of this work," said Wichman. "This decision is a really big deal for Kauai and for all of Hawaii. It should help leverage funding and increase protection for these unique species."
Copyright Environment News Service (ENS) 2010. All rights reserved.
Environment News Service (ENS) © 2010 – 2012 All Rights Reserved.