Chile's New President Greeted by Three Strong Earthquakes
SANTIAGO, Chile, March 11, 2010 (ENS) – Three powerful earthquakes within an hour marked the inauguration of Chile's new president, billionaire Sebastian Pinera. He was sworn in just after noon local time, right after the second quake.
The first earthquake measured at magnitude 7.2 struck central Chile at 11:39 am local time. It was followed by a 6.9-magnitude quake 16 minutes later, according to the U.S. Geological Survey. A third quake, measured at magnitude 6.0, occurred 27 minutes later.
The epicenter of the first and largest earthquake was about 95 miles (152 km) south-southwest of the capital, Santiago, and about 90 miles (145 km) away from the coastal city of Valparaiso, where President Pinera was inaugurated in the presence of outgoing President Michelle Bachelet and leaders from across South America. The ceremony was not interrupted by the repeated quakes.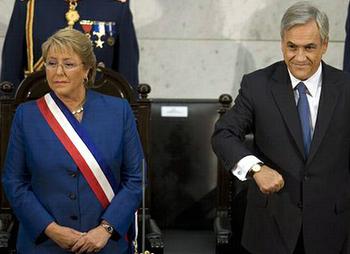 The inauguration ceremony moments before President Michelle Bachelet relinquishes the sash of office to Sebastian Pinera. March 11, 2010. (Two photos courtesy EFE)
The earthquakes sent frightened Chileans running out of buildings, but there were no immediate reports of injuries or damages. The congressional building where the inauguration took place was evacuated briefly as a precaution and some buildings in Santiago were evacuated.
Chile is still recovering from a massive 8.8 magnitude quake that struck just off the central coast on February 27, claiming 507 lives and touching the lives of about two million others, according to the latest official Chilean figures. It was the worst natural disaster in the country's 200 year history.
The Pacific Tsunami Warning Center based in Hawaii said of today's quakes, "No destructive widespread tsunami threat exists based on historical earthquake and tsunami data. However, earthquakes of this size sometimes generate local tsunamis that can be destructive along coasts located within 100 kilometers of the earthquake epicenter."
The Chilean Navy issued a tsunami alert along the coast. Sirens sounded in Constitucion, one of the hardest-hit cities in the February 27 quake and police ordered people to leave the beaches.
President Pinera, a conservative, takes over from outgoing liberal President Michelle Bachelet, who could not run for a second consecutive four-year term under Chile's constitutional rules.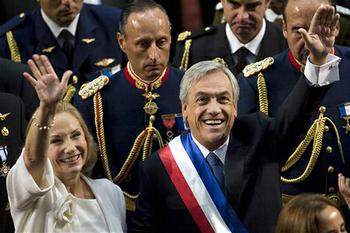 President Sebastian Pinera, right, with his wife Cecilia Morel after inauguration in Valparaiso.
Pinera has said that responding to the 8.8 earthquake required the country to transcend partisan differences. "These are times when we have to act with a sense of national unity," he said. "It is not the time for conflict between government and opposition."
In her farewell address to the country from the La Moneda presidential palace in Santiago, President Bachelet praised the hardworking ministers in her cabinet, the Navy and the Air Force, Customs officers, firemen and police and the thousands of young people who voluntarily mobilized themselves to help survivors in the earthquake-affected zones.
Bachelet recounted the accomplishments of her government in responding to the quake, saying that water, food, and shelters have been provided, public order and basic services such as electricity and communications restored or on the way to a quick solution.
On September 18, 2010, Chile will commemorate 200 years as a republic, a fact Bachelet noted in her speech.
"Right in the year of our Bicentennial, the Earth and the sea they struck to us hard," she said. "Remember that in spite of all our profits and advances in institutional and economic solidity, and at the level of development which we have reached as a country, we can never totally defend ourselves from the attacks of the nature."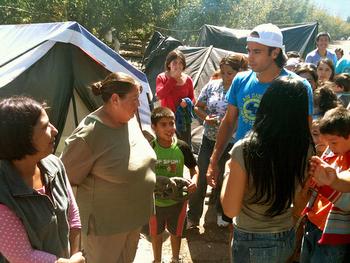 Thousands of Chileans are living in makeshift tent camps after the February 27 earthquake destroyed their homes. (Photo by Mario Andres)
Seismologists estimate that the February 27 earthquake was so powerful that it may have shortened the length of the day by 1.26 microseconds and moved the Earth's figure axis by 8 cm or 2.7 milliarcseconds.
It also moved the entire city of Concepcion 3.04 meters (10 ft) to the west. The capital Santiago, moved almost 24 centimeters (10 in) west, and even Buenos Aires, nearly 800 miles from the epicenter, shifted 3.9 centimeters (1.5 in), seismologists report.
UN Secretary-General Ban Ki-moon visited Chile last weekend. He met with Chilean authorities, visited the affected area, and announced a US$10 million grant for Chilean recovery from the UN's Central Emergency Response Fund.
A 24 hour telethon was organized in Chile on March 6 with the participation of the UN Secretary General and raised nearly US$60 million for the construction of emergency shelters.
Initial estimates show approximately 200,000 emergency houses are needed. In rural areas, an estimated 30 percent of communities do not have access to potable water or other services. Access to drinking water and electricity continue to be of concern throughout the affected zones.
There are an estimated 90 shelter camps housing 19,000 people in the quake-affected regions of O'Higgins, Maule and Biobio. Some 25,000 people are in improvised, temporary shelters, mainly in schools, and 50,000 others are in urgent need of shelter as they are living in makeshift camps.
Chilean officials have assured the public that drugs and medicines will be available free of charge. According to the World Health Organization, the government has said there is no evidence of outbreaks of communicable diseases, although disease surveillance has been stepped up given unsanitary conditions in some areas which remain without safe drinking water and where garbage is accumulating.
Copyright Environment News Service (ENS) 2010. All rights reserved.