Japan: 28,500 Dead or Missing; Power, Water, Fuel in Short Supply
TOKYO, Japan, March 28, 2011 (ENS) – More than 28,500 people are dead or missing after the earthquake and tsunami that struck Japan's northeast coast on March 11.
Japan's National Police Agency said Monday that 10,901 people are confirmed dead and 17,649 are reported as missing. An estimated 1,000 children have died or are missing from the disaster.
Police have identified 8,030 of the bodies and they say the number of dead and missing is still expected to rise in some coastal areas.
The government has set up an evacuation area around the quake-hit Fukushima Daiichi nuclear plant in the northeast with a 20 kilometer (12 mile) radius.
Estimates of people in shelters and refugee centers around the country as of Monday range from 180,868 to more than 240,000.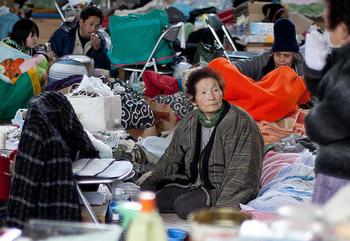 Displaced residents in the gym of the Watanoha Elementary School shelter in Ishinomaki, Japan March 23, 2011 (Photo by Nathan Andrew Bailey)
The UN Office for the Coordination of Humanitarian Affairs, OCHA, reports that poor sanitation conditions at evacuation centers in Miyagi prefecture are cause for concern. Local media also reports that hospitals in the areas are reporting a steady increase in cases of nausea, gastroenteritis, and diarrhea which is evidence that sanitary conditions are deteriorating in the centers.
According to the Ministry of Land, Infrastructure, Transport and Tourism 15 sewage systems in the affected prefectures are not functioning or are damaged.
The latest OCHA report, issued Monday, says a shortage of fuel is hindering efforts to bring relief workers into the affected areas as well as move evacuees out to areas that were not affected by the earthquake and tsunami.
Because of the amount of debris, the lack of fuel and restricted access on the roads until recently, emergency workers have been unable to move people to centers where they could receive assistance.
As a result, relief workers are desperately trying to provide a regular supply of food, water, warm clothing, and medicine to 2,000 evacuation centers, as well as provide critical medical, mental health and sanitation services.
In a radius between 20 and 30 kilometers from the nuclear plant, the government has advised residents to remain indoors, and also to consider evacuating. Still, people have started to return home or shift to larger shelters seeking more assistance.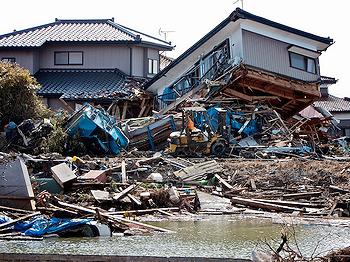 Houses destroyed in Miyagi prefecture, March 23, 2011 (Photo by Carsten Knoche)
A total of 186,724 households in the northern part of Honshu island still had no power on Monday, said the Tohuku Electric Power Company.
At least 360,000 households in nine prefectures are still without running water, according to the health ministry.
For the thousands of people who are living in their homes without electricity and water, there is no access to basic supplies unless they are able to receive it from one of the bigger evacuation centers, OCHA reports.
The National Police Agency said 18,423 buildings have been completely destroyed.
The government last week estimated damage from the earthquake and tsunami at 16 trillion to 25 trillion yen (US$198 billion to $309 billion). The higher estimate would make it the world's costliest natural disaster.
Japan's Foreign Ministry says 133 countries and 39 international organizations have offered their assistance.
The UK will send bottled drinking water to Japan in response to a shortage of safe drinking water, International Development Secretary Andrew Mitchell confirmed today.
100 tonnes of bottled water will be distributed to people living in the Ibaraki prefecture, following an urgent request from the Japanese authorities. The water will be sent from Hong Kong and is due to arrive in Japan today.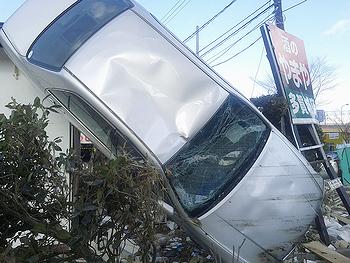 Car overturned by the March 11 tsunami in Miyagi prefecture, March 27, 2011 (Photo by Takahashi Ishihara)
"Over two weeks on from this terrible disaster, many people are still in the midst of a crisis," said Mitchell. "The destructive nature of the earthquake and subsequent tsunami has damaged essential infrastructure and left many without water."
The cleanup required amounts to a major operation. In hard-hit Miyagi prefecture alone, the debris amounts to roughly 15 to 18 million tons, which is equivalent to 23 years worth of waste for the prefecture, has capacity to dispose of only 0.8 million tons per year.
Authorities say it will take three years to remove all the debris, not including cars and boats. The national government says it plans to cover most of the removal costs.
The Ministry of Land, Infrastructure and Transportation says that only eight percent of the land needed for the construction of temporary shelters has been secured.
The ministry has requested the Federation of Housing Production to construct 30,000 temporary shelters in two months.
The number of shelters so far requested by the prefectures is over 33,000, and is likely to increase, OCHA reports. So far, land has been allocated for only 2,645 shelters. Local authorities are facing difficulties in finding suitable land, as the coastal area in Tohoku is not flat, and a large part has been damaged by the tsunami.
Copyright Environment News Service (ENS) 2011. All rights reserved.