Earth Hour 2011 Goes Beyond
SYDNEY, Australia, March 25, 2011 (ENS) – On March 26, the lights will go out hour by hour around the world starting at 8:30 pm local time as hundreds of millions of people take part in Earth Hour, a worldwide display of commitment to protect the planet.
This year, organizers say when Earth Hour is past and people switch the lights back on, "We want you to go beyond the hour and think about what you can change in your daily life that will benefit the planet. Let's work together to create a better future. Our actions can add up."
The world's most iconic landmarks will go dark for an hour including, from east to west: Olympic Stadium in Beijing, the Sphinx and Pyramids of Giza, Table Mountain in Cape Town, the Acropolis in Athens, the Coliseum in Rome, the Eiffel Tower in Paris, Buckingham Palace and Big Ben in London, Christ the Redeemer statue in Rio de Janeiro, New York's Empire State Building and the Las Vegas Strip.
Started in Sydney, Australia in 2007 by WWF Australia, Earth Hour Executive Director Andy Ridley, Leo Burnett and Fairfax Media, Earth Hour has become an annual event, attracting participation from people that include some of the most famous as well as many whose names are known only to family and friends.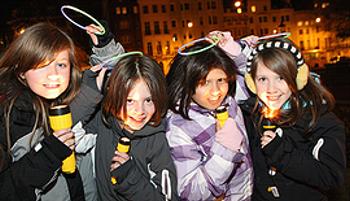 Earth Hour girls in Brighton, UK (Photo by WWF/Emily Whiting)
During Earth Hour 2010, there were 4,616 cities, towns and municipalities across 128 countries and territories that took part, including 89 national capitals and nine of the world's 10 most populated cities.
UN Secretary General Ban Ki-moon today announced his support for Earth Hour 2011 as a powerful symbol of a shared wish for a sustainable and secure future.
"All over the world individuals, communities, businesses and governments are creating new examples for our common future – new visions for sustainable living and new technologies to realize it," said Ban. "Tomorrow, let us join together to celebrate this shared quest to protect the planet and ensure human well-being. Let us use 60 minutes of darkness to help the world see the light."
As in previous years, UN communities around the world will take part. In New York, all UN buildings will go dark, including the headquarters building, currently closed for renovation.
Messages of support for Earth Hour 2011 have also come from a world and civil leaders, including Archbishop Emeritus Desmond Tutu, Colombian President Juan Manuel Santos, UK Prime Minister David Cameron and Australian Prime Minister Julia Gillard.
"Climate change is the greatest human induced crisis facing our world today. It is totally indiscriminate of race, culture, class, nationality or religious belief. It affects every living organism on the planet, including all of us," said Archbishop Emeritus Tutu from his home in South Africa.
Volunteer wears 'Earth Hour Every Hour' t-shirt at Earth Hour global launch in Singapore, March 2, 2011. (Photo by WWF/ Michelle Corsi)
"Through the symbolic act of switching off our lights for one hour on Saturday 26 March from 8:30 to 9:30 pm we will collectively send our clarion call for change around the globe. Please, political leaders and captains of industry, we implore you. Take action against climate change NOW."
"Later this year South Africa hosts the crucial COP17 climate change conference," said the Archbishop. "Let's show the world what we can do."
People in 133 countries and territories are expected to switch off their lights. In a series of video messages posted to YouTube, world leaders have pledged their support for what organizers are calling the world's largest voluntary environmental action.
Colombian President Juan Manuel Santos invited Colombians to turn off the lights for Earth Hour and to take action for the environment every day, every hour.
"We cannot put off any longer saving the planet nor cut back on our efforts to ensure its sustainability," said President Santos. "These 60 minutes without lights, between 8:30 and 9:30 at night, will be a symbolic act but also a reminder that every day, every hour in our normal lives we can turn off the lights we don't need, disconnect those appliances when we're not using them, save water and think on how to save the planet.
UK Prime Minister David Cameron has pledged to make the coalition Britain's "greenest-ever government" in the fight against climate change.
"Sharing responsibility holds the key to fighting climate change," Cameron said. "It will be the choices we make as individuals which will mean the difference between success and failure."
"That's what Earth Hour is all about," the British leader said, "millions of people all over the world coming together to switch off their lights, tackle climate change and protect our natural world. It is a huge symbol of global solidarity, an inspiring display of international commitment."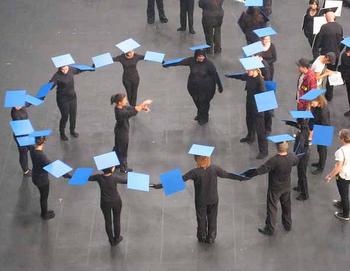 The cast rehearses for the making of the Earth Hour Global 2011 television commercial at Fox Studios, Sydney Australia (Photo courtesy Earth Hour)
Australian Prime Minister Julia Gillard vowed that she will go beyond the hour by, "doing everything in my power to deliver a carbon price."
"I believe 2011 is the year Australia will choose action," Prime Minister Gillard said from Parliament House Canberra, one of the landmarks that will go dark for an hour this Saturday. "Everyone taking part in Earth Hour this year is helping make sure this is so."
"The simple and powerful idea of switching off lights for an hour to drive action on climate change began in Sydney and has been embraced around the world," Gillard said. "Earth Hour has become a special symbol of determination of so many people to make a difference."
The global conservation organization WWF today announced the launch of the official Chinese-language theme song of Earth Hour 2011, "Turn off the Light," written and performed by Chinese musical duo and WWF Earth Hour China Ambassadors Yu Quan.
The melodic soft pop song urges governments, businesses and individuals everywhere to "Turn off the light; let's make the change" by creating resonating mental images of the beauty of the planet, and the beauty within people when they protect the planet.
"It is a new experience for WWF to be able to communicate the messages of Earth Hour, of turning off lights and making one change for the planet, through song," said Jim Gradoville, chief executive with WWF China.
Hai Quan, one-half of the musical duo, said, "It was a privilege to write 'Turn off the Light' for WWF's Earth Hour campaign. The song comes from the heart. Our lyrics mention polar bears, and your heart lighting up when you help the Earth because those are things we think about and have experienced. We care deeply about the environment, and as musicians, one of the best ways we can protect it is through our craft's ability to reach and touch people."
Copyright Environment News Service (ENS) 2011. All rights reserved.