Industry Victory: Obama Withdraws EPA's Stricter Smog Standards
WASHINGTON, DC, September 2, 2011 (ENS) – President Barack Obama has bowed to the demands of U.S. manufacturers and asked the Environmental Protection Agency to withdraw the draft Ozone National Ambient Air Quality Standards.
0n January 6, 2010, the EPA proposed to strengthen the national air quality standards for ground-level ozone. EPA proposed a range of 60-70 parts per billion (ppb), a much lower level than the current standard of 75 ppb.
President Obama said today that his administration has taken "some of the strongest actions since the enactment of the Clean Air Act four decades ago to protect our environment and the health of our families from air pollution."
"At the same time, I have continued to underscore the importance of reducing regulatory burdens and regulatory uncertainty, particularly as our economy continues to recover. With that in mind, and after careful consideration, I have requested that Administrator Jackson withdraw the draft Ozone National Ambient Air Quality Standards at this time."
"Work is already underway to update a 2006 review of the science that will result in the reconsideration of the ozone standard in 2013. Ultimately, I did not support asking state and local governments to begin implementing a new standard that will soon be reconsidered," Obama said.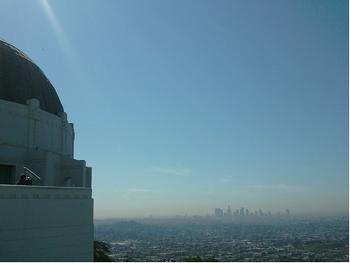 Smog blankets Los Angeles as seen from the Griffith Observatory (Photo by Eve Roman)
The Clean Air Act requires EPA to set national air quality standards for ground-level ozone or smog. Ground-level ozone, a key component of smog, forms during warm weather when pollution from vehicles, industry, households and power plants bakes in the hot sun, making it hard for some people to breathe. Young children, the elderly and those with respiratory problems, such as asthma, emphysema and bronchitis, are especially vulnerable.
Urban areas tend to have high levels of smog, but even rural areas are also subject to increased ozone levels because wind carries ozone and pollutants that form it hundreds of miles away from their original sources.
Although he backed off support for new ozone standards at this time, Obama said his administration "will continue to vigorously oppose efforts to weaken EPA's authority under the Clean Air Act or dismantle the progress we have made."
EPA Administrator Lisa Jackson emphasized the progress toward cleaner air that the Obama administration has made in the past two-and-a-half years, saying, "This Administration has put in place some of the most important standards and safeguards for clean air in U.S. history: the most significant reduction of sulfur dioxide and nitrogen oxide air pollution across state borders; a long-overdue proposal to finally cut mercury pollution from power plants; and the first-ever carbon pollution standards for cars and trucks. We will revisit the ozone standard, in compliance with the Clean Air Act."
Industry groups have been intensively lobbying the administration to hold off on imposing stricter ozone standards.
In August, Jackson announced the EPA would need more time to finalize the draft ozone standards.
In response, National Association of Manufacturers President and CEO Jay Timmons said, "Manufacturers have made it very clear that this discretionary action by the EPA to revise the ozone standard would harm the economy and threaten job creation. Today the Administration took yet another step in delaying the standard and manufacturers hope this is a sign that the Administration is hearing our concerns."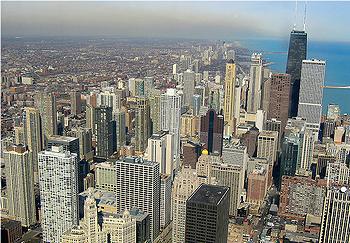 Smog over downtown Chicago and Lake Michigan (Photo by Jordan Fischer)
"The economic recovery remains stalled and manufacturers are facing unprecedented regulations. Piling on an unnecessary and unrealistic ozone standard would be yet another setback. Studies show the proposed ozone standard could result in millions of jobs lost and $1 trillion per year in compliance costs.
"We ask the President and his Administration to abandon their current reconsideration efforts until a review is required in 2013 and to carefully consider the drastic consequences this standard will have on job growth and the struggling economy," Timmons said.
Howard Feldman, director of regulatory and scientific affairs with the American Petroleum Institute, said in August, "A Manufacturers Alliance/MAPI study found that EPA's ozone proposal could result in 7.3 million U.S. jobs lost by 2020 and could add $1 trillion in new regulatory costs per year between 2020 and 2030."
"The discretionary proposed ozone regulation is not workable and would impose a severe burden on manufacturers and the entire American economy at a time when workers and businesses are really struggling," Feldman said.
"Existing emission controls have led to significant improvements in air quality and will continue to produce cleaner air," said Feldman. "We need to allow existing regulations to work before we consider adding new ones."
But environmental and public health groups were critical of President Obama's position. Natural Resources Defense Council President Frances Beinecke said, "The White House is siding with corporate polluters over the American people. The Clean Air Act clearly requires the Environmental Protection Agency to set protective standards against smog–based on science and the law. The White House now has polluted that process with politics."
"Our public officials, including in the White House, serve to protect us from harm. They need to get on with doing their jobs," said Beinecke. "Inaction cannot be an option when it comes to ensuring a healthy and prosperous America."
Gary Cohen, founder and president of Health Care Without Harm, an international coalition of more than 473 organizations in 52 countries, expressed disappointment.
"Lives will be lost, related health care expenditures will continue to increase, and thousands will suffer from worsening chronic illnesses, such as asthma and other respiratory difficulties," said Cohen. "An overwhelming amount of scientific literature shows the causal connections between air pollution and chronic illnesses that are helping to drive our nation's health care costs to unsustainable levels."
Steve Cochran, vice president, climate and air with the Environmental Defense Action Fund, said today's announcement is only the beginning of the Republicans' attack on clean air laws.
"As disappointing as today's announcement is, we will have our hands full this fall fighting back against many other outrageous assaults on the EPA and our landmark clean air laws," said Cochran. House Majority Leader Eric Cantor, a Virginia Republican, sent a letter this week to colleagues outlining a vigorous political strategy to block as many as eight life-saving clean air standards."
Cochran said, "This decision leaves in place outdated, Bush-era standards that lag far behind what scientists have unanimously recommended and will result in more than 45,000 cases of aggravated asthma and over 1.5 million missed work or school days per year."
"For too long, smog pollution has left our children gasping for breath," said Max Muller, program director at Environment Illinios. "Unfortunately, rather than acting decisively to protect our kids from this dangerous air pollution, the White House today chose to kick the can down the road. Our kids, senior citizens and those suffering from respiratory problems will suffer as a consequence and certainly deserve better."
Copyright Environment News Service (ENS) 2011. All rights reserved.