Evacuations Ordered Ahead of Ferocious Hurricane Irene
WASHINGTON, DC, August 26, 2011 (ENS) – Hurricane Irene is predicted to be the largest storm to hit the East Coast in more than 70 years, and threatens large coastal metropolitan centers from North Carolina to Quebec. Mandatory evacuation orders have been issued in North Carolina, Maryland and Virginia and for hospitals in low-lying areas of New York City.
The large and dangerous hurricane killed two people in Haiti and caused extensive damage in the southern Bahamas and Puerto Rico earlier this week.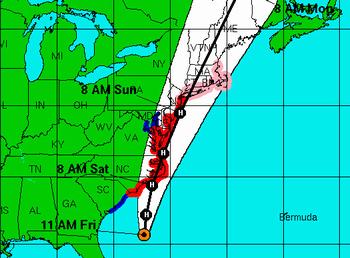 Projected path of Hurricane Irene (Map courtesy National Weather Service)
At 8:00 am eastern time today the center of Hurricane Irene was located off Florida's east coast near latitude 30.0 north, longitude 77.3 west. Outer rain bands are now nearing the coast of the Carolinas.
Irene has weakened somewhat since it slammed into the Bahamas on Thursday. Now classed as a Category two hurricane with maximum sustained winds of 110 mph, with higher gusts, the National Weather Service says, "Some re-intensification is possible today and Irene is expected to be near the threshold between Category two and three as it reaches the North Carolina coast.
Irene is moving toward the north near 14 mph and this motion is expected to continue during the next 24 hours, followed by a gradual turn toward the north-northeast.
The core of the hurricane is forecast to pass well off the coast of northeastern Florida today, approach the coast of North Carolina tonight and pass near or over the North Carolina coast Saturday. The hurricane is forecast to move near or over the Mid-Atlantic coast Saturday night.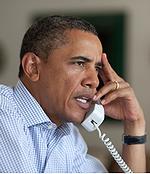 President Barack Obama urges hurricane readiness, August 25, 2011 (Photo courtesy The White House)
By teleconference from Martha's Vineyard where he is on vacation, President Barack Obama was briefed again this morning by Homeland Security Secretary Janet Napolitano, FEMA Administrator Craig Fugate, White House Chief of Staff Bill Daley and other senior White House officials about preparations being made for Hurricane Irene.
President Obama is leaving Martha's Vineyard for The White House tonight, rather than tomorow morning as scheduled, the President's principal deputy press secretary Josh Earnest said today.
Obama also spoke this morning with mayors and governors along the Eastern Seaboard in the hurricane's path. He has issued a pre-landfall disaster declaration for North Carolina.
"I cannot stress this highly enough," said President Obama, "if you are in the projected path of this hurricane, you have to take precautions now. Don't wait. Don't delay. We all hope for the best, but we have to be prepared for the worst. All of us have to take this storm seriously. You need to listen to your state and local officials, and if you are given an evacuation order, please follow it."
"Just to underscore this point," Obama said, "we ordered an aircraft carrier group out to sea to avoid this storm yesterday. So if you're in the way of this hurricane, you should be preparing now."
Mandatory evacuations have been issued for Virginia Beach, Virginia and Ocean City, Maryland. Evacuation orders for visitors in coastal regions of Delaware have been issued.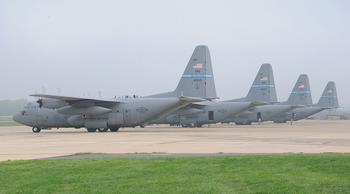 C-130 aircraft from the Delaware Air National Guard prepare to evacuate to an airfield in Ohio, August 26, 2011 (Photo by Technical Sgt. Harold Herglotz courtesy Air National Guard)
In North Carolina, mandatory evacuations for Ocracoke Island and Currituck, as well as Dare and Hyde Counties have been issued. A mandatory evacuation order for Tyrell County will be issued later today, and Beaufort County will evacuate high-risk areas today.
A Hurricane Warning has been issued for North Carolina-Virginia border to Sandy Hook, New Jersey, including Delaware Bay and Chesapeake Bay South of Smith Point as well as for the Little River Inlet, North Carolina, northward to Sandy Hook, NJ, including the Pamlico, Albemarle, and Currituck Sounds, Delaware Bay, Chesapeake Bay, South of Smith Point.
A Hurricane Watch has been issued from North of Sandy Hook to the mouth of the Merrimack River, including Long Island, Long Island Sound, Block Island, Martha's Vineyard, and Nantucket.
A Tropical Storm Warning is in effect for Chesapeake Bay from Smith Point northward and the Tidal Potomac.
Tropical storm force winds are expected within the southern portion of the warning area along the U.S. East Coast by late today. Hurricane force winds are expected to reach the Hurricane Warning area tonight or Saturday morning.
Pennsylvania Governor Tom Corbett today declared a statewide disaster emergency to enable state, county and municipal governments to respond to the impact of Hurricane Irene. Eastern Pennsylvania has been warned to expect heavy rains of up to 10 inches, and strong winds gusting to 60 mph or more. The combination of wind and rain could result in downed trees and utility lines, extensive power outages and flash flooding.
New York Governor Andrew Cuomo ordered the New York Army and Air National Guard to deploy up to 900 soldiers and airmen and over 100 vehicles to support civil authorities. An extra 175 ambulances will be deployed in regions expected to be hit the hardest by the storm.
New York City's Metropolitan Transit Authority will shut down the system – trains and buses begin their final runs at approximately noon on Saturday. The shut-down will include subways, buses, Long Island Rail Road, Metro-North Railroad, and Access-A-Ride.
If sustained wind speeds exceed 60 mph, the New York State Thruway, other major highway and smany bridges will be closed to all traffic, including: George Washington Bridge, Tappan Zee bridge, all bridges operated by the Triborough Bridge and Tunnel Authority, and the following Hudson River bridges: Bear Mountain Bridge, Newburgh-Beacon, Mid-Hudson at Poughkeepsie, Kingston-Rhinecliff, and Rip Van Winkle in the Catskill Mountains.
The entire southeast coast will be exposed to life-threatening surf and rip current conditions, the National Weather Service warns.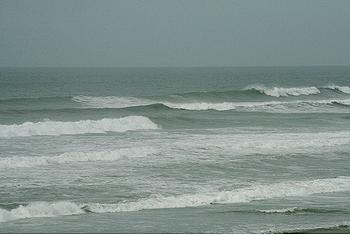 Waves of up to 10 feet at the Sheraton Pier, Atlantic City, North Carolina, August 26, 2011 (Photo by Cat5cane)
Storm surge in areas of onshore flow near the center of Irene expected. A "extremely dangerous storm surge" will raise water levels by as much as six to 11 feet above ground level in the Hurricane Warning area in North Carolina near the coast, the surge will be accompanied by large and dangerous waves, the NWS warns.
Sand washed inland by Hurricane Irene has the potential to cover Outer Banks roads, evacuation routes, coastal vegetation and lower levels of homes, according to a U.S. Geological Survey model for hurricane-induced coastal change.
Dune erosion and the landward movement of large volumes of sand are forecast for the North Carolina coastline. "Our data and models show that large waves and high storm surge are likely to cause extensive erosion along the Outer Banks," said USGS Oceanographer Hilary Stockdon.
Meteorologist Alex Sosnowski with Accuweather warned this morning, "There could be millions in the dark for hours and hundreds of thousands without power for days starting at the height of Irene, and in her wake."
"While Irene is not forecast to track as far west, nor as fast, as Hazel did in 1954," said Sosnowski, "it will ride up along the mid-Atlantic coast in such a way as to inflict major damage in many coastal and some inland communities."
Hurricane Irene killed two people in Haiti, during its passage off the north coast of the Caribbean country earlier this week. Haitian Civil Defense officials said in a statement that the two were swept away by raging waters in a ravine in Mohotiere, in northwest Haiti. Others in the region were injured when a wall collapsed.
Nearly 1,000 people were evacuated to emergency centers, UN Office for the Coordination of Humanitarian Affairs spokesperson Emmanuelle Schneider said today. All alerts for Haiti have now been lifted in connection with the hurricane.
Irene caused major damage in the southern Bahamas and the Bahamas Red Cross is managing shelters and helping people displaced by the storm. A regional disaster management expert is headed to the Bahamas today to assist with disaster assessment and response, said Gail McGovern, president and CEO of the American Red Cross.
In the Turks and Caicos Islands, the Red Cross is mobilizing volunteers as flooding, damage to homes and impassable roads are left in the storm's wake. The United Nations is reporting hundreds of homes have been damaged and it is difficult to communicate with many localities.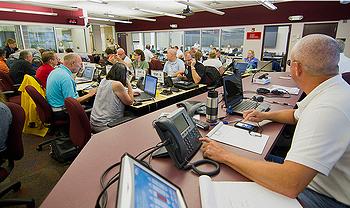 Hurricane Irene Emergency Operations Center in New Hanover County, North Carolina, August 26, 2011 (Photo by NHC)
In Puerto Rico, where Irene stuck last weekend, evacuations for 800 citizens in Guayanilla municipality are ongoing due to flooding. There are 12 shelters open with 549 occupants on the island. About 73,000 customers are without power and 36,250 customers are without water as of early this morning. All ports and airports are open.
Since last weekend, FEMA has been deploying its Incident Management Assistance Teams to staging areas in communities up and down the coast. FEMA has millions of liters of water, millions of meals, and tens of thousands of cots and blankets, along with other supplies, pre-positioned along the Eastern Seaboard.
FEMA is coordinating deployment of these resources with state and local governments and emergency management centers. (See ENS report 8/25/2011: Entire Eastern Seaboard Warned to Expect Hurricane Irene)
Preparing for Irene, "The Red Cross is moving volunteers, vehicles and supplies, getting ready for a response effort that spans nearly the entire East Coast," said McGovern. "We want everyone in the storm's path to get ready as well by getting a disaster kit, making a family emergency plan, and listening to local officials regarding evacuations."
Dr. Arthur Bradley, author of the "Handbook to Practical Disaster Preparedness for the Family," offers these tips on keeping safe during a hurricane:
Stay alert = stay alive. If a hurricane warning is announced, close storm shutters or board up windows; cover skylights and glass doors. Monitor local news broadcasts for storm updates and road conditions. Gather keepsakes, valuables, and important papers on the highest level of the home, preferably in a waterproof container. Be ready to evacuate if ordered to do so by authorities.
Hunker down. When the hurricane arrives, the primary goal is to stay safe. Keep away from windows and glass doors. Close curtains and blinds to help protect from flying glass and other debris. Secure and brace external doors. Close all interior doors. Retreat to the shelter, making sure that it is well stocked with flashlights, batteries, water, snacks, a first aid kit, pillows and blankets, a cell phone, and some games for the kids.
Safety information from the federal government is online at: Ready.gov and Listo.gov.
Copyright Environment News Service (ENS) 2011. All rights reserved.