Indonesia Copes With Undersea Quake, Tsunami, Volcanic Eruption
JAKARTA, Indonesia, October 26, 2010 (ENS) – Indonesia has been hit with two simultaneous natural disasters – a powerful earthquake which triggered a tsunami that killed at least 112 people, and a volcanic eruption that has forced the evacuation of hundreds of residents on the slopes of Mount Merapi.
At least 112 people have died after a 7.7 magnitude undersea earthquake and resulting three-meter (10 foot) high tsunami struck the Mentawai islands off the west coast of Sumatra island Monday night. The tsunami struck hardest on Pagai Island, which is accessible only by boat, and rough seas kept rescue workers from reaching the island immediately after the disaster.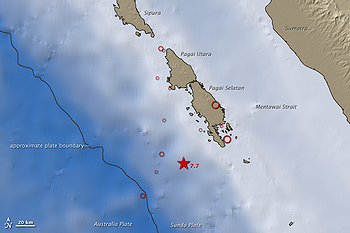 The red star marks the location of the 7.7 magnitude undersea quake, near the junction of the Australian and Sunda techtonic plates. (Map by Jesse Allen courtesy NASA)
About 500 people are missing and thousands of others were evacuated to higher ground to avoid the tsunami, a coordination meeting led by West Sumatra Governor Irwan Prayitno reported Tuesday night.
Aftershocks continue to rattle the island region, located about 500 miles west northwest of Jakarta, with two aftershocks measuring greater than magnitude 6.0 and the latest, of magnitude 5.8, coming just moments ago.
Efforts to send relief assistance to the striken area are still hampered by bad weather in Mentawai waters. But at least one larger ship and two charter boats carrying relief aid, volunteers and medical workers are headed to the Mentawai islands.
SurfAid International is launching an emergency appeal in response to the earthquake and tsunami. The nonprofit humanitarian aid organization with offices in the USA, Indonesia, Australia and New Zealand is conducting search, assessment and response operations.
"We are coordinating with the Mentawai District government, District Disaster Management and surf charter boats," a SurfAid spokesperson said Wednesday morning, local time. "NZAID has provided us with funds to undertake a rapid assessment and initial response and are liaising with the office of the Indonesian Vice President."
Ten people feared missing have turned up safely, SurfAid reports. The vessel Southern Cross with eight passengers and boat captain, all Australians, and one Japanese surf guide, reported missing since Tuesday morning, are confirmed safe. "They are now heading to Sikakap to meet with a locally based emergency response team and other surfers. It's a big relief for many friends and relatives of everyone on board," the aid organization said.
SurfAid is working with other charter boats in the islands and sending a plane out to search and assess the damage Wednesday, with the intention to send the first batch of basic supplies – tarpaulins, blankets, towels, water container, floor mat, and ropes.
SurfAid staff planned to head out today for the island of Pagai Utara to undertake the assessment but say that bad weather is hampering travel.
The Reverend Rugun Pakpahan, a contact with the Church World Service, said at least six villages in the affected Mentawai District were inundated by the waves. He reported that 645 families have been displaced by the quake and tsunami.
Elsewhere in Indonesia, Mount Merapi erupted on Tuesday afternoon, ejecting hot clouds of smoke and ash, after the Vulcanology and Geological Disaster Mitigation Centre had raised the alert warning to the highest level on Monday.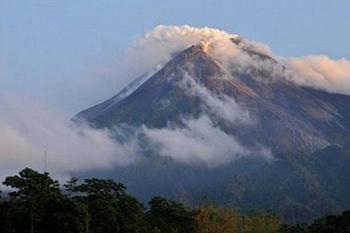 Mount Merapi spews clouds of hot ash, October 26, 2010 (Photo by HADR)
Mount Merapi, whose name means Mountain of Fire in Javanese, is the most active volcano in Indonesia and has erupted often since 1548. It is close to the city of Yogyakarta, and thousands of people live on its slopes, with villages as high as 1,700 meters above sea level.
Officials said about 500 volcanic earthquakes were recorded on the mountain over the weekend of October 23-24, and that the magma had risen to about a kilometer (.6 mile) below the surface.
People living within a 10 km (six mile) zone were ordered to evacuate. Although some families have defied the order and remained in their homes, several thousand residents have been evacuated to a number of refugee centers.
Evacuations on Tuesday evening were hampered by rains of hot volcanic ash that covered areas classed as danger zones, the Antara newswire reports.
"We give priority to risk prone groups of people such as elderly people, under five-year-old children, pregnant women, and the disabled," chief rescuer Budharjo at the Mount Merapi eruption disaster Command Post in Pakem, told Antara.
Located along the Pacific Ring of Fire, Indonesia experiences considerable seismic activity, in both earthquakes and volcanoes.
Mount Merapi last erupted in 2006, spewing hot gases and rock splinters, killing two people. At least 70 people were killed when the volcano erupted in 1994 after its lava dome collapsed. In 1930, the volcano killed an estimated 1,300 people.
On December 26, 2004, also off the west coast of Sumatra, an undersea quake of magnitude 9.1 triggered a series of devastating tsunamis along the coasts of most landmasses bordering the Indian Ocean, killing over 230,000 people in 14 countries, and inundating coastal communities with waves up to 30 meters (100 feet) high.
Copyright Environment News Service (ENS) 2010. All rights reserved.
© 2010 – 2012, Jim Crabtree. All rights reserved.