Brazil Set to Meet Low-Carbon Targets Four Years Early
BRASILIA, Brazil, October 27, 2010 (ENS) – Brazil is on track to meet carbon dioxide emissions reduction targets four years earlier than promised, President Luiz Inacio Lula da Silva announced Tuesday at a meeting of Brazil's Forum on Climate Change.
President Lula congratulated the members of the inter-governmental Forum on their efforts to advance Brazil's move toward a low-carbon economy and control emissions of greenhouse gases that warm the planet.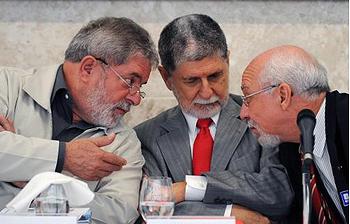 President Lula, left, confers with Acting Environment Minister Jose Machado, right, at the Forum on Climate Change meeting, October 26, 2010. (Photo courtesy MMA)
"Today's announcement shows once again that Brazil can be proud of the environmental agenda we have been building in recent years, said the President. Since 2003, we have been working closely to address climate change, and even with strong economic growth, our actions have already resulted in a reduction of 2.8 billion tons of carbon dioxide."
"If we keep this pace – and everything indicates that we shall do so – we will accomplish our goal of voluntary carbon dioxide reductions in 2016, four years before we had promised," he said.
Last year, after the UN climate change conference in Copenhagen, COP 15, Brazil approved the National Policy on Climate Change and voluntarily assumed a commitment to reduce by 2020 the projected emissions of greenhouse gases, between 36 and 39 percent.
Brazil is one of the world's biggest carbon dioxide emitters, due to the clearing of the Amazon rainforest, 17 percent of which has been destroyed. Deforestation releases carbon into the atmosphere as trees burn or rot.
But according to President Lula, since the Plan of Action to Prevent and Control Deforestation in the Amazon was established in 2003, Brazil has reduced the rate of Amazon deforestation by more than 70 percent, avoiding the emission of 2.9 billion tCO2eq (tons carbon equivalent). He said the country now has the lowest rate of deforestation in 21 years.
"If we keep this pace, the goal announced at COP 15 will advance in four years," said the President. "Today, Brazil is certainly one of the countries that has presented the most concrete results in tackling climate change."
President Lula announced three new initiatives geared toward measuring and lowering Brazil's national greenhouse gas emissions.
First, Brazil has developed its Second National Communication to the United Nations Framework Convention on Climate Change, UNFCCC. The first was submitted to the UNFCCC in 2004.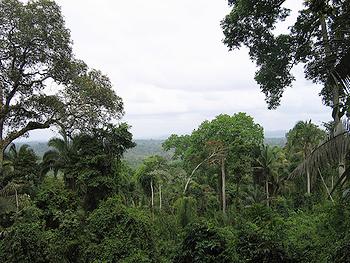 The Amazon rainforest protects the climate by absorbing the greenhouse gas carbon dioxide. (Photo by Branto)
Brazil's Second National Communication to the UNFCC, submitted today, provides an updated national inventory of greenhouse gas emissions detailing the breakdown of Brazil's overall carbon footprint by economic sector from 1990-2005.
More than 600 institutions and some 1,200 experts from energy, industrial, forestry, agriculture, and waste treatment sectors participated in preparing the inventory.
Next, the Lula administration will set guidelines and specify strategic actions to lower the greenhouse gas emissions of five specific industry sectors.
The five plans are intended to lower emissions by fighting deforestation in the Amazon and Cerrado regions and through reforms in the energy, agriculture and steelmaking sectors.
These five plans, each containing a brief description of commitments, methodologies, guidelines and strategic actions to tackle climate change, will be submitted to Brazil's Forum on Climate Change for further discussion in a meeting to be held in November.
And third, the President signed a decree establishing rules for the National Fund on Climate Change, the first in the world to use funds from the profits of an oil supply chain to finance mitigation and adaptation to climate change.
From now on, the Fund's Steering Committee will be able to manage, monitor and evaluate the application of resources projects, studies and developments of mitigation and adaptation of climate change and its effects.
Established by decree and coordinated by the Ministry of Environment, the Steering Committee is composed of government representatives, the scientific community, employers, workers and nongovernmental organizations.
"The Ministry of Environment is aware of the strategic role that the Fund plays in promoting a low carbon sustainable development model will consolidate Brazil into a superpower of the 21st century," said the acting Minister of Environment Jose Machado during the signing ceremony.
"The Climate Fund is not levied on the Brazilian population, since financial resources are derived from the special participation of the profits of the oil production chain, and may also approve other sources of funds," said Machado.
For 2011, the Committee has a budget of US$226 million, with $200 million as a repayable loan. The other $26 million will be administered by the Environment Ministry to invest in research projects, mobilization and impact assessments of climate change. This funding can be passed on to states and municipalities through agreements and terms of cooperation.
The Climate Fund will support activities aimed at combating desertification and adaptation to climate change. It will also support education initiatives and training projects, REDD, development including technology, public policy formulation, support to sustainable productive chains, and payment for environmental services.
These initiatives will set the foundation for Brazil's strategy during the upcoming UN climate change conference, COP16, scheduled to take place in Cancun, Mexico, from November 29 to December 10, 2010.
Copyright Environment News Service (ENS) 2010. All rights reserved.
Environment News Service (ENS) © 2010 – 2012 All Rights Reserved.