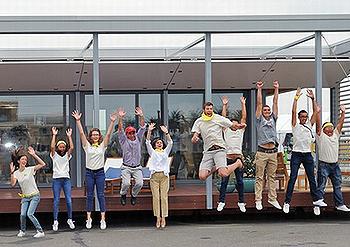 IRVINE, California, October 20, 2015 (ENS) – The team from Stevens Institute of Technology of Hoboken, New Jersey – inspired by Hurricane Sandy to design and create a net-zero home resilient enough to withstand hurricane-force winds and flooding – won top honors at the U.S. Department of Energy Solar Decathlon 2015.
Held at Orange County Great Park in Irvine, California, the Solar Decathlon pitted student teams against one another as they strove to build the best energy-efficient solar-powered home.
The 2015 competition attracted teams from five countries across two continents from universities in the United States, Germany, Honduras, Italy and Panama.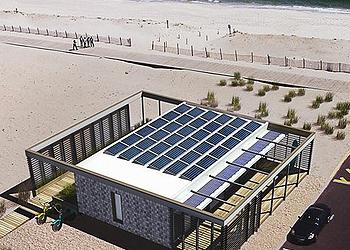 On Saturday, the Stevens Institute of Technology team was recognized by a panel of judges for the overall design, construction and sustainable operation of the SURE HOUSE, conceived as the "Coastal Home of the Future."
The Stevens team focused on developing the SURE HOUSE to withstand a hurricane while at the same time setting a gold standard for energy sustainability.
SURE HOUSE achieved a total score of 950.685, ranking highest in architecture, market appeal, communications, appliances, engineering, commuting and home life.
Built with fiber-composite materials repurposed from the boat building industry, the SURE HOUSE is designed to waste as little energy expended on heating and cooling as possible. The result is a building armored against extreme weather with a minimal carbon footprint.
Surrounding the home are bi-folding storm shutters, made with a composite foam core and wrapped with fiberglass, that act as the primary defensive barrier to block debris and water during harsh weather.
SURE HOUSE powers itself with solar power, and uses 90 percent less energy than its conventional neighbors. After a storm, SURE HOUSE can become a hub of emergency power for surrounding neighborhoods.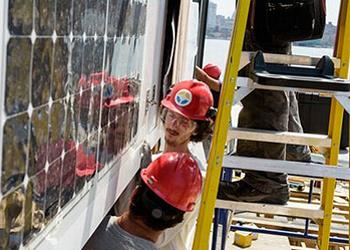 "This project was about creating a real, livable residence for families in coastal communities who will be hardest hit by the effects of climate change," said A.J. Elliott, a graduate student in the Stevens Product Architecture and Engineering program and member of the SURE HOUSE team.
"Our design provides a blueprint for the construction of homes that can endure extreme weather and epitomizes the principles of sustainable living," Elliott said.
The teams competed in 10 contests throughout a nine-day stretch that gauged each house's performance, livability and affordability. The teams performed everyday tasks including cooking, laundry and washing dishes, which tested the energy efficiency of each house.
After all contest results were tallied, Stevens earned 950.685 points out of a possible 1,000 to win the competition, followed by The University at Buffalo, The State University of New York with 941.191 points, and California Polytechnic State University, San Luis Obispo with 910 points.
"This competition challenges the best and brightest minds from around the world to create innovative, highly energy-efficient homes that will change how we build," said U.S. Energy Secretary Ernest Moniz. "These homes will become the new standard in blending affordability, consumer appeal and design with optimal energy production and maximum efficiency."
Nearly three years ago, after witnessing the devastation of Superstorm Sandy, a team of more than 30 Stevens students decided to build a house that would serve as a prototype for coastal homeowners in search of a sustainable, attractive and more storm-resilient building.
"This incredible victory is the culmination of a two-year journey and a testament to the hard work, commitment and ingenuity of the Stevens Solar Decathlon team," said Stevens President Nariman Farvardin.
"Their participation in this competition embodies the Stevens ethos to leverage science and technology education to confront some of society's biggest challenges. I could not be more proud of our students and the faculty who guided them to this outcome, and I congratulate them all on this extraordinary achievement."
"On behalf of the City of Hoboken, I congratulate the students and faculty of the SURE HOUSE team on their tremendous accomplishment," said Hoboken Mayor Dawn Zimmer. "Flooding is a century-old challenge for Hoboken, and this project is further demonstration of Stevens' commitment to our community."
"This prestigious competition to build energy-efficient solar-powered homes helps students prepare for successful careers in clean energy, and I want to recognize all of these teams for their hard work and creativity," said Richard King, director of the Solar Decathlon for the U.S. Department of Energy.
"Today's results are the culmination of two years of perseverance and dedication," said King. "These students have helped demonstrate to thousands of visitors and viewers how to start saving money and energy in their own homes today."

Stevens also took first place in the Engineering Contest by scoring 93 of 100 possible points.
For the Engineering Contest, each competing house was evaluated by a group of engineers who determined which house best exemplifies excellence in innovation, system functionality, energy efficiency, system reliability, and documentation through their project manual, drawings and audiovisual presentations.
Full competition results and details about the individual contests are online here.
Copyright Environment News Service (ENS) 2015. All rights reserved.