Hurricane Earl Still Large But Weakening
MIAMI, Florida, September 3, 2010 (ENS) – Hurricane Earl remains large but is losing its punch," said the National Hurricane Center in Miami at 5 pm EDT as the Category 1 storm blows northeast along the Atlantic coast.
Earl blew across the eastern Caribbean earlier this week as a Category 4 hurricane and entered U.S. waters as a Category 3, prompting officials to evacuate the eastern coastal communities from North Carolina to Massachusetts. Now, it appears that people will be able to enjoy the Labor Day weekend with less of a storm threat than was feared.
Currently located about 230 miles south-southwest of Nantucket, Massachusetts, Earl is moving northeast at 22 miles per hour, carrying maximum sustained winds of 80 miles per hour, with higher gusts.
Additional weakening is forecast, but Earl is expected to remain a large tropical cyclone as it approaches southeastern New England and the Canadian province of Nova Scotia.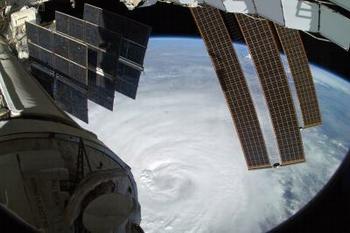 Astronaut Douglas Wheelock aboard the International Space Station caught this image of the eye of the storm as the space station flew over Hurricane Earl, September 3, 2010. (Photo by Douglas Wheelock courtesy NASA)
Observing Hurricane Earl from the International Space Station, U.S. Astronaut Douglas Wheelock said it looks like "magnificent chaos" and called it "incredibly breathtaking."
The National Hurricane Center has discontinued all warnings south of Sandy Hook, New Jersey; and the tropical storm watch from Cape Elizabeth to west of Stonington, Maine has been discontinued as well.
Earl will pass very near to Cape Cod tonight. A Hurricane Warning is still in effect for Woods Hole eastward around Cape Cod to Sagamore Beach, Massachusetts, including Martha's Vineyard and Nantucket Island.
A Tropical Storm warning is in effect for the eastern coasts of Long Island, New York, as well as New Haven, Connecticut to west of Woods Hole, Massachusetts and the eastern portions of the Maine coastline.
In Canada, a Tropical Storm warning is in effect for the entire coast of Nova Scotia, Prince Edward Island, New Brunswick from the U.S./Canada border eastward to Fort Lawrence and for the Magdalen Islands.
"Most of the hurricane force winds will remain offshore of Cape Cod," the Hurricane Center said, "however, only a small deviation to the left would bring hurricane conditions to the Hurricane Warning area tonight."
Earl is expected to produce one to three inches of rainfall over eastern New England with isolated maximum amounts of five inches possible.
A storm surge of as much as one to three feet above ground level is predicted from New Jersey northward to Cape Cod, including Long Island Sound. Near the coast, the surge will be accompanied by "large and destructive waves," the Hurricane Center predicts.
Water levels will continue to subside from the Outer Banks of North Carolina to Delaware Bay.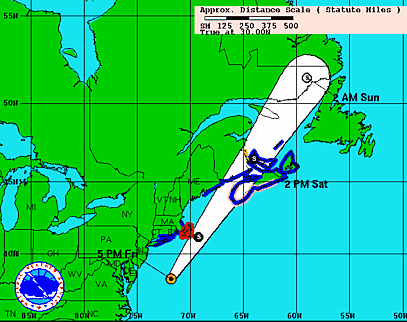 Five-day forecast track for Hurricane Earl as of 5 pm EDT Friday, September 3, 2010. Red markings indicate the Hurricane Warning area, blue markings indicate Tropical Storm warnings. (Map courtesy NOAA)
In Raleigh, North Carolina, Governor Bev Perdue said her state, "dodged a bullet." The state is conducting damage assessments from Earl, which brushed the Outer Banks last night.
"Life is returning to normal along the North Carolina coast," the governor said. "Evacuation orders are being lifted, state parks are reopening, and ferry service is resuming. Have a happy and safe Labor Day weekend."
U.S. NORTHCOM's Hurricane Hunters continue to conduct weather reconnaissance flyovers.
Bill Read, director of the National Hurricane Center, says people in the storm forecast areas who are not under evacuation orders should have supplies of food and water that could last for a week to ride out this storm in the event of power failure.
"With Tropical Storm force winds mostly affecting Massachusetts and Connecticut, the trees are full of leaves. When trees fall they cause power outages, when trees fall across roads we lose transportation. There tends to be a very large impact even if damage is only from trees," said Read.
Federal Emergency Management Agency Administrator Craig Fugate said, "We continue to monitor Hurricane Earl and remain in close contact with state and local officials from North Carolina to Maine to ensure they have the resources to respond if needed."
FEMA is moving roughly 400,000 liters of water, 300,000 meals and 54 generators to an base location in Fort Bragg, North Carolina. The agency is also moving roughly 213,120 meals and 162,000 liters of water, 41 generators, and 12,500 tarps to a base in Westover, Massachusetts.
The American Red Cross has deployed more than 350 trained disaster workers to North Carolina, Massachusetts and Rhode Island, along with more than 60 emergency vehicles.
Red Cross shelters are opened in North Carolina today and additional shelters are poised to open New York, Massachusetts and Rhode Island, with emergency planning continuing in 10 other states along the coast. Up-to-date shelter location information is available on www.redcross.org by clicking "Find a Shelter."
Copyright Environment News Service (ENS) 2010. All rights reserved.