Huge and Dangerous, Hurricane Earl Nears North Carolina
MIAMI, Florida, September 2, 2010 (ENS) – Called "relentless" and "dangerous," Hurricane Earl is fast approaching the U.S. Atlantic coast. Packing maximum sustained winds of 105 miles per hour, the Category 2 storm is forecast to hit North Carolina tonight, according to the National Hurricane Center in Miami.
Earl is predicted to strike Nantucket and Cape Cod with winds of 100 miles per hour on Friday night, while strong winds, flooding and damage will be felt as far west as Boston. Eastern Connecticut, Long Island, the Delmarva Peninsula and Chesapeake Bay are also predicted to feel Earl's lash.
National Hurricane Center Director Bill Read says the closest approach will be overnight and in the early morning hours. "Earl's center should be just to the east of Cape Hattaras, North Carolina," he said.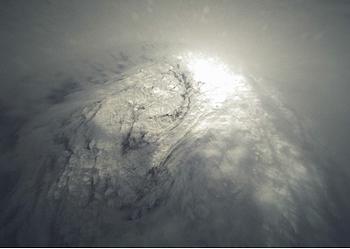 Hurricane Earl, as seen from a high-definition camera aboard NASA's Global Hawk uninhabited aerial vehicle, September 2. (Photo by NASA-JPL/DFRC)
Currently Earl is located about 115 miles south-southeast of Cape Hattaras, and about 570 miles south-southwest Nantucket, Massachusetts.
Pushed eastward by a cold front from the Midwest, Earl is forecast to make a sharp turn to northeast after brushing by North Carolina's Outer Banks. Read says if that happens any later than early Friday morning it would bring hurricane force winds onto North Carolina's barrier islands.
A mandatory evacuation of Ocracoke and Hatteras islands has been underway since Wednesday and evacuations are also underway on Cape Cod. Today President Barack Obama signed an emergency declaration for 10 counties in eastern Massachusetts where he and his family had a vacation in late August, making federal funding available to support state efforts to protect lives and save property.
On Wednesday, President Obama signed a similar emergency declaration for North Carolina. The Coast Guard has closed the North Carolina ports of Wilmington and Morehead City to all inbound and outbound traffic and once again urges all boaters to stay off the water.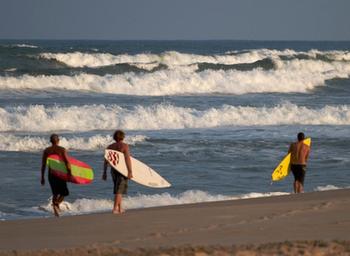 Surfers prepare to test themselves against waves brought by Hurricane Earl on the Outer Banks of North Carolina. (Photo by Bryan Elkus)
Still, today surfers took advantage of the higher than usual waves to have some fun from North Carolina to Long Island, New York.
Earl is now classed as a Category 2 hurricane, moving at 18 miles per hour with maximum sustained winds of 105 miles per hour. When it blew across the eastern Caribbean islands earlier this week with much stronger winds it was classed as a Category 4 hurricane.
But even as a Category 2, Earl is expected to topple trees and power lines, while high surf and storm surge will cause damage to beaches.
Slow weakening is forecast during the next 24 to 36 hours, but Earl is expected to remain a large hurricane as it passes near the Outer Banks and approaches southeastern New England.
Read explains that the hurricane will grow in size as the outer rain bands force "an eyewall replacement" at the center of the storm. "Instead of the nice tight eyewall we've seen in the last hours, he said this morning, rain bands will choke off the first eye, then another, larger diameter eye forms that spreads the hurricane out farther.
Hurricane force winds extend outward up to 70 miles from the eye of the hurricane, and tropical storm force winds extend outward up to 205 miles.
A Hurricane Warning is now in effect for Bogue Inlet, North Carolina northeastward to the North Carolina/Virginia border, including the Pamlico and Albemarle sounds.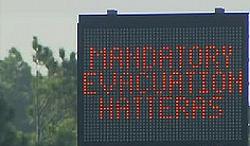 Roadside sign warns people to seek safer locations inland. (Photo credit unknown)
In Massachusetts, the Hurricane Warning is also in effect from Westport eastward around Cape Cod to Hull, including Martha's Vineyard and Nantucket Island.
A Hurricane Watch is in effect for the area north of the North Carolina/Virginia border to Cape Henlopen, Delaware and in the province of Nova Scotia, Canada from Medway Harbour to Digby.
A Tropical Storm warning is in effect for Surf City, North carolina to west of Bogue Inlet.
A Tropical Storm warning is also in effect from north of the North carolina/Virginia border to Sandy Hook, New Jersey, including Delaware Bay south of Slaughter Beach and the Chesapeake By south of New Point Comfort.
A Tropical Storm warning also exists for the coast of Long Island, New York from Fire Island Inlet eastward on the south shore and Port Jefferson Harbor eastward on the Norh Shore of the island.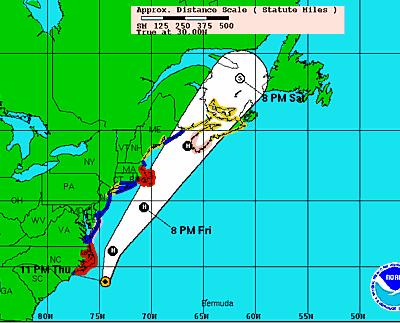 Five-day forecast track for Hurricane Earl (Map courtesy NOAA)
A Tropical Storm warning is also in place for the area from New Haven Connecticut to west of Westport, Massachusetts, including Block Island, north of Hull, Massachusetts to the Merrimack River, and in Maine from Stonington eastward to Eastport.
U.S. NORTHCOM's Hurricane Hunters continue to conduct weather reconnaissance flyovers.
Read says people in the storm forecast areas who are not under evacuation orders should have supplies of food and water that could last for a week to ride out this storm in the event of power failure.
"With Tropical Storm force winds mostly affecting Massachusetts and Connecticut, the trees are full of leaves. When trees fall they cause power outages, when trees fall across roads we lose transportation. There tends to be a very large impact even if damage is only from trees," said Read.
Federal Emergency Management Agency Administrator Craig Fugate said, "We continue to monitor Hurricane Earl and remain in close contact with state and local officials from North Carolina to Maine to ensure they have the resources to respond if needed."
FEMA is moving roughly 400,000 liters of water, 300,000 meals and 54 generators to an base location in Fort Bragg, North Carolina. The agency is also moving roughly 213,120 meals and 162,000 liters of water, 41 generators, and 12,500 tarps to a base in Westover, Massachusetts.
The American Red Cross has deployed more than 350 trained disaster workers to North Carolina, Massachusetts and Rhode Island, along with more than 60 emergency vehicles.
Red Cross shelters are opened in North Carolina today and additional shelters are poised to open New York, Massachusetts and Rhode Island, with emergency planning continuing in 10 other states along the coast. Up-to-date shelter location information is available on www.redcross.org by clicking "Find a Shelter."
Copyright Environment News Service (ENS) 2010. All rights reserved.