'Hunger, Homelessness and Desperation' in Pakistan
ISLAMABAD, Pakistan, August 31, 2010 (ENS) – On board a helicopter crossing the watery wasteland that was once Pakistan's fertile farmland, UN's World Food Programme Executive Director Josette Sheeran today warned of an extensive crisis still to come even as waters are receding in some places.
"There is a triple threat unfolding as this crisis widens and deepens," said Sheeran. "People have lost seeds, crops and their incomes leaving them vulnerable to hunger, homelessness and desperation – the situation is extremely critical. We urgently need continued and strengthened commitment to the people of Pakistan in this time of crisis."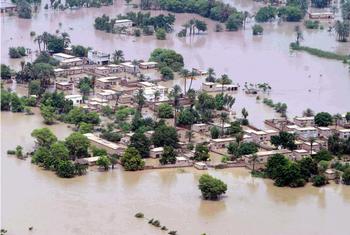 Village under flood waters near Multan, southern Punjab province. (Photo courtesy UNDP)
With a few dry days since Friday, floodwaters are starting to recede, but farms are inundated and villages are abandoned, stretching as far as Sheeran's eye can see. Water covers about 20 percent of the entire country; at least 7.9 million acres (3.2 million hectares) have been damaged. Some 70 percent of roads and bridges in the flooded areas have been washed away.
Under heavy monsoon rains and warmer temperatures, glaciers and snow caps in northern Pakistan are melting. Illegal logging on the higher slopes have made the land vulnerable to erosion and less able to absorb the heavy rainfall.
As a result, flood waters flowing south from northern Pakistan have devastated Punjab. Millions of people have been affected in 12 districts across the province.
Currently, the flood crest from the Indus River is entering the Indian Ocean and Pakistani weather officials say water levels in southern Pakistan are starting to recede. But they warn that water levels on the southern reaches of the Indus River are still "exceptionally high."
Since the flooding began July 29, more than 1,600 people across the country have died and more than six million are homeless, according to the United Nations. An estimated 18 million of Pakistan's 166 million people have been affected by the floods.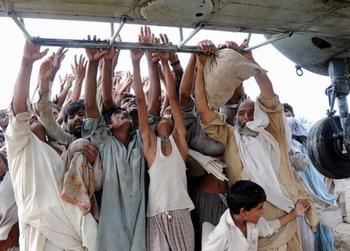 Flood affected men cling to an army helicopter distributing food and drinking water near Multan, Punjab. (Photo courtesy UNDP)
Thousands of those displaced by the floods are living in makeshift camps set up by the Pakistani government and army. There are also some 18 spontaneous camps, hosting an additional 50,000 people.
The Pakistani National Disaster Management Authority says a growing concern is the number of large pools of standing water left by receding waters, particularly as the peak mosquito season breeding occurs over the next two to four weeks, increasing the danger of malaria.
More than three million children are at high risk of deadly water-borne diseases, making them the most vulnerable victims of one of the worst natural disasters in history. Hospitals are already overloaded, treating hundreds of thousands of people with acute gastroenteritis.
In Kot Addu, a small town in the Muzzafargarh disctrict of Punjab, Sheeran and UNICEF Executive Director Anthony Lake today visited a girls' school that has been turned into an emergency relief center for flood victims.
They saw people coping with the most basic of living conditions at the center, but the families there have received one month's worth of food rations from the World Food Programme. To date, nearly three million other flood victims also have received food rations to carry them through the next month.
UNICEF hygiene kits are being handed out to families at the center, but much more needs to be done, said Lake.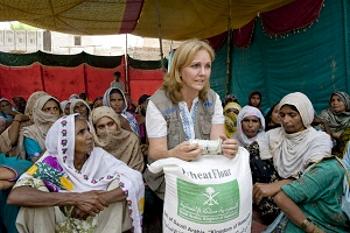 Josette Sheeran, head of the UN World Food Programme, with women at the emergency center in Kot Addu, Pakistan. August 31, 2010. (Photo courtesy WFP)
"What I saw today has convinced me that we must step up our humanitarian operations to stave off a potential second wave of disease and misery for millions of families, especially the most vulnerable, children and women," he said. "We are here today and for the long-term, as we plan for the early recovery phase of the operation."
Sitting with a group of women who had lost everything, Sheeran heard how they ran when the floodwaters arrived, taking only their children and a few belongings.
Some said they turned and wept as they saw their homes and all they owned engulfed by water. One woman nursed a malnourished six-month-old daughter, whose eyesight is failing. Her son was washed away by the raging flood.
With clean water in short supply, disease is a constant threat. Flood survivors are at risk of skin infections, malaria, snake and dog bites, with young children are most at risk.
Both UN agency heads visiting Kot Addu are Americans who have served in government positions – Sheeran as Under Secretary of State for Economic, Business, and Agricultural Affairs in the George W. Bush administration; and Lake as National Security Advisor under U.S. President Bill Clinton.
The United States responded to Pakistan's call for assistance with about $200 million, including funding for the operations of the Pakistan National Disaster Management Authority, the UN's emergency relief plan, and the many local and international organizations responding to this disaster.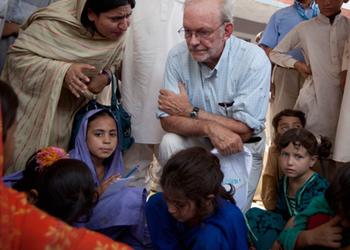 UNICEF Executive Director Anthony Lake visits a UNICEF-supported child friendly space in flood-affected Charsadda District. August 29, 2010. (Photo by Marta Ramoneda courtesy UNICEF)
These funds are also being used to provide critical supplies to flood affected populations. U.S. government aircraft, both civilian and military, have now evacuated more than 8,800 people and delivered more than 2.5 million pounds of relief supplies. Fifteen U.S. helicopters are at work in Pakistan and within the next two weeks 15 more will be added.
Dan Feldman, the U.S. State Department's deputy special representative for Afghanistan and Pakistan, said Monday, "The needs there are still very, very dramatic, and we are continuing to try to meet those as aggressively and robustly as possible."
To date, over 60 nations have committed more than $700 million to help Pakistan. The UN response plan, the initial plan of $460 million, is about two-thirds funded.
"But," said Feldman, "as the crisis response moves from this relief phase to the early recovery, and then recovery and reconstruction phases, we calculate that the needs are going to be absolutely vast."
The U.S. government, through the Department of State, has established the Pakistan Relief Fund for all to join in the relief, recovery and reconstruction effort. Individuals, corporations, and other organizations can send help to the people of Pakistan by contributing to this fund at www.state.gov. In the U.S., individuals can send $10 through mobile phones by texting "FLOOD" to 27722.
The Government of Pakistan and the Pakistan cellular phone industry are inviting Pakistanis to contribute to the Prime Minister's Fund for Flood Relief by texting the amount of their donation to "1234." Many NGOs and companies have announced the establishment of trust funds or donations to the Prime Minister's Fund.
In the United Arab Emirates today, the Red Crescent Authority telethon has raised over 85 million Dirhams (US$23.1 million) in donations so far to assist the flood victims in Pakistan. The telethon continues across the UAE.
Today, Japan announced it will dispatch a Disaster Medical Assistance Team to the Muzaffargarh district of Punjab, at the request of the Pakistani government, which says infectious diseases are spreading because of water contamination and lack of medical facilities. So far, Japan has given $14.6 million worth of food, water and emergency relief goods.
Looking to the future, an estimated half a million flood-affected women are expected to give birth during the coming six months in Pakistan, the World Health Organization said today.
"We must ensure the health and safety of all these women and their babies," said Martin Mogwanja, the UN's humanitarian coordinator for Pakistan. "This disaster has already affected almost 18 million people. We don't want it to also affect half a million babies who are not born yet."
Copyright Environment News Service (ENS) 2010. All rights reserved.