Amur Tigers to Get Protected Area on China-Russia Border
HUNCHUN, China, August 31, 2010 (ENS) – China's Jilin province and the neighboring Primorsky province in Russia have agreed to jointly establish the world's first transboundary protected area for the endangered Amur tiger.
Also called the Siberian tiger, Panthera tigris ssp. altaica, this sub-species is now believed to number just 500 animals in the wild.
Facilitated by WWF, the global conservation organization, the agreement was signed Sunday during the second annual Amur Tiger Cultural Festival in the northeastern Chinese city of Hunchun.
The China-Russia agreement was one of the highlights of this year's festival, which featured such events as a tiger conservation and economic development forum, costume parade, art performances and an ecological tour of tiger habitat.
The agreement was signed by officials with the Jilin Provincial Forestry Department of China and two Russian agencies – the Wildlife and Hunting Department of Primorsky province and Special Inspection TIGER of Russia, which is the official name of the Bureau on Protection of Rare and Endangered Species of Flora and Fauna.
"A new transboundary protected area would provide a wider and healthier habitat for Amur tigers and other endangered species, such as the Far East leopard, musk deer and goral," said Yu Changchun, director of the Conservation Department within the Jilin Forestry Department.
Dr. Zhu Chunquan, WWF-China's conservation director, said, "While tigers – the species at the top of the eco-system – are better conserved through the agreement, other species, the forest habitat and all the biodiversity resources will also benefit from this protected area."
"This agreement is a great boost for Amur tiger habitats in Russia and China," said Dr. Sergey Aramilev, the biodiversity coordinator for the Amur Branch of WWF-Russia.
"Since both countries play a crucial role in terms of global tiger recovery, a future transboundary network would represent a big step in WWF's global tiger conservation effort," said Dr. Aramilev.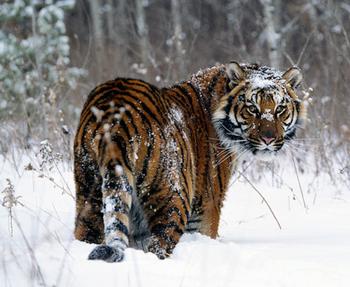 Amur tiger in the Hunchun Nature Reserve, China (Photo by Rare Planet)
"There's a lot of work to be done to implement this agreement, such as making sure it receives proper government funding, but this is a major step forward nonetheless," he said.
The number of Amur tigers in China is estimated at between 18 and 22, according to the Chinese government in 2007, and it is not known if any still survive in North Korea.
The Amur tiger now occurs primarily in Russia, where it has made a spectacular comeback since the 1930s, when the population fell as low as 20 to 30 animals.
Today, there are 331 to 393 adult and subadult Amur tigers in the Russian Far East, with a an adult breeding population of approximately 250, according to a comprehensive 2005 population census led by Dale Miquelle of the Russian Far East Program and Wildlife Conservation Society, Vladivostok, Russia.
However, after having been stable for more than a decade due to intensive conservation efforts, partial surveys conducted in subsequent winters indicate that the Russian tiger population is declining.
"Because tigers in this region require large territories to acquire sufficient prey, current strictly protected areas, comprising 3.4 percent (10,300 km2) of the region, are unlikely to prevent extirpation of the subspecies in the face of expanding forestry and external demand for tiger parts," Miquelle and his co-author wrote in a 2006 article in the "Journal of Applied Ecology."
Destruction and fragmentation of habitat, poaching and lack of prey have reduced the number of wild Amur tigers, parties to the new agreement acknowledge.
As part of the new pact, Jilin and Primorsky provinces will increase information sharing on Amur tiger and Far East leopard protection and work to adopt identical monitoring systems for tigers and their prey.
They agreed to conduct joint ecological surveys and develop plans to launch an anti-poaching campaign along the China-Russia boarder.
The agreement marks another milestone during the Chinese Year of the Tiger in 2010. WWF launched the TX2 campaign early this year, which seeks to double the number of wild tigers by the next Year of the Tiger in 2022. There have been other tiger conservation agreements this year as well.
Nepal and India signed a joint resolution at the end of July to jointly conserve biodiversity including tigers, and strengthen ecological security in the transboundary region.
Signing that agreement on July 29, India's Minister for Forest and Soil Conservation Deepak Bohora said, "It is a matter of pride that India and Nepal hold over fifty percent of the global tiger population and this gives us the responsibility to take the leadership in protecting wild tigers and showcasing to the world that together we can make a huge difference."
A groundbreaking tiger conservation declaration from the 13 countries that still have wild tiger populations was prepared in Bali, Indonesia in July, and is due to be signed before the close of Year of the Tiger at a tiger conservation summit hosted by Russia.
The Declaration seeks to create a tiger recovery program that is global in scope while promoting transboundary cooperation amongst the 13 tiger range countries.
Copyright Environment News Service (ENS) 2010. All rights reserved.