Hundreds Park Their Own Cars to Get 30-Day Car-Sharing Cards
CAMBRIDGE, Massachusetts, September 13, 2010 (ENS) – Starting Tuesday, 30 people in each of a dozen cities across the United States and Canada will be giving up their cars for 30 days – and considering themselves lucky.
The car-sharing service Zipcar is offering each of them a 30-day Zipcar membership card to participate in its third annual Low-Car Diet.
"With the unemployment rate holding at 9.6 percent and the average U.S. household spending nearly 19 percent of their income on transportation, smart consumers are looking for alternatives to owning a car," said Scott Griffith, Zipcar chairman and CEO.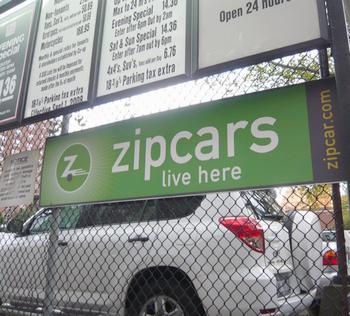 Zipcars await their next drivers in a Manhattan parking lot. (Photo by Shinya Suzuki)
Zipcar operates a car sharing network for more than 400,000 members with more than 7,000 vehicles in the United States, Canada and the United Kingdom.
Shared vehicles are available by the hour or by the day to members, who can reserve a car online or by phone or a mobile device. Hourly and daily rates include parking in the reserved spot, gas, insurance, mileage and 24/7 roadside assistance.
"This year's Low-Car Diet asks drivers to experience Zipcar and the concept of car sharing for what it really is – a way of life – and we hope participants realize what our 400,000 members already have – you can have all the freedom and benefits of car ownership without the expense or headaches of owning a car," Griffith said.
Zipcar is hosting kickoff events and end-of challenge celebrations in Atlanta, Boston, Chicago, New York, Philadelphia, Pittsburgh, Portland, San Francisco, Seattle, Toronto, Vancouver and Washington, DC. Participants will share their car-free experiences on Twitter and other social media channels.
"Low-Car Diet has made lasting changes in my life because it makes me think twice before driving a car," said Mara Unterberger of Chicago, one of 252 Low-Car Diet participants in the 2009 challenge event.
"I still consider if there is another way to get to my destination involving walking or public transit but I find that Zipcar is an easy, affordable and convenient alternative to driving my own car," she said.
After participating last year, Lauren Herskovic of Chicago said, "I really feel like this Low-Car Diet changed my life for the better and I'm excited to take all these life lessons with me. First step: get rid of my darn car and save $250 each month in payments! Additionally, now that I'm using public transportation, I've read more books and feel less stressed since I'm no longer fighting with other commuters over a parking space."
A majority of last year's Low-Car Diet participants liked doing without their cars – 61 percent of the 2009 participants said they planned to go car-free after the 30 day challenge was over.
Participants increased their miles biked by 132 percent, decreased their miles driven by 66 percent, and as an additional benefit, they lost weight – a total of 413 pounds.
Facts about car-sharing with Zipcar are online at: http://www.zipcar.com/how/faqs/
Car sharing pilot projects like Witkar began as early as the 1960s. Modern car sharing programs launched in 1987 in Switzerland and then in 1988 in Germany. The concept came to North America via Quebec City in 1994.
As of January 1, 2010, based on data provided by the Transportation Sustainability Research Center at the University of California, Berkeley, 27 U.S. carsharing programs claimed 388,089 members sharing 7,588 vehicles.
In Canada, 61,944 members shared 2,143 vehicles among 19 carsharing organizations.
As of October 2008, carsharing was operating in 22 countries on four continents, accounting for an estimated 650,000 members sharing some 20,000 vehicles.
Copyright Environment News Service (ENS) 2010. All rights reserved.