Embracing The Green at New York Fashion Week
NEW YORK, New York, September 13, 2010 (ENS) – New York Fashion Week has a green buzz this year that's wilder, more diverse and more compelling than ever.
As part of Fashion Week, The GreenShows is presenting 10 designers who are committed to eco-friendly, ethically sound, fair-trade fashion.
The three-day event opened Sunday night with a show by Venezuelan designer Luis Valenzuela, who lives and works in Miami. Inspired by his grandfather, Valenzuela transforms ordinary things such as lampshades into elegant dresses.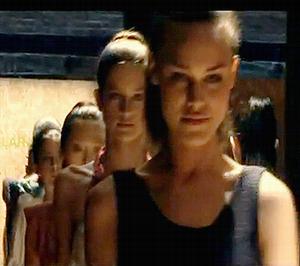 Models on the runway during one of The GreenShows (Photo courtesy The GreenShows)
In Valenzuela's hands men's pants are upcycled into alluring tops, recycled soda-tabs become purses and chandelier crystals glitter on a pleated cream gown.
If anyone knows about upcycled fashion art, it's New York designer JoAnn Berman who showed her new line today. Berman was creating new garments from vintage and found fabrics long before the term "eco-fashion" was first spoken. Her "Thunderbirds" collection was all brilliant colors and wild shapes.
Eric Dorfman, producer and creator of The GreenShows, said, "This is an exciting time for The GreenShows and for the selected designers to have this platform to show their creations on an international level during New York Fashion Week."
"Its importance in the fashion industry lies in the creations and philosophy of each of the designers, who demonstrate that high fashion can be achieved with minimal impact on the environment," Dorfman said.
Eliza Starbuck's philosophy led her to start her clothing line Bright Young Things with only one dress design – a little black dress.
Starbuck conceived the little black dress when she met Sheena Matheiken who wanted to wear just one dress – with unlimited accessories – every day for a year to raise charitable funds in an online experiment she called The Uniform Project.
Matheiken pledged to wear one little black dress for 365 days as an exercise in sustainability and a fundraiser to support the Akanksha Foundation – a nonprofit organization providing education to children living in the slums of India.
Starbuck's challenge was to create a dress that would hold up to a year-long daily wearing and that Matheiken could wear at work or at a cocktail party, at a conference or a concert, on the street or on the beach.
Starbuck's little black dress worked. In 2009, at the end of the yearlong challenge, The Uniform Project site had received over two million hits and raised over $100,000 in donations for the Akanksha Foundation.
Starbuck has gone on to a featured spot in The GreenShows Eco-Fashion Week event for her first fashion show – for eight multi-functional pieces of clothing.
"There are many interpretations of what sustainable fashion is and knowing that responsible options exist, consumers will be able to make informed decisions," Dorfman said.
Activist and model Summer Raine Oakes said, "I think the idea of sustainability in the fashion industry has expanded. At first it was just about materials. Now, for those of us who love fashion, who love to shop, we want to know that we're having the best possible impact on the Earth."
The GreenShows are happening at Metropolitan Pavilion's new eco-conscious venue, The Metropolitan Suite at 123 West 18th Street. The venue is retrofitted with eco-friendly flooring, employs energy-saving LED lights, and recycles its waste.
Metropolitan Pavilion is committed to environmental practices within the limits of a landmark building situated within the Ladies' Mile Historic District, the location of some of New York's most famous department stores.
"As a special events venue, we are committed to sustainable design which is why we are proud to support The GreenShows at our venue. And as a hub for Fashion Week events, we hope our venue is able to further The GreenShows mission to give fashion designers the opportunity to show their runway collections at an international level during New York Fashion Week," said Shelly Taggar, vice president of sales and creative services at Metropolitan Pavilion.
The 10 designers selected to show at The GreenShows at Metropolitan Pavilion are: Samantha Pleet, Susan Cianciolo, Bright Young Things by Eliza Starbuck, JoAnn Berman, Dress Reform, and Milliners Guild all of New York; Auralis from New York and Puerto Rico; Ashton Michael Black Label as well as Lavuk by Natasha Gindin from Los Angeles; and Luis Valenzuela of Miami.
Copyright Environment News Service (ENS) 2010. All rights reserved.