Homicide Suspect's Body Found in Mount Rainier National Park
MOUNT RAINIER NATIONAL PARK, Washington, January 2, 2012 (ENS) – The body of the gunman sought by police in the shooting death Sunday of a Mount Rainier National Park ranger has been found in the park.
Washington State Patrol Trooper Guy Gill confirmed this afternoon that the body of a white male found face down in the snow with no heat signature is that of homicide suspect Benjamin Colton Barnes, 24, an Iraq war veteran.
Barnes is also a suspect in a 3 am New Year's Day shooting at a house party in Skyway, Washington, just south of Seattle, that left four people wounded, two critically.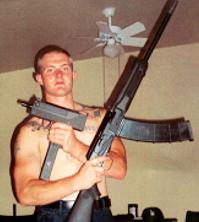 Benjamin Colton Barnes (Photo courtesy Pierce County Sheriff's Department)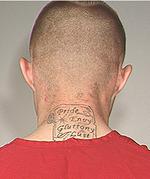 Tattoo on the neck of Benjamin Colton Barnes (Photo courtesy Washington State Patrol)
Parks spokesman Kevin Bacher said the speculation is that Barnes fled to Mount Rainier National Park to escape police questioning.
Park ranger Margaret Anderson, 34, was fatally shot at 10:20 am Sunday morning as she attempted to stop a vehicle that had eluded another ranger checking to see that cars had chains on their tires in the park's snowy, mountainous terrain.
Near Paradise about 4,500 feet up the mountain, Anderson set up a roadblock with her vehicle after the first ranger radioed for backup, while continuing to pursue the fleeing vehicle. In an exchange of gunfire, the suspect shot her there and fled on foot, after shooting at the other ranger and missing. Both rangers' cars were hit numerous times.
After the shooting, aproximately 125 park visitors were sequestered at Paradise Visitor Center with national park staff law enforcement officials in attendance, said park spokesperson Lee Snook. Over several hours during the night, authorities evacuated them.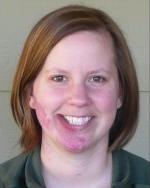 Margaret Anderson (Photo courtesy Mount Rainier National Park)
The 368-square-mile park 75 miles south of Seattle is still closed as officials from the U.S. Forest Service, the FBI, the Washington State Patrol, and sheriffs from surrounding counties continue their investigation.
A U.S. Border Patrol helicopter that flew over the area Sunday afternoon was able to pick up his tracks leaving the area, said park spokesperson Lee Snook.
"His vehicle has been searched and a couple of rifles were found in there," Snook said. "It looked like he could be ready to stay in the park for awhile; he had gear to stay in the park, but he no longer has that with him."
A veteran ranger with four years of service in Mount Rainier National Park, Anderson leaves her husband Eric Anderson, also a Mount Rainier ranger, who was working elsewhere in the park at the time of the shooting, and two daughters, aged four and two.
People have been legally permitted to take loaded firearms into Mount Rainier National Park since 2010, when Congress passed a controversial law that made possession of firearms in national parks subject to state gun laws.
Secretary of the Interior Ken Salazar said, "I am deeply saddened by the tragic, horrific and cowardly murder today at Mount Rainier National Park. The Department of the Interior and the National Park Service will do everything possible to bring the perpetrator of this crime to justice and to ensure the safety of park visitors and other park rangers."
"This tragedy serves as a reminder of the risks undertaken by the men and women of the National Park Service and law enforcement officers across the Department every day, and we thank them for their service," said Salazar. "My thoughts and prayers are with Margaret's family in this difficult time."
Copyright Environment News Service (ENS) 2012. All rights reserved.