California Curbs Diesel Truck and Bus Emissions
SACRAMENTO, California, January 2, 2012 (ENS) – New regulations for reducing emissions from heavy diesel trucks and buses took effect in California on January 1.
By requiring that trucks and buses be equipped with diesel particulate matter filters, the regulation will reduce emissions from the nearly one million heavy-duty diesel trucks that operate in California.
The regulation is one of several emission control measures that target diesel pollution, which is associated with a host of health ailments including cancer.
Diesel particulate filters remove 85 percent of the fine particle pollution found in diesel exhaust.
Three new studies released in December by the California Air Resources Board show that exposure to airborne fine-particulate matter elevates the risk for premature deaths from heart disease in older adults and elevates incidence of strokes among post-menopausal women.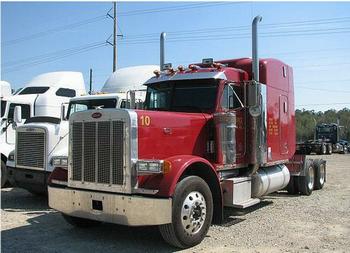 Owners of diesel trucks must install filters to trap fine particulates. (Photo credit unknown)
Heart disease is the number one killer in California and is responsible for approximately 35 percent of annual deaths.
"We've long known particulate matter is a major component of California's air pollution problem," said California Air Resources Board Chairman Mary Nichols. "These new studies underscore the need to eliminate the threat from California's air."
The regulation, adopted by the California Air Resources Board in 2008 and later amended in 2010 to provide more flexibility for businesses, applies to all privately owned and federal government diesel trucks and buses that operate in California.
"Fleet owners who need to get the facts should call Air Resources Board's diesel hotline or go the Air Resources Board website for assistance as soon as possible," said Air Resources Board's Assistant Chief of Mobile Sources Erik White.
"We continue to make tools available to help truckers better understand the regulation and determine which options make the most sense for their businesses," said White. "Several options are available for funding ahead of regulatory deadlines, as well."
The regulation provides owners of heavier trucks and buses with a Gross Vehicle Weight Rating greater than 26,000 pounds with two options to reduce diesel emissions.
They can follow a staggered implementation schedule that requires 1996-1999 model year engines be retrofitted with a diesel particulate matter filter by January 1, 2012.
Or they can use a flexible phase-in option that requires any 30 percent of vehicles in the fleet to have a particulate matter filter. This option requires fleet owners to report information about all their heavier vehicles to the Air Resources Board by January 31, 2012. Fleets that report can also take advantage of credits and special provisions.
Owners of small fleets – one to three trucks with a Gross Vehicle Weight greater than 14,000 pounds – can postpone the January 2012 compliance requirement for their heavier trucks until 2014, but must report their fleet information to California Air Resources Board by January 31, 2012, in order to receive the extension.
Lighter diesel trucks with a GVWR of 14,001 to 26,000 pounds have no compliance requirements until 2015.
Business owners may find funding opportunities to upgrade their fleets through a program that offers incentive grants for buying cleaner-than-required engines yielding early or extra emission reductions, or by using funds available under the Goods Movement Emissions Reduction Program.
Copyright Environment News Service (ENS) 2012. All rights reserved.