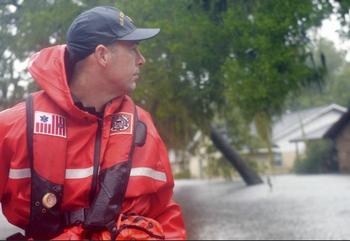 HOUSTON, Texas, August 31, 2017 (ENS) – After dumping record rainfall of up to 51.88 inches on parts of the east Texas coast, claiming 29 lives and sending thousands of people into shelters or fleeing to higher ground, Hurricane Harvey, now slowed to a tropical depression, is making its destructive way across the Lower Mississippi Valley and into the Tennessee and Ohio Valleys.
Flash flood warnings and watches and flood warnings and advisories are still in effect across the entire area, according to the National Weather Service.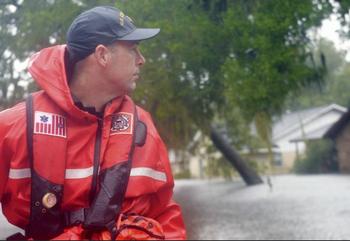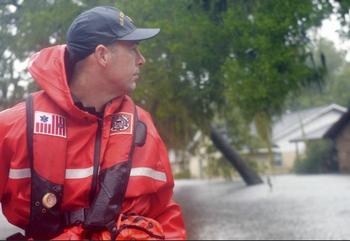 Now about 30 miles northwest of Greenwood, Mississippi, the storm is still capable of producing six to eight inches of rain from western Tennessee to west central Kentucky.
The National Weather Service warns, "widespread flooding will continue in and around Houston, Beaumont/Port Arthur/Orange and eastward around the Louisiana border through the weekend.
Dr. Joel Myers, founder, president and chairman of AccuWeather, said, "This is the costliest and worst natural disaster in American history. AccuWeather has raised its estimate of the impact to the nation's gross national produce, or GDP, to $190 billion or a full one percent, which exceeds totals of economic impact of Katrina and Sandy combined."
"Business leaders and the Federal Reserve, major banks, insurance companies, etc. should begin to factor in the negative impact this catastrophe will have on business, corporate earnings and employment," said Myers. "The disaster is just beginning in certain areas."
Parts of Houston, the United States' fourth largest city will be uninhabitable for weeks and possibly months due to water damage, mold, disease-ridden water and all that will follow this 1,000-year flood," Myers said.
At a news conference on Wednesday, Texas Governor Greg Abbott said the state could need more than $125 billion from the federal government to help it recover.
On Wednesday President Donald Trump spoke with Texas Governor Greg Abbott to tell him, "We are with you today, we are with you tomorrow, and we will be with you every single day after, to restore, recover, and rebuild."
Trump plans to donate $1 million for victims of the historic floods and rains that have devastated the Gulf region, White House press secretary Sarah Huckabee Sanders said Thursday.
Sanders said she was unsure whether the donation would come from the president personally or from the Trump Foundation.
"I don't know the legal part of exactly that, but he said his personal money so I would assume that comes directly from him," she told reporters.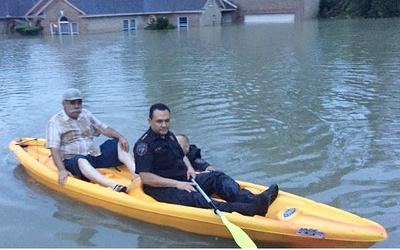 Trump and first lady Melania Trump will visit Texas and Louisiana on Saturday, Sanders said. It will be the couple's second trip to the region since Harvey made landfall Friday as a Category 4 hurricane. They visited Austin and other Texas towns on Tuesday.
Today, Vice President Mike Pence, in work gloves and blue jeans, cleared large broken branches from in front of homes in Rockport, Texas, together with second lady Karen Pence and acting Homeland Security Secretary Elaine Duke, according to a White House pool report.
In the aftermath of Harvey, the business community is mobilizing their expertise, capabilities, and resources to assist with the relief and recovery efforts. Since the storm hit, the Corporate Aid Tracker has recorded more than $113 million in corporate contributions.
For instance, Wal-Mart Stores and its foundation announced up to $20 million for Hurricane Harvey relief efforts. This includes $10 million focused on support of American Red Cross shelters and $2 million in support of the Hurricane Harvey Relief Fund at the Greater Houston Community Foundation. The retailer will also match customer donations two to one up to $10 million in cash and products.
The property management company FirstService Residential announced today the immediate availability of $10 million in emergency loans to aid its managed properties in Houston and the surrounding area damaged by Hurricane Harvey.
Until September 8, Verizon customers will recieve talk, text and data relief, and Verizon will also pledge $10 million that will go to four relief-related nonprofits.
Microsoft is contributing $2.5 million in cash, technology and services to support relief efforts and to help nonprofit and public-sector organizations as they assist the community in recovery.
McDonald's is donating $1 million to the Red Cross in support of relief efforts and offering a $250,000 employee match program. Franchises in the region are donating thousands of bottles of water to the Red Cross and Houston-area restaurants that are open are serving first responders.
The Texas Rangers' ownership, the baseball club and the Rangers Foundation are donating $1 million to the hurricane relief efforts in South Texas and the Houston area.
Major League Baseball and the Major League Baseball Players Association will jointly donate $1 million to Hurricane Harvey relief and recovery efforts, spread amongst the American Red Cross and other humanitarian aid organizations.
The Dallas Cowboys football team pledged $1 million to the United Way of Greater Houston's Flood Relief Fund.
Houston Texans football team owner, Bob McNair, and the team pledged $1 million to the United Way of Greater Houston Flood Relief Fund.
The National Football League Foundation pledged to match the Houston Texan's $1 million donation to support first responder efforts by the Red Cross, Salvation Army, and the United Way of Greater Houston.
The Houston Livestock Show and Rodeo is committing $2 million to relief efforts.
United Airlines will give up to three million bonus miles to MileagePlus members who donate to disaster relief organizations such as the Red Cross or AmeriCares. United will also match the first $100,000 raised in donations.
NRG Energy and Reliant will provide more than $2 million of disaster relief resources, including $1 million in cash donations, as well as in-kind relief efforts valued at more than $1 million in community support and customer assistance. The funding goes toward a relief fund for impacted employees, deploying disaster-response power generation solutions to assist first responders, providing Houstonians backup power and phone chargers, and offering enrollment and billing assistance to impacted customers.
UnitedHealth announced a donation of $1 million to support Texas communities impacted by the storm. They are also offering a 2 to 1 match for employee donations toward disaster relief efforts.
Abbott and the Abbott Fund are providing $1 million in grants and healthcare and nutrition products. This includes $900,000 in grants to the American Red Cross, Americares and Direct Relief, and $100,000 in healthcare and nutrition products.
HCA Healthcare donated $1 million to the American Red Cross.
Apple is accepting donations through iTunes. The company allows customers to pledge $5, $10, $25, $50, $100, or $200 — and 100 percent of every donation is passed onto the American Red Cross. They also made a $2 million contribution to the Red Cross and would match employee donations at a 2:1 rate.
The Bank of America Charitable Foundation is donating $1 million to support Harvey relief efforts, including a $250,000 donation to the Red Cross. Bank of America will also match employee donations of $1 or more until September 30.
The Boeing Charitable Trust committed $1 million to the Red Cross for Harvey relief efforts.
Carnival Cruise Line and Carnival Foundation, the philanthropic arm of Carnival Corporation, are each donating $500,000 to Harvey disaster relief efforts, for a total donation of $1 million from the company. Carnival Corporation Chairman Micky Arison and his wife Madeleine are matching the corporation's commitment with a $1 million donation from the Micky and Madeleine Arison Family Foundation.
The Coca-Cola Foundation has pledged $1 million to the American Red Cross. The company is matching employee donations, up to $100,000, to the Coca-Cola Employee Disaster Relief Fund, which will go to company associates affected by the storm. The Coca-Cola system has also donated nearly 25,000 cases of water, milk, sports drinks and other beverages to people in the affected areas.
Comcast NBCUniversal has pledged more than $1 million to relief efforts. The contribution includes $500,000 in cash that will be shared between the Hurricane Harvey Relief Fund and the American Red Cross. The company will also donate advertising time to the organizations.
To help with initial relief efforts throughout Texas, Chevron is making a $1 million contribution to the American Red Cross. Additionally, U.S. paid employees and retirees can have their personal contributions matched through Chevron Humankind.
ConocoPhillips announced two key charitable donations it is making to assist and support Hurricane Harvey relief efforts and Gulf Coast-Area communities. The company increased its donation to the American Red Cross to $2.5 million and announced a $2.5 million donation to the United Way of Greater Houston.
Valero Energy Corporation is contributing $1 million to the American Red Cross.
Exxon Mobil is donating $1 million to relief efforts, split evenly between the United Way of Greater Houston and the Red Cross.
Shell is giving $1 million to the American Red Cross.
The Dow Chemical Company Foundation has pledged $1 million to relief efforts. It will donate $100,000 to the American Red Cross Disaster Relief Fund, $100,000 to Team Rubicon and $200,000 to other local nonprofit organizations. The foundation will match employee and retiree donations up to $100,000. It will use the remaining $500,000 to help long-term rebuilding efforts.
Facebook will match every dollar raised on the social network, up to $1 million, for the Center for Disaster Philanthropy's Hurricane Harvey Recovery Fund, which is earmarked to support recovery and rebuilding efforts.
FedEx has committed $1 million in cash and transportation support to deliver critical medical aid and supplies in the wake of Hurricane Harvey.
UPS Foundation pledged $1 million dollars to support immediate relief and recovery efforts across Texas and Louisiana, including many recipients of cash and in-kind assistance.
Waste Management has committed to $3 million cash contribution allocated to Mayor Sylvester Turner's Harvey Hurricane Relief Fund ($1.5 million), the Red Cross ($1 million), and $500,000 (additional charities in South and East Texas).
IBM is providing a comprehensive response package valued at $2 million made up of cash and in-kind technology and services.
For a complete list, see: https://www.uschamberfoundation.org/
Copyright Environment News Service (ENS) 2017. All rights reserved.