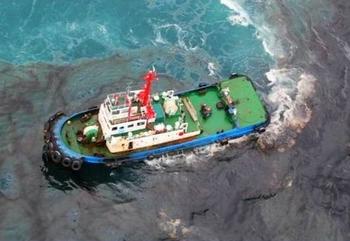 BANGKOK, Thailand, July 30, 2013 (ENS) – Crude oil that leaked from a pipeline in the Gulf of Thailand on the weekend has reached a Thai tourist resort, pipeline operator PTT Global Chemical Pcl said Monday. The company is part of state-controlled PTT Pcl, Thailand's biggest energy firm.
Around 50,000 liters (420 barrels) of crude oil spilled into the ocean on Saturday around 20 kilometers (12 miles) off the coast of Rayong province and 230 km (140 miles) southeast of the Thai capital, Bangkok.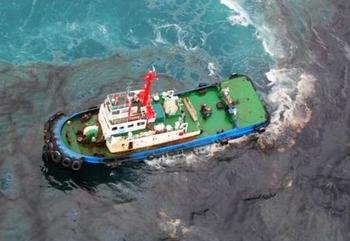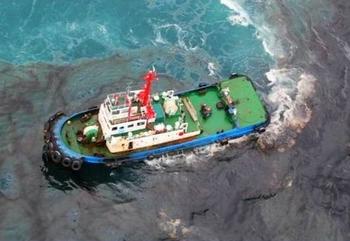 "An oil slick has reached Ao Prao beach on Koh Samet island," said PTT Global in a statement. Thai officials have closed the beach for cleanup.
Famous for its white sandy beaches, Koh Samet is popular with both local and foreign tourists, because it is close to Bangkok and features both high-end and budget resorts. But now the beaches are black with oil.
Personnel from Thai partner agencies and volunteers have joined the cleanup force of approximately 500 people.
About 200 soldiers are helping to clean up the spill and 300 more will provide back-up, said Rayong Governor Wichit Chartpaisit. The oil removal will be completed Wednesday, he said in a statement today.
Cleanup workers in white suits are taking oil off the beaches. Seven ships and 12 aircraft are at the scene deploying containment booms and spraying dispersants to dissolve the oil.
The company said most tourists have remained on the island, because the spill affects just six percent of the island's area.
But Thai Tourism Minister Somsak Phurisisak said the government is moving disappointed visitors to other locations. "I'm very concerned, I didn't think this spill would impact tourism in such an extreme way," he told reporters.
Prasert Bunsumpun, chairman, PTT Global Chemical, said, "We must take full responsibility. I feel sorry for the incident, the company will have to restore the environment."
Anon Sirisaengtaksin CEO, PTT Global Chemical said the company regrets the incident and intends to accomplish the healing and restoration of the environment as quickly as possible.
The company will work with university scientists and experts from England in the preparation of plans and marine ecosystem restoration, environmental rehabilitation.
Another subsidiary, PTT Exploration and Production Pcl, was involved in Australia's worst offshore drilling accident in 2009, when thousands of gallons of crude oil fouled the ocean for 74 days after a damaged oil well blew out.
The slick from the Montara oil field off Australia's northwest coast spread into Indonesian waters. The Australian government's Montara Commission of Inquiry report blamed the spill on systemic shortcomings at the Thai oil giant. PTTEPAA said it regretted the Montara incident and acknowledged there were deficiencies in the company's operations.
Copyright Environment News Service (ENS) 2013. All rights reserved.