Greenpeace Links Barbie Packaging to Indonesian Rainforest Loss
LOS ANGELES, California, June 10, 2011 (ENS) – Facebook removed Greenpeace rainforest conservation ads from its pages last night after the giant toy company Mattel complained of copyright infringement.
A Greenpeace USA campaign this week pointed to Mattel's use of paper made by clearing Indonesian rainforests for packing Barbie and Ken toys.
To dramatize its point the group ran satirical Facebook ads showing Ken with a frowning face to show disapproval of the rainforest packaging.
After running the ads for three days, Greenpeace received a notice from Facebook late last night that the ads were removed due to a third-party complaint of trademark infringement.
"According to our legal analysis prior to the campaign, this complaint to Facebook that Greenpeace violated trademark rights is a meritless attempt to stop us from conveying to the public the practices of Mattel that contribute to deforestation," the advocacy group said in a statement. "Greenpeace used Ken and Barbie in a satirical, noncommercial way, which falls outside of trademark protection."
On Tuesday, Greenpeace revealed that packaging for Barbie is produced by clear-cutting the rainforests of Indonesia, inhabited by critically endangered species such as the Sumatran tiger and the orangutan.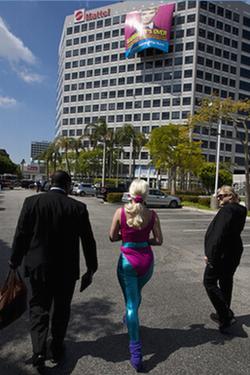 Elise Nabors, dressed as Barbie approaches the Mattel headquarters building where activists have hung a banner, June 7, 2011 (Photo courtesy Greenpeace)
Greenpeace activists, dressed in tuxedos to mimic Barbie's boyfriend Ken, scaled Mattel's Los Angeles headquarters with a giant banner saying, "Barbie: It's Over. I Don't Date Girls That Are Into Deforestation."
Greenpeace climbers dressed as "activist Ken" rappelled down Mattel's 15 story building while "Barbie" circled the grounds in a glossy pink bulldozer.
Police closed in and arrested Elise Nabors, 27, dressed as Barbie, and nine other activists: Jarred Cobb, Aliyah Field, Madeline Gardener, Caroline Hansley, Noah Mace, Alexa Markley, Sean O'Brien, Mary Sweeters, and Donny Williams.
Greenpeace says the action was spurred by new evidence showing how Mattel's toy packaging is linked to the destruction of rainforests in Indonesia.
The organization says its investigators used forensic testing and mapping data to demonstrate that Barbie's packaging comes from clear-cutting natural Indonesian rainforests.
The Greenpeace researchers traced company certificates to show that Mattel, along with other toy companies including Hasbro and Disney, are using packaging produced by Asia Pulp and Paper.
Asia Pulp and Paper has been exposed many times for destroying Indonesia's rainforests to make products such as packaging.
For instance, in 2006 the Center for International Forestry Research produced a report, funded by the European Commission and the UK Department for International Development, that found Asia Pulp and Paper to be clearing natural forests in Sumatra for the majority of its wood supply while telling investors that the company had sustainable supplies of very low-cost fiber.
Indonesia has one of the fastest rates of forest destruction in the world. The Indonesian government estimates that more than one million hectares of rainforests are cleared every year.
Hundreds of thousands of people around the world got Greenpeace's message this week.
In less than 72 hours, more than 700,000 people viewed an online spoof video featuring the moment Ken discovers that Barbie is involved in rainforest destruction.
Greenpeace says that nearly 200,000 have swamped Mattel's offices with emails complaining about the company's use of products from Indonesian rainforests to package toys like Barbie.
It was the email protest that drew Mattel's attention and led to the company's formal complaint to Facebook about a frowning version of Ken's face online.
Rolf Skar of Greenpeace said,"Hundreds of thousands of people are now involved in the campaign to get Barbie to drop rainforest destruction. But instead of listening, we're now being silenced on Facebook."
Since the revelations, Mattel has promised to investigate, but has given no indication that is has a policy to be used as the basis for this investigation.
Greenpeace says this promised investigation is inadequate and that without a tough new policy Mattel is continuing to force parents into buying products linked to the destruction of tropical rainforests.
"Mattel didn't listen to Ken, and they haven't listened to the ever-growing amount of people who have emailed. Promising an investigation isn't enough," said Skar. "They've got to drop APP and introduce an entire policy to cut rainforest destruction out of their products, permanently."
Copyright Environment News Service,ENS, 2011. All rights reserved.