German E. Coli Traced to Bean Sprouts, Not Cucumbers
BERLIN, Germany, June 10, 2011 (ENS) – German health authorities today said that bean and seed sprouts, not cucumbers, are the vehicle of a deadly outbreak of bacterial disease that has killed at least 31 people since early May.
People in Germany should not eat raw bean and seed sprouts of any origin, including fenugreek, mung beans, lentils, adzuki beans and alfalfa, health officials warned.
The advisory was jointly issued by authorities from the Robert Koch Institute, the Federal Institute for Risk Assessment and the Federal Office of Consumer Protection and Food Safety.
Households, caterers and restaurants should dispose of any bean and seed sprouts that they have, and any food items that might have been in contact with them, until further notice.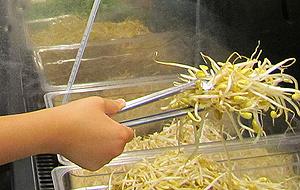 Bean sprouts are off the menu in Germany (Photo credit unknown)
Officials at first said that cucumbers were to blame for the outbreak and tons of cucumbers were dumped, but today the recommendation not to eat cucumbers, tomatoes and leafy salads in northern Germany was cancelled.
The authorities recommend withdrawal from the market of all food products from a farm in Lower Saxony, where the implicated bean and seed sprouts originated.
Numerous investigations continue, including into delivery chains. So far, there is no evidence that bean and seed sprouts from the farm have been exported beyond Germany.
Germany's national disease control center said today that while another person has died and 160 others have been stricken over the past few days, the rate of newly occurring cases of the disease is showing a decreasing trend.
Since May 2, 3082 cases have been reported from EU Member States, and 31 people have died, according to the European Centre for Disease Control.
The World Health Organization says that apart from victims in Germany, 97 others have fallen sick in 12 other European countries, as well as three in the United States.
The Robert Koch Institute said Thursday that 2,808 people have been reported sickened in Germany. Of those, 759 are suffering from hemolytic-uremic syndrome, HUS, that can cause kidney failure. The others have been sickened by a form of Shiga toxin-producing E. coli, or STEC.
Scientifically the bacteria is referred to as "enteroaggregative verocytotoxin-producing _E. coli_ (EAggEC VTEC)" according to the International Society for Infectious Diseases. Several teams of scientists in Germany are decoding the organism's genome in an attempt to answer questions of its origin and prepare remedies.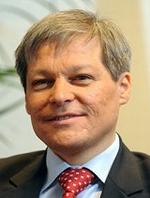 Dacian Ciolos (Photo courtesy Office of the Commissioner)
European agriculture ministers met in Luxembourg this week to discuss the spread of the bacteria and its economic effect on growers. EU officials estimate the bacterial outbreak has cost farmers millions of dollars.
On June 2, Russia imposed a ban on European vegetables, and despite objections by the European Commission, Prime Minister Vladimir Putin said his country will not lift the ban until the EU provides details about the source of the infections.
On Wednesday, EU Agriculture Commissioner Dacian Ciolos proposed farm aid of US$300 million to help European farmers recover at least 50 percent of their losses.
"The source of the E coli epidemic is not known," said Ciolos. "It is the Commission's main priority to end the sanitary crisis and restore consumer confidence. In response to the economic impact that we have seen all across Europe, my priority as Commissioner for Agriculture is also to support vegetable producers as soon as possible. They need support now."
The emergency aid plan will be submitted to the approval of the EU member states experts on June 14.
European Commissioner for Health and Consumer Policy John Dalli warned against the risk of passing judgment too soon. "It is crucial that national authorities do not rush to give information on source of infection which is not proven by bacteriological analysis, as this spreads unjustified fears in the population all over Europe, and creates problems for our food producers selling products in the EU and outside of the EU."
Copyright Environment News Service,ENS, 2011. All rights reserved.