Green Policies Drive Washington Auto Show in U.S. Capital
WASHINGTON, DC, January 27, 2012 (ENS) – The 70th Washington Auto Show: "Safety and Sustainability in Motion" opens to the public today with more than 700 vehicles from over 42 domestic and import manufacturers and a special exhibit, "The Advanced Technology SuperHighway."
In this pavilion, most of the major automakers are showcasing their latest electric, hybrid, hydrogen, clean diesel, natural gas, ethanol, biofuel and advanced petroleum technologies, and the latest thinking in automotive safety.
The show is produced by the Washington Area New Automobile Dealers Association representing 225 franchised new vehicle dealers and 75 associated members in the Capital Beltway area.
"In light of President Obama's emphasis on the resurgence of the automotive industry and his commitment to clean energy, The Washington Auto Show presents a platform to meet with automakers and see first-hand the developments on both fronts, especially where they intersect," the show organizers said in a statement.
They were referring to the President's observation in his State of the Union speech on Tuesday night, "Today, General Motors is back on top as the world's No.1 automaker. Chrysler has grown faster in the U.S. than any major car company. Ford is investing billions in U.S. plants and factories. And together, the entire industry added nearly 160,000 jobs. We bet on American workers. We bet on American ingenuity. And tonight, the American auto industry is back."
General Motors is using its No. 1 automaker platform to encourage purchases by conservation-minded consumers.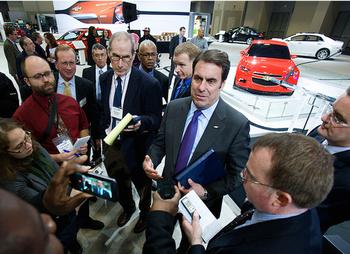 Reporters surround GM North America President Mark Reuss at the Washington Auto Show (Photo by Mark Finkenstaedt courtesy General Motors)
At the show, GM North America President Mark Reuss announced Thursday that Chevrolet vehicles sold in the United States will display new Ecologic environmental labels that let customers see the environmental features of a vehicle relating to manufacturing, driving and recycling.
The fuel-efficient 2012 Chevrolet Sonic will be the first model to display the label, beginning in March, and it will appear on 2013 models later this year. Chevrolet is the first automotive brand to include a label of this kind on its vehicles.
Each claim on the Ecologic labels is audited by an independent third-party sustainability agency. "Customers want companies to be honest and transparent about their environmental efforts and sustainability goals, and rightly so," said Reuss.
As befitting an auto show in the nation's capital, Wednesday and Thursday were Public Policy Preview Days with a keynote speech by U.S. Transportation Secretary Ray LaHood, a Republican in Obama's Democratic administration.
Speaking Thursday, LaHood applauded a bipartisan bill emerging unanimously, for a change, from the often argumentative Senate Environment and Public Works Committee, chaired by California Democrat Senator Barbara Boxer. Now awaiting consideration by the full Senate, the measure streamlines the nation's surface transportation policy and reauthorizes funding at current spending levels for the next two years.
"I want to make sure everybody understands the Senate has worked hard on a transportation bill and they're bringing their bill to the floor," said Secretary LaHood. "I spoke with Senator Boxer about that today and I complimented her on a bill that got voted out of her committee 18-0. Unheard of in the halls of Congress!"
Called "Moving Ahead for Progress in the 21st Century (MAP-21)" the legislation would reauthorize the nation's surface transportation programs, which otherwise are set to expire on March 31.
The bill consolidates 87 existing programs into fewer than 30 programs and focuses infrastructure programs on the most critical 222,000 miles of roads and bridges across the United States.
The Washington Auto Show Public Policy Days opened Wednesday with two panels on "Driving Innovation – The Role of the Auto Industry in the Green Economy," hosted by The National Journal newspaper.
Global Automakers' President and CEO Michael Stanton said automakers are investing to meet the new fuel economy and greenhouse gas standards issued by the U.S. Environmental Protection Agency, the Department of Transportation, and the California Air Resources Board, but widespread adoption of cleaner vehicles will take more than that.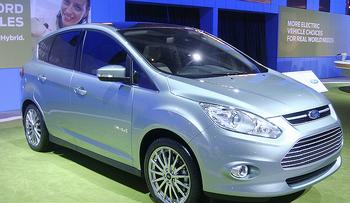 Ford C-MAX Energi at the Washington Auto Show (Photo by mariordo59)
"To get consumers to buy green vehicles," said Stanton, "they need to recognize the value of fuel efficiency and have the refueling infrastructure necessary to support their purchase."
Thursday at the show, the Ford C-MAX Energi was named Green Car Journal's 2012 Green Car Vision Award winner.
Ford's first plug-in hybrid vehicle, the C-MAX Energi is slated to roll out in late 2012 with a driving range greater than 500 miles. "Designing new cars from the ground-up to accept both internal combustion and alternative powerplants is an extremely important strategy," said Ron Cogan, editor and publisher of the Green Car Journal and editor of GreenCar.com.
The Hybrid Electric Vehicle EcoCAR 2 team from Virginia Tech is exhibiting in the Advanced Technology SuperHighway pavilion and will be on hand through Saturday together with the Ohio State University EcoCAR 2 Team.
Virginia Tech and Ohio State are two of 15 North American engineering schools competing in EcoCAR 2: Plugging In to the Future, a three-year-long project sponsored by the U.S. Department of Energy and General Motors.
The competition challenges university students to reduce the environmental impact of a 2013 Chevrolet Malibu, donated by GM, without compromising performance, safety and consumer acceptability. At the end of the first year of the competition, each team will receive a 2013 Malibu to work on.
"EcoCAR 2 gives us the opportunity to develop valuable skills that will prepare us for careers as the next generation of clean vehicle engineers," said HEVT team leader Jesse Alley. "Auto shows are a great outlet to reach a new group of consumers who are interested in alternative energy ideas but may not have heard of the competition before."
The Boise State University Greenspeed student team who built the world's fastest vehicle fueled by vegetable oil are also in the Advanced Technology SuperHighway pavilion educating visitors about the potential of biodiesel.
The team put a Cummins diesel engine into a small pickup that runs on vegetable oil. In November, Greenspeed's souped-up 1998 Chevrolet S-10 pick-up truck wiped out the existing 98-mph record for vegetable oil-powered vehicles by clocking 155 mph at a Southern California Timing Association race on a dry lake bed in the Mojave Desert.
In the future, Greenspeed engineers plan to explore other fuel alternatives, such as oil extracted from algae grown at Boise State.
Copyright Environment News Service (ENS) 2012. All rights reserved.