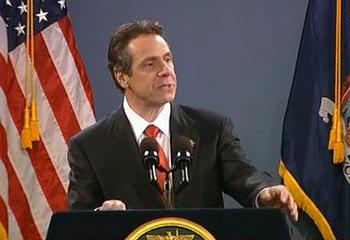 ALBANY, New York, January 10, 2013 (ENS) – In his 2013 State of the State Address, New York Governor Andrew Cuomo proposed a $1 billion Green Bank to spur a clean economy and improve the environment in New York by "lowering capital costs and bringing green energy to scale."
Delivered Wednesday, Cuomo's address focused on rebuilding from Hurricane Sandy, growing the state's clean tech economy and positioning New York as "the progressive capital of the nation."
"New York is on its way, coming back stronger than ever before, rising to meet some of the biggest challenges in our history, remaining as a progressive beacon of light to the rest of the nation, and standing out as a model of effective government," Governor Cuomo said.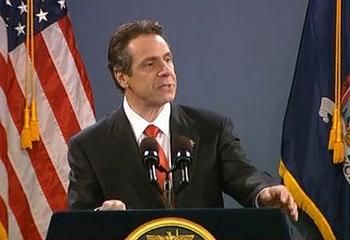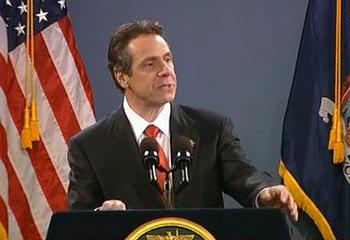 "Gone are the anti-business, obstructionist, tax capital, and gridlock mentalities, replaced with an entrepreneurial government that collaboratively works together for the people and partners with the private sector to create jobs and get the economy back on track," he declared.
Cuomo says a New York Green Bank would overcome obstacles and uncertainties in the clean energy sector, such as "unstable federal funding and policy, uncoordinated action and disparate one-time subsidies at the state level, a lack of appropriate financial instruments, and apprehension in the investor community."
He says such a bank would "enable clean energy markets to function more fluidly, connecting green projects with investors and capital."
To fund the Bank, a portion of Energy Efficiency Portfolio Standards, Renewable Portfolio Standards, and/or System Benefit Charge funds will be leveraged to attract private investment. The state will support new borrowing by the Green Bank to support loans for energy efficiency improvements.
At the federal level, green bank models have been proposed but not yet adopted. But many states are beginning to create or explore green banks.
Connecticut established the first green bank in the country in 2011. Called the Clean Energy Finance and Investment Authority, the bank borrows money and aggregates new and existing capital sources, and funds clean energy projects, including electric and natural gas vehicle infrastructure, electricity storage, renewable energy, and energy efficiency.
In his address Wednesday Cuomo said, "In Connecticut, a Green Bank bill passed in the state legislature with significant bipartisan support, which is an important indication of this idea's promise and broad appeal."
Currently, various New York State entities collect and spend $1.4 billion per year on renewables and energy efficiency. Approximately 80 percent of this funding – or $1.15 billion – comes in the form of one-time subsidies. In spite of this level of spending, said Governor Cuomo, the state is far from realizing its clean energy goals.
So while subsidies are important, it is becoming evident that they alone cannot achieve the level of clean energy deployment necessary, the governor said.
"The NY Green Bank leverages private capital in a fashion that mitigates investment risk, catalyzes market activity and lowers borrowing costs, in turn bringing down the prices paid by consumer," Cuomo said.
"Through the use of bonding, loans and various credit enhancements (e.g., loan loss reserves and guarantees), a Green Bank is a fiscally practical option in a time of severe budget conditions," he explained.
Today, he said, New York State collects and spends approximately $1.4 billion annually on energy efficiency and renewable energy.
New York is a member of the Regional Greenhouse Gas Initiative, which lowers carbon emissions through the use of a market-based cap-and-trade system.
Still, Cuomo said, "the state is not on track to achieve its clean energy goals."
"The NY Green Bank is another forward-looking way for our state to lead on energy policy and improve our residents' economic prospects and quality of life," said Cuomo. "The benefits of early innovation will be tremendous, as we see states around the nation moving quickly to catalyze their clean and renewable energy sectors."
Among the benefits of such a bank, Cuomo says product awareness would be raised, contract processes standardized to reduce transaction costs, and informational deficiencies about loan performance for energy efficiency mitigated. Smaller green technology projects that individually may not be large enough to attract capital can be aggregated.
"Many public credit and investment programs require only a small amount of government funds, even holding taxpayers harmless or acting as money makers," he said. "And along with these benefits, the long-term public and social benefits of a robust and clean economy are virtually incalculable."
Governor Cuomo also proposed to expand the NY-Sun Solar Jobs program at $150 million annually for 10 years to increase solar panel installations for homes and businesses.
He proposed a Charge NY Program to invest in an electric car network to reduce reliance on fossil fuels by installing a statewide network of charging stations and providing charging infrastructure tax credits.
To coordinate the state's clean-tech agenda and oversee the state government's energy portfolio, the governor has named Richard Kauffman, a senior advisor to the nation's Secretary of Energy Steven Chu, to serve as a member of his Cabinet as the "Energy Czar."
Copyright Environment News Service (ENS) 2013. All rights reserved.