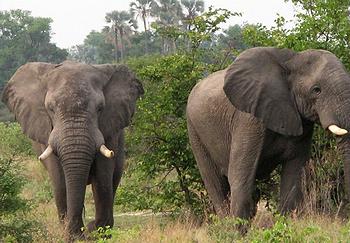 GABORONE, Botswana, December 3, 2013 (ENS) – African and Asian nations where elephants are poached or their ivory is illegally shipped or sold today agreed on urgent measures to halt the illegal trade and secure the survival of African elephants.
New data released Monday shows that if poaching continues at current levels, Africa is likely to lose a fifth of its elephants in the next 10 years.
Government agreed to apply "a zero tolerance approach," and sentence those convicted to "maximum, and therefore deterrent" penalties to combat an upsurge in poaching and smuggling of elephant ivory since 2009.
They will use a combination of existing laws and strengthened regulatory frameworks for investigation, arrest, seizure and prosecution of suspected wildlife criminals. Laws covering wildlife, corruption, money laundering, organized crime, firearms, employment and terrorism may be employed for this purpose, governments agreed.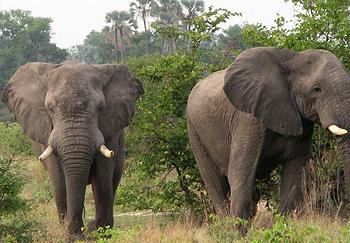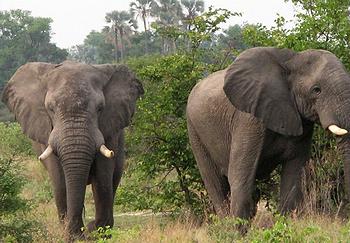 The agreement was reached at the ongoing African Elephant Summit convened by the government of Botswana and the International Union for Conservation of Nature, IUCN.
The summit is the first meeting focusing on the dynamics of the entire ivory value chain. It was authorized in a resolution adopted by the IUCN World Conservation Congress in 2012.
The measures were agreed by African elephant range states, including Botswana, Gabon, Kenya, Niger and Zambia, ivory transit states Vietnam, Philippines and Malaysia and ivory destination states, including China and Thailand.
"Our window of opportunity to tackle the growing illegal ivory trade is closing and if we do not stem the tide, future generations will condemn our unwillingness to act," said Botswana's President Lieutenant General Seretse Khama Ian Khama. "Now is the time for Africa and Asia to join forces to protect this universally valued and much needed species."
Botswana has the largest elephant population on the African continent.
"With an estimated 22,000 African elephants illegally killed in 2012, we continue to face a critical situation. Current elephant poaching in Africa remains far too high, and could soon lead to local extinctions if the present killing rates continue. The situation is particularly acute in Central Africa, where the estimated poaching rate is twice the continental average," said John Scanlon, secretary-general of the Convention on International Trade in Endangered Species, CITES.
One of the 14 measures the delegates committed their governments to involves classifying wildlife trafficking as a "serious crime."
This will unlock international law enforcement cooperation provided under the United Nations Convention Against Transnational Organized Crime, including mutual legal assistance, asset seizure and forfeiture and extradition to hold criminals accountable for wildlife crime.
Governments at the summit said in a joint statement that the consequences of the illegal ivory trade go far beyond elephant survival.
"Criminal gangs and militias are using sophisticated military ware to kill elephants and take advantage of high-level corruption to move ivory across borders and off the continent," they stated.
"In some cases, the proceeds from illegal killing of elephants and the illegal ivory trade are used by criminal networks to undermine democratic rule in African states and to fund armed militias and rebel groups engaged in internal and cross border conflicts," the governments stated..
Governments also agreed to engage communities living with elephants in their conservation.
They will mobilize financial and technical resources to combat wildlife crime and attempt to reduce demand for illegal ivory.
"We are very pleased with the result of the summit, especially as it involves some of the most important countries along the illegal ivory value chain," said IUCN Director General Julia Marton-Lefèvre.
"We hope that these outcomes will go beyond the summit's focus on African elephants and boost broader efforts to combat illegal wildlife trade in other species which have been threatened by it, such as rhinos and pangolins," she said.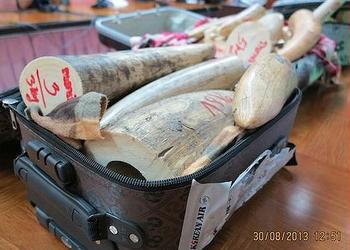 A comprehensive analysis was issued in December for the summit. Prepared by the IUCN and two other organizations responsible for monitoring elephants, the analysis shows that following an easing in the 1990s levels of poaching and the illegal ivory trade started to increase again in the mid-2000s. The rate of increase jumped sharply after 2009. The overall trend appears to be leveling off in 2012 compared to 2011, but at an unsustainably high level.
Analysis by the program for Monitoring the Illegal Killing of Elephants, MIKE, managed by the CITES Secretariat, suggests that 15,000 elephants were illegally killed at the 42 monitored MIKE sites in 2012.
According to MIKE, an estimated 22,000 elephants were illegally killed continent-wide in 2012, a slight reduction from the estimated 25,000 elephants poached in 2011.
The estimated poaching rate of 7.4 percent in 2012 remains at an unsustainably high level, as it exceeds natural population growth rates – usually no more than five percent.
Eighteen large scale seizures involving more than 40 tonnes have been recorded so far this year – the greatest quantity of illicit ivory seized over the last 25 years.
The data from the Elephant Trade Information System, or ETIS, managed by the wildlife trade monitoring nonprofit organization TRAFFIC, shows a slight leveling off in the bias-adjusted trend for illegal ivory in 2012. Still, several countries have not yet reported their 2012 seizures.
The overall weight and number of large-scale ivory seizures of more than 500 kilograms in 2013 exceeds any previous year in the ETIS data. The increase may reflect enhancement of law enforcement effort, or it could signify an increase in overall levels of illegal trade.
"From 2000 through 2013, the number of large-scale ivory movements has steadily grown in terms of the number of such shipments and the quantity of ivory illegally traded. 2013 already represents a 20 percent increase over the previous peak year in 2011; we're hugely concerned," said Tom Milliken, TRAFFIC's ivory trade expert, who manages the ETIS database.
Poverty and weak governance in elephant range states, together with demand for illegal ivory in consuming nations, are the three key factors identified by repeated MIKE analyses, including this one, as being most strongly associated with observed poaching trends.
The African elephant, Loxodonta africana, the world's largest terrestrial mammal, is currently listed as Vulnerable on the IUCN Red List of Threatened Species, with a population estimate of around 500,000 animals.
While the government of Botswana and IUCN are aware that other initiatives aim to address various aspects of the illegal trade in ivory, including the African Elephant Action Plan, decisions and resolutions of the Convention on International Trade in Endangered Species and national strategies, they are convinced that, "given the magnitude of the problem, and the fact that illegal trade is increasingly entrenched in organized crime networks, the African elephant crisis cannot be adequately addressed by the actions of environment ministries and wildlife authorities alone. Rather, government commitment at the highest level is required to secure viable elephant populations," they stated.
The African Elephant Summit was organized with the financial support of the UK Department for Environment, Food and Rural Affairs, the German Government, the US Agency for International Development, the African Development Bank and the World Bank. It continues through December 4.