G8 Leaders Call for Stricter Nuclear Power Standards Worldwide
DEAUVILLE, France, May 27, 2011 (ENS) – The annual G8 Summit concluded this afternoon with agreement among leaders of the world's largest industrial democracies to strengthen nuclear security in view of Japan's ongoing nuclear power plant crisis. The leaders outlined their climate change goals for the United Nations negotiations in Durban, South Africa later this year, agreed on their commitment to "sustainable" growth and offered support to the newly free countries of North Africa.
The G8 leaders called on the International Atomic Energy Agency to establish new international standards for nuclear power plants, following the Fukushima Daiichi accident in Japan. A meltdown of nuclear fuel at the Fukushima Daiichi power plant was triggered by the 9.0 magnitude earthquake and tsunami that struck Japan on March 11, taking more than 15,000 lives and causing massive destruction and disruption.
G8 leaders at the negotiating table in Deauville, May 27, 2011 (Photo courtesy Government of France)
In their joint declaration, the G8 leaders urge the IAEA to create new international standards for the construction and operation of nuclear power plants in areas at high risk of terrorism, earthquakes and tsunamis.
Collectively, the G8 countries host nearly 300 of the world's 435 operating nuclear power reactors.
At the G8 meeting, Prime Minister Naoto Kan pledged to fully support IAEA efforts to formulate new safety standards. He proposed that Japan host an international conference on nuclear safety next year.
He said Japan aims to strenthen its own nuclear safety standards, including those against possible earthquakes and tsunamis.
The prime minister said Japan will investigate the nuclear accident at Fukushima Daiichi and quickly provide results to the international community. Kan said Japan will promote international discussions on strengthening the Convention on Nuclear Safety.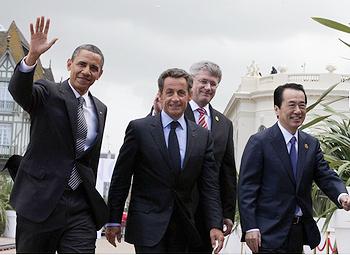 In Deauville, from left, U.S. President Barack Obama, French President Nicholas Sarkozy, Canadian Prime Minister Stephen Harper, Japanese Prime Minister Naoto Kan. (Photo courtesy Government of France)
While Japan currently has more than 50 operating nuclear power reactors, the prime minister said solar and other renewable energy sources will become new pillars of Japanese energy policy, along with conservation efforts.
Kan expressed gratitude for the support extended by G8 countries and others around the world and their solidarity with Japan where more than 100,000 people remain displaced and living in temporary evacuation shelters.
In their declaration, the G8 leaders recognized the resilience of the Japanese economy and Japan pledged to make every effort to minimize the impact of the disaster on the global economy.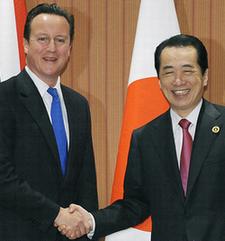 At Deauville British Prime Minister David Cameron meets Japanese Prime Minister Naoto Kan. (Photo courtesy No. 10 Downing St.)
The G8 leaders called on member countries to base trade and travel restrictions on scientific grounds alone, addressing import bans imposed by some countries on Japanese products after the nuclear accident that some fear spread radiation to food and water. Prime Minister Kan assured his counterparts that products exported from Japan are safe.
This G8 meeting also focused on the momentous changes across North Africa and the Middle East of the Arab Spring. The G8 leaders pledged to help the leaders of Egypt and Tunisia, who attended the Deauville meeting, as well as other Arab states, to develop their democracies.
"We will help you achieve greater freedom. We will help you build your economies and develop the political parties, free media, and the fair and reliable courts that are the building blocks of what I call an open society," said British Prime Minister David Cameron.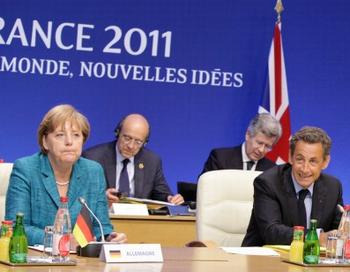 At the G8 table, German Chancellor Angela Merkel and French President Nicholas Sarkozy (Photo courtesy Government of France)
The multilateral banks pledged up to US$20 billion in assistance to the two newly free Arab countries. As part of that total, World Bank Group President Robert Zoellick announced up to $6 billion in new bank support over the next two years for Egypt and Tunisia, linked to their progress in governance and openness reforms.
But the G8 has not kept its previous promises to the world's poorest countries to deliver financial aid, Cameron told reporters today. "I remember as a young politician watching the Gleneagles [G8] Summit and the Live8 concerts and thinking it was right that world leaders should have made those pledges so publicly," said Cameron. "I think when you make a promise like that to the poorest people in the world, you should keep it. And I am proud of the fact that Britain is doing just that. But the reality is that as a whole, the G8 has not."
Cameron pointed to "the $19 billion gap between what's been expected and what has been delivered" as outlined in an official OECD report, which shows that the G8's $50 billion aid promise has been missed by $19 billion.
"Britain will not balance its books on the backs of the poorest. We will be the first G8 country to hit the 0.7 per cent target by 2013," declared Cameron. "Britain will keep its promises. And I was tough in urging my counterparts to keep theirs."
In their final declaration, the G8 leaders said that while recovery after the financial downturn of the past few years is "strengthening," job creation is a crucial priority.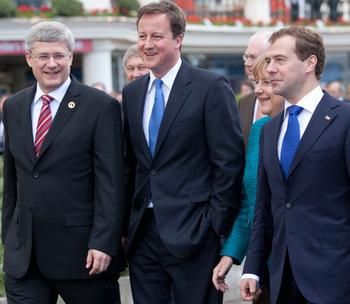 In Deauville, from left, Canadian Prime Minister Stephen Harper, British Prime Minister David Cameron, German Chancellor Angela Merkel, Russian President Dmitry Medvedev (Photo courtesy Office of Prime Minister Harper)
"We pledged to continue our efforts to generate strong, sustainable, and balanced growth," the leaders said in their declaration, adding, "We will foster green growth as it is essential to fight global warming, represents a promising source of jobs for our societies, and reflects a shared aspiration for more sustainable development."
Briefing U.S. reporters after the G8 meetings concluded, a senior Obama administration official said that the leaders discussed next steps to addressing climate change after the UN climate talks in Copenhagen in 2009 and in Cancun in 2010.
The leaders had "a very good discussion about how to ensure that the process moves forward, building on Copenhagen, building on Cancun, putting in place the building blocks of a climate change regime that covers financing and technology and mitigation and verification and all the rest, with an emphasis on what can get done in Durban in a pragmatic, realistic way," said the official, who declined to be named.
"President [Barack Obama] played a critical role, I think, in helping set expectations with the other leaders and reach a consensus with them as to what collectively they want to try and achieve at Durban," he said.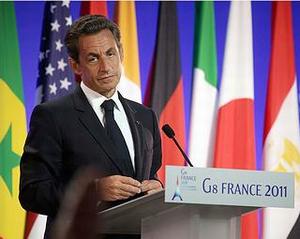 French President Nicholas Sarkozy (Photo courtesy Government of France)
The official said French President Nicholas Sarkozy, who chaired the climate discussion, "was terrific in teasing out from the countries what their respective positions, concerns, objectives were; pointing out where they didn't line up; and trying to find ways to bring people onto the same page."
The official explained that the future of the Kyoto Protocol will be a key part of the negotiations leading up to the UN climate conference in Durban in December.
The Kyoto Protocol is an international agreement linked to the UN Framework Convention on Climate Change. The protocol sets binding targets for 37 industrialized countries and the European community for reducing greenhouse gas emissions. These amount to an average of five percent against 1990 levels over the five-year period that ends December 31, 2012.
"Climate change is an area where there are very different positions in the G8," the Obama administration official told reporters. "The U.S. is in one position, not being a member of Kyoto. You have other parties who are members of Kyoto and want to remain members of Kyoto; and other parties who might not want to remain members of Kyoto. And trying to figure out what they're going to do with Kyoto is going to be a big part of what happens in Durban."
This week in Durban, climate change experts, negotiators and ministers from Brazil, South Africa, India and China, the so-called Basic Group, are meeting to discuss a common negotiating position for the climate summit in December.
Copyright Environment News Service (ENS) 2011. All rights reserved.