BlueGreen Alliance and Apollo Alliance Merge to Strengthen Green Economy
WASHINGTON, DC, May 26, 2011 (ENS) – Two coalitions focused on creating good green jobs – each having labor unions and environmental organizations as members – today joined forces "to build a stronger movement to create good jobs and produce clean energy in the 21st century economy," the two groups said in a joint statement.
While the formal merger will take place on July 1, The BlueGreen Alliance and the Apollo Alliance said, "Starting right now, we speak with one voice. We will merge to become the BlueGreen Alliance, which will be home to the Apollo Alliance project."
"Together, the BlueGreen Alliance and the Apollo Alliance project will engage with labor, environmental, business and community leaders across the country to advance a bold vision of how to transform our energy future and, at the same time, create good jobs and rebuild our economy," the organizations proclaimed.
The BlueGreen Alliance is a national partnership of labor unions and environmental organizations working to expand the number and quality of jobs in the green economy.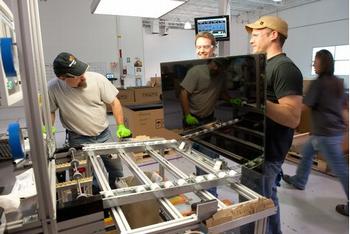 Production of cadmium-telluride solar cells at the Abound Solar manufacturing facility in Longmont, Colorado, June 2010 (Photo courtesy Abound Solar)
Launched in 2006 by the United Steelworkers and the Sierra Club, the BlueGreen Alliance now unites 10 U.S. labor unions and four of the largest U.S. environmental organizations – and their 14 million members and supporters – in pursuit of good jobs, a clean environment and a 21st century economy.
The four environmental organizations in the BlueGreen Alliance are: the Natural Resources Defense Council, National Wildlife Federation, Sierra Club, and the Union of Concerned Scientists.
The Apollo Alliance, a project of the nonprofit Tides Center, is a national coalition of environmental, labor, business and community leaders committed to building a clean energy, good jobs economy.
Launched in 2003, Apollo's name refers to President John F. Kennedy's visionary call to restore America's technological leadership by landing the first human on the Moon by the end of the 1960s. Apollo 11 was the spaceflight that landed the first humans on the Moon on July 20, 1969.
The newly unified organization will call on lawmakers and elected officials in Washington to focus anew on creating good jobs, securing America's energy future and preserving the environment for future generations.
In their first official act together, leaders from the newly merged BlueGreen Alliance and Apollo Alliance today joined U.S. Senator Sherrod Brown, an Ohio Democrat, for a teleconference to announce their support for his new legislation.
Brown's bill, the Strengthening Manufacturing and Rebuilding Transit (SMART) Act, would invest in American-made transportation infrastructure. Senator Brown's legislation is aimed at enhancing domestic transportation supply chains while maximizing job creation in manufacturing.
"With gas prices close to $4.00 a gallon in many parts of Ohio and across the country, reinvesting in transit is more important than ever. And at the same time, manufacturing is responsible for creating hundreds of thousands of good-paying, middle class jobs," Brown said.
"The buses, trolleys and trains that take Americans to every corner of our country should be Made in America as well," said Brown. "By strengthening the domestic supply chain for public transit, the SMART Act will strengthen our public transit options and revitalize our manufacturing heritage."
"Nearly three years after the bottom fell out of our economy, we are still facing a jobs crisis of historic proportions," said Leo Gerard.
Gerard serves as international president of the United Steelworkers, he is co-chair of the BlueGreen Alliance and also an Apollo Alliance board member.
"We can't afford to sit on the sidelines while the U.S. misses the boat on the industries of the 21st century – the biggest job-creating opportunity in a generation," said Gerard. "That is why the BlueGreen Alliance and the Apollo Alliance are joining together today – to build a stronger movement to create good jobs that protect the environment for the next generation."
Phil Angelides, chairman of the Apollo Alliance, said, "Today, with this collaboration and our support for Senator Brown's SMART Act, we are sending a powerful message that our highest priority must be to build an economy of good jobs and broadly shared prosperity in place of the financial speculation and recklessness that brought our economy to its knees."
"Together, we are committed to building a new green economy for America's future that will meet the convergent threats of climate change, dependence on foreign oil, and unacceptable joblessness," said Angelides, a former California state treasurer.
The new BlueGreen Alliance will continue its Jobs21! Initiative by going door to door and community to community in nine states calling for a national jobs plan for the 21st century.
Copyright Environment News Service (ENS) 2011. All rights reserved.