Forests in Crisis as EU Lifts Sanctions on Myanmar/Burma
LUXEMBOURG, April 23, 2012 (ENS) – European Union foreign ministers in Luxembourg today agreed to suspend sanctions against Myanmar/Burma for one year, based on wide-ranging democratic reforms over the past year and democratic elections April 1.
The foreign ministers welcomed the willingness of President U Thein Sein's government "to address environmental risks, in particular those related to deforestation and the loss of biodiversity."
They are encouraging the government to begin a dialogue with the EU "on ways to ensure the sustainable management of Myanmar/Burma's forests and harvesting of timber in compliance with national legislation, consistent with fighting poverty and securing livelihoods."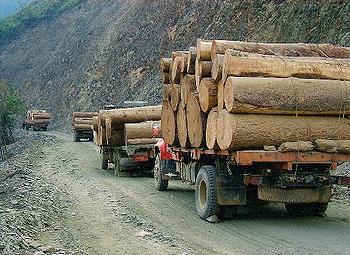 Truckloads of illegally logged timber headed to market (Photo by Global Witness)
The EU foreign ministers said they intend to "work with the authorities to promote transparency and accountability in extractive industries as well as in environmental protection, in particular through the EU's Forest Law Enforcement, Governance and Trade Action Plan." This voluntary partnership system of trade accords with timber exporting countries, is intended to ensure legal timber trade and support good forest governance in the partner countries.
The move is supported by National League for Democracy opposition leader Aung San Suu Kyi, and opens opportunities for investment and trade with Western firms.
But all is not proceeding smoothly. Just as the EU suspended sanctions, Suu Kyi and newly elected members of her party deliberately did not take their seats in Myanmar/Burma's parliament.
Suu Kyi said Sunday that her party is not boycotting the parliamentary session, "just waiting for the right time to go."
Suu Kyi objected to the oath new MPs must take to "uphold and abide by the constitution of the union," which guarantees to the military one-fourth of all parliamentary seats.
In London today, the nonprofit Environmental Investigation Agency welcomed the suspension of sanctions as a step towards greater democracy but warned against a continuation of illegal logging and timber trading.
"After half a century of corruption and rule by the military and their business associates, Burma simply has no credible infrastructure through which we can verify the legality and sustainability of its timber exports," said EIA Head of Forests Faith Doherty.
"It must be part of any reform that creates the very infrastructure needed to ensure the invaluable resources of the country's forests are not squandered for the financial gain of a few but are instead properly managed and traded under the scrutiny of appropriate due diligence for the benefit of the people of Burma," Doherty said.
The majority of Burma's natural resources are in ethnic areas, where conflicts between the army and ethnic groups are still frequent.
The Kachin Development Networking Group, KDNG, said April 10, "With international donors preparing to significantly increase humanitarian and development assistance in order to promote peace in Burma, we are very concerned that cross-border aid to marginalized and vulnerable populations is being limited or cut at this crucial time."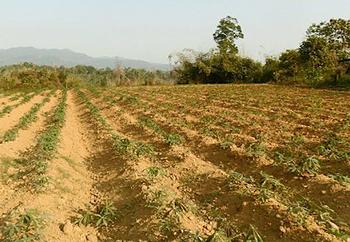 Forests in Kachin State cleared for a tapioca plantation (Photo courtesy KDNG)
"Even while the cease-fire process is being carried out with separate ethnic armed groups, fighting is still taking place with the Kachin Independence Organization, resulting in fresh displacement of tens of thousands of people internally and outside the country," said the KDNG in a statement on its website.
"Even though some level of agreement has been reached with some ethnic armed groups," the KDNG said, "human rights violations are continuing in all ethnic areas under the new Army-backed government of U Thein Sein, including land confiscation, forced relocation, forced labor, extortion, and restriction of movement, rape and intimidation."
"The aim of the government is clearly to establish cease-fire agreements with the ethnic groups to promote development first, rather than to promote peace in the country," the Kachin group said. "Numerous mega-development projects being planned or implemented, mostly in the energy sector, are leading to human rights abuses against local villagers, particularly ethnic communities."
"These projects have been started without standards to prevent harmful environmental and social impacts, and will therefore cause more refugee and IDPs," warned the KDNG.
On April 6 and 7, 36 community based organizations from Burma gathered at the Thai-Burma border to discuss these issues.
In a statement issued at the close of the gathering, the community organizations said, "Development aid should prioritize human development and grassroots empowerment rather than infrastructure development," and that "large-scale development projects should not be implemented in areas of Burma where conflict remains unresolved, as this will simply fuel further conflict."
In view of these ongoing conflicts, the Environmental Investigation Agency warned today that trading in timber and raw materials from Burma "without a transparent and verified system" would accelerate deforestation and would do nothing to support the peace process.
While European sanctions were in place, the trade of timber and wood products from Burma went through neighboring countries, with demand from China driving the trade in cheap high-value timber, say Western environmental groups.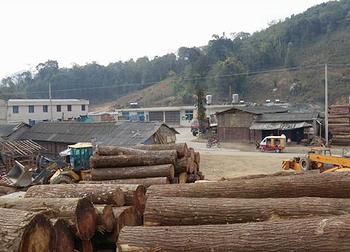 Illegally logged timber in Myanmar/Burma (Photo courtesy Global Witness)
Global Witness, an NGO based in both London and Washington, DC, has investigated the illegal logging of Burma's forests. Following a 2005 Global Witness report exposing the illegal timber trade between Burma and China, the two governments placed a ban on logging and timber transportation in Kachin State in Burma and a Chinese ban on the import of Burmese timber.
"Both the bans and China's accompanying Interim Measures to control the trade have been enforced, albeit inconsistently, and, as a result, illegal logging in Kachin State has decreased dramatically, as has the associated trade with China," says Global Witness. "However, some illicit trade continues, causing serious damage to the environment in Kachin State as the forest is cleared, often to make way for plantations."
The European Union's Timber Regulation will take effect in March 2013, forbidding the import of wood products made from illegally logged timber and requiring timber importers to use a due diligence system.
"Illegal logging and destructive forest conversion are hand-in-hand with corruption, crime, cronyism and a multitude of other societal ills suffered by the people of Burma for so long," said Doherty of the Environmental Investigation Agency. "EIA's work has consistently demonstrated that excluding or significantly limiting civil society participation in the decision-making processes affecting forests exacerbates these problems."
"It is crucial for Europe to keep in mind that there are no safeguards at all in place in Burma. Its forests are in crisis, as are the people who rely on them for their livelihoods and as a life-sustaining resource," she said. "Burma needs help, and addressing the timber trade without acknowledging the serious governance challenges that come with it would be a massive opportunity lost."
Copyright Environment News Service (ENS) 2012. All rights reserved.