Artist Maya Lin Debuts Multimedia Memorial to the Planet
NEW YORK, New York, April 23, 2012 (ENS) – For Earth Day 2012, memorial designer Maya Lin is asking people around the world to share a memory about environmental loss and, at the same time, learn what is being done to heal the Earth.
Designer of the Vietnam Veterans Memorial and the Civil Rights Memorial, Lin has created a new science-based memorial she calls "What is Missing?" The website, and the accompanying installations and traveling shows help viewers understand the ongoing mass extinction of species.
Designer Maya Lin lectures at Carnegie Music Hall, February 10, 2012 (Photo by Christopher Skaggs)
It draws public attention to the many species that are at risk of extinction – one in eight birds, one in three amphibians, one in three freshwater fish, according to the International Union for the Conservation of Nature, IUCN, a contributor to the "What is Missing?" memorial.
Conservation in Action is the part of Lin's memorial that anyone can use as a platform to communicate their experiences with species and ecosystem loss.
"Conservation in Action gives people a place to share what they've seen diminish or disappear from the natural world and for us to present promising stories about ecological restoration and conservation," said Lin.
"Some people said that a memorial to our living planet was depressing," she said, "but I believe that using memories and history to show the abundance of biodiversity the planet once held can spur people to realize their power to connect with work that is under way and take steps in their everyday lives, no matter how small."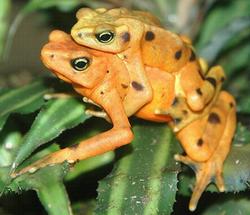 Panamanian golden frogs, Atelopus zeteki, are threatened with extinction in the wild. Here shown at Moody Gardens, Galveston, Texas (Photo by Grufnik)
In addition to the website, the global, multimedia memorial is featured as a permanent installation for the California Academy of Sciences. Travelling exhibits are happening in New York, Beijing, and Copenhagen, and future installations planned for Cornell University and the Field Museum in Chicago.
An installation is also planned for the IUCN, whose authoritative Red List of Threatened Species keeps track of the conservation status of many thousands of species.
Lin has been working on the species memorial project for nine years and it was launched publicly on April 20 at Bloomberg, a sponsor of the memorial.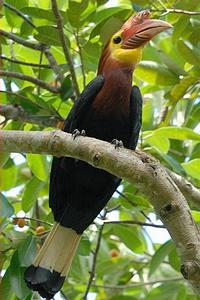 Critically endangered, the rufous-headed hornbill, aceros waldeni, is found only in Western Visayas, Philippines. (Photo courtesy the Internet Bird Connection)
The Cornell Lab of Ornithology, World Wildlife Fund and other science and conservation organizations are providing content on projects that are helping resolve threats to the world's environmental hot spots and wildlife.
John Fitzpatrick, executive director of the Cornell Lab of Ornithology, said, "Sound and video recordings from the natural world archived in our Macaulay Library and the expertise of our scientists achieve an important new voice through Maya's elegant blending of vision, passion for the Earth, and attention to scientific detail."
The website presents more than 600 historical accounts of natural abundance, hundreds of personal memories, more than 400 citations highlighting conservation historical successes and disasters, and conservation stories from a global network of participating organizations.
"In saving the world's wildlife, there is a sense of urgency, but also of hope, and 'What is Missing?' perfectly captures both," said Colby Loucks, director of World Wildlife Fund's conservation science program.
"Whether it's tracking jaguars in the Amazon, protecting America's fish basket in Bristol Bay, saving the last 50 Javan rhinos in Indonesia, or protecting marine turtles in Kenya, WWF and its partners are seeing hopeful signs for the future of nature," said Loucks.
The What is Missing? Foundation was established in 2003 by Lin to fund her fifth and last memorial project. The collaborative project was created by Lin and the Maya Lin Studio with contributions from scientific institutions, environmental groups, writers, art institutions, filmmakers, photographers, and artists, including Cornell Lab of Ornithology, National Geographic Society, ARKive, and BBC Earth.
The foundation has produced more than 70 short videos that are being shown at the permanent and travelling exhibits and made available on the website and on Vimeo.
Copyright Environment News Service (ENS) 2012. All rights reserved.