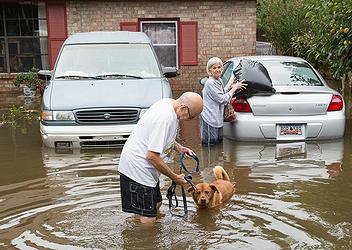 CHARLESTON, South Carolina, October 5, 2015 (ENS) – Record rainfall resulting from Hurricane Joaquin could taper off across much of the Carolinas late Monday, but not before leaving at least 10 people dead and about 40,000 others without water.
South Carolina Department of Public Safety Director Leroy Smith told reporters that five people drowned after trying to drive through floodwaters and four others died in weather-related traffic accidents.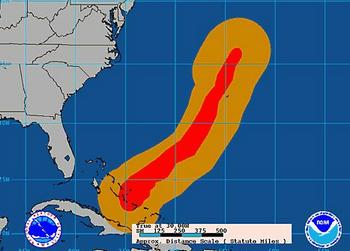 One of those who lost his life was a state transportation employee. Timothy Wayne Gibson, 45, died Sunday in floodwaters while overseeing work on Garners Ferry Road in Columbia, said South Carolina Department of Transportation officials.
The SCDOT truck in which Gibson was traveling was caught in rushing flood waters, overturned and was swept away, officials said.
"The entire SCDOT family grieves for the loss of Timothy Gibson," said Acting Secretary Christy Hall. "We are proud of the way he served the citizens of South Carolina. He did not hesitate to put his life on the line to protect the public during the current state of emergency."
The flooding has closed 70 miles of Interstate 95, and at least 211 South Carolina state roads and 43 bridges are closed due to flooding.
Hall warned the driving public to stay off flooded roads, saying, "The average vehicle can be swept away in as a little as 12 inches of moving water and stalled out in as little as two feet of water."
In North Carolina, a passenger in a car died when a tree fell onto Interstate 95, according to authorities.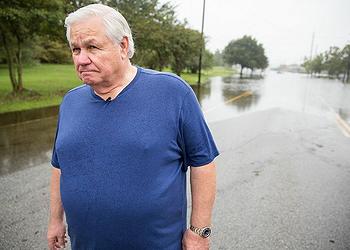 A mandatory evacuation was ordered downstream from the Overcreek dam after a break in the dam on Monday, said a spokeswoman for the city of Columbia. Authorities are working to determine the severity of the situation, said Shawn Washington.
South Carolina Governor Nikki Haley warned that the death toll could rise. "If you're in your house, continue to stay in your house," she said Monday. "This is not over."
Haley said that at noon she spoke to President Barack Obama and the President had been "extremely gracious and kind" in offering support to her state.
The governor asked President Obama for federal disaster declarations in 11 counties. Late Monday, the President approved eight counties, including Charleston, for federal funding.
The governor said 1,300 members of the National Guard are now deployed, with 7,000 more troops on alert.
Rescue workers have pulled hundreds of people from rooftops and rescued them from floodwaters by boat.
"We haven't seen this level of rain in the Lowcountry in a thousand years," Haley told the Charleston "Post and Courier" newspaper. "That's how big this is. That's what South Carolina is dealing with."
In South Carolina, 25 shelters are now harboring 932 people against floodwaters and other damage, the governor said.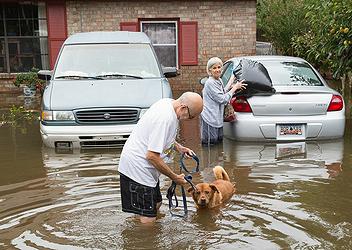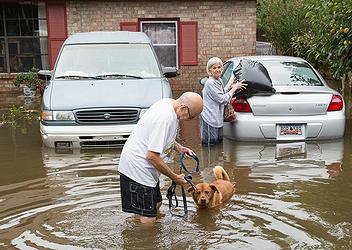 Over the weekend, American Red Cross workers opened 35 shelters in North and South Carolina – 30 in South Carolina alone – where more than 200 people spent Sunday night.
The Red Cross has mobilized nearly 400 Red Cross workers, 22 emergency response vehicles and shelter supplies to support 5,000 people in South Carolina. Additional rain and flooding are expected over the next few days, and the Red Cross has more supplies and disaster workers standing ready if needed.
"Anyone who needs a warm, safe place to stay and a hot meal is welcome at any of our shelters," said Louise Welch Williams, chief executive officer, Red Cross of the Palmetto South Carolina Region. "We have additional shelters across the state on standby and are working closely with our government partners to ensure people's immediate needs are being met."
In addition, Wal-Mart has donated 80,000 bottles of much needed water.
The historic rainfall that has produced this catastrophic flooding across the Carolinas is slowly beginning to taper off, the National Weather Service said this afternoon.
The forecast is for additional rainfall amounts of 1-2 inches through Tuesday and moderate to major river flooding is forecast to continue through the remainder of the week.
Meanwhile out in the Atlantic Ocean, Hurricane Joaquin is moving north-northeast away from Bermuda. Maximum sustained winds are near 85 mph (140 km/h) with higher gusts. Gradual weakening is forecast to begin by Tuesday morning, and the National Weather Service predicts that Joaquin will transition to a large extratropical low pressure system on Wednesday.
Copyright Environment News Service (ENS) 2015. All rights reserved.