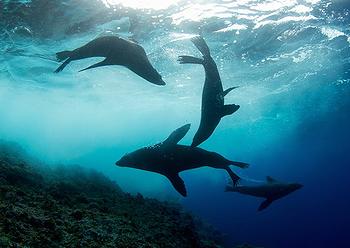 VALPARAISO, Chile, October 5, 2015 (ENS) – Chile's President Michelle Bachelet today announced the designation of three new marine sanctuaries in Chilean waters, including the Nazca-Desventuradas Marine Park, the largest marine protected area in the Americas.
Together with its existing marine reserves, said President Bachelet, Chile now has a million square kilometers of ocean under protection from commercial fishing. "I think they are super important for the future," she said.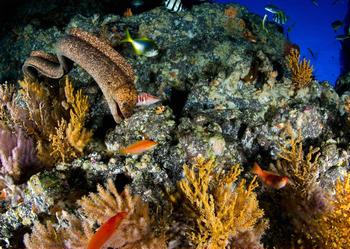 President Bachelet announced the new marine parks in Valparaiso at the second annual Our Ocean conference. The first was held last year in Washington, DC.
The Nazca-Desventuradas Marine Park in the Oceanic Islands, San Ambrosio and San Felix will encompass a surface area of 297,518 square kilometers (114,872 square miles) of protected ocean waters.
In February 2013, Oceana and National Geographic conducted a joint scientific expedition to the Desventuradas, the first to explore one of the last pristine marine environments in South America.
The scientists found undulating kelp forests; abundant fish populations, including enormous amberjacks, yellowtail jacks, deep sea sharks, giant lobsters, and fragile deep corals. The sea floor showed no signs of human impact.
Bachelet also announced the creation of a marine protected area surrounding the island of Rapa Nui or Easter Island.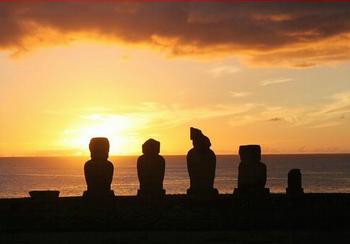 These waters are a spawning ground for tuna, shark, marlin and swordfish. Commercial fishing will be banned from the area. Still, the resident indigenous peoples, who were involved in designing the 631,368-square-kilometer (243,630-square-mile) sanctuary, will be able to continue their traditional fishing practices.
In addition, Chile is protecting a large coastal marine area and creating a network of marine parks in the Juan Fernandez archipelago.
Nearly 13,000 square kilometers of ocean waters and seabed will be saved, including a series of seamounts called Crusoe-Selkirk, a network of marine parks called Loberías Selkirk, and also El Arenal, Tierra Blanca.
President Bachelet said, "We are committed to protecting the environment, and this can be seen in concrete measures and results."
"Chile is one of the world's primary fishing countries," said Alex Muñoz, vice president for the nonprofit organization Oceana in Chile, which proposed the creation of the Nazca-Desventuradas Marine Park. "With the creation of this large marine park, Chile also becomes a world leader in marine conservation."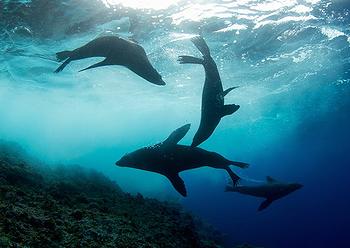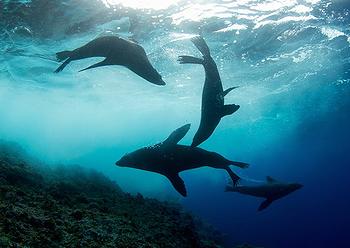 "The new Nazca-Desventuradas Marine Park is a gift from Chile to the world," said Enric Sala, National Geographic explorer-in-residence and head of the Society's Pristine Seas project. "It contains pristine underwater environments like nothing else in the ocean, including deep underwater mountains with species new to science, abundant giant lobster and a relict population of the once-thought-extinct Juan Fernández fur seal."
Chile hosted the Our Ocean conference in the picturesque Pacific port city of Valparaiso, a day-long meeting for governments and foundations to pledge support for the marine ecosystem.
U.S. President Barack Obama addressed the meeting via video to announce that he is designating the first new National Marine Sanctuaries since 2000, one in Maryland and the other in the Great Lakes.
Mallows Bay-Potomac River in Maryland is a 14-square mile area of the tidal Potomac River, where some 200 vessels from the Revolutionary War through the present are found, many listed on the National Register of Historic Places.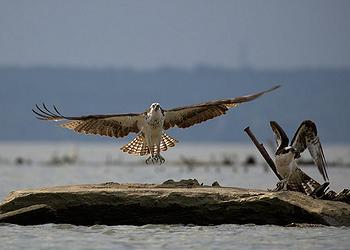 Undeveloped, Mallows Bay is one of the most ecologically valuable areas in Maryland, providing important habitat for rare, threatened, and endangered species of fish and wildlife.
In Wisconsin, an 875-square mile area of Lake Michigan, with waters extending from Port Washington to Two Rivers will become a sanctuary. The area contains 39 known shipwrecks, 15 of which are listed on the National Register of Historic Places.
"The United States is taking serious steps to curb our carbon pollution and protect our waters," Obama said in his video message, mentioning his "special love for the ocean" from growing up in Hawaii and Indonesia.
"And, in the coming months, I will look for even more opportunities to protect our waters," Obama said. "We will leave our children a planet as full of possibilities as the one we inherited."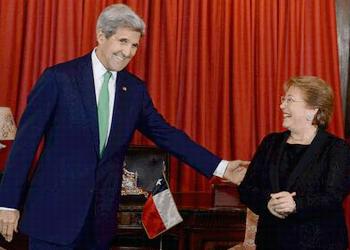 In Valparaiso, Secretary of State John Kerry announced that the Obama Administration is launching Sea Scout, a new global initiative that will unite governments and stakeholders worldwide in the fight against illegal, unreported, and unregulated fishing.
It will focus global assets and partnerships on identifying, interdicting, and prosecuting IUU fishing organizations and networks around the world.
Sea Scout is intended to improve the effectiveness of at-sea enforcement through identification of regional "hot spots" where IUU fishing is known to pose the greatest threat.
The U.S. National Oceanic and Atmospheric Administration, NOAA, will provide new data, tools, and technical assistance to target illegal fishing, including the Visible Infrared Imaging Radiometer Suite, VIIRS, a space-based sensor that can detect boats using lights to attract fish at night, identifying potentially illegal activities for further inspection.
In 2016, the detection system and alert services will be implemented in Indonesia and the Philippines, among other countries.
Americans eat 4.6 billion pounds of seafood a year, and the United States will make its own fishing industry and importers serving this huge market track products from their point of origin.
The U.S. will work with international partners to address IUU fishing and seafood fraud, including through what Kerry called "historic and enforceable environmental provisions in the Trans-Pacific Partnership."
In Valparaiso, Kerry said, "The ocean is responsible for recycling water, recycling carbon for the nutrients throughout our planet so that we have air to breathe and water to drink. And it's a major contributor to global food security given that three billion people rely on ocean products as the principal source of their protein."
"The question isn't whether the ocean matters, and it isn't whether the ocean is at risk," said Kerry. "The real question is whether we, all of us on this planet, are going to adjust our ways in order to protect the ocean for generations to come."
"Things are happening that are literally out of control," Kerry warned. "Because of illegal, unreported, and unregulated fishing, one third of the world's fish stocks are overexploited. Almost every one of the major fisheries of the world are either in extremis or near extremis. There's literally too much money chasing too few fish, and we all know what happens in that economic equation."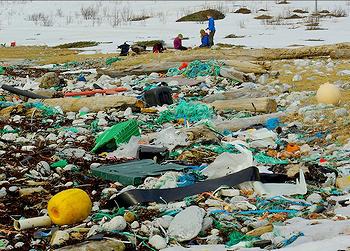 "We're not just fishing unsustainably, my friends; we are living unsustainably," declared Kerry. "Our ocean is taking in a massive amount of pollution – eight million tons of plastic alone every single day. To put that into context, scientists say that the ocean may soon contain one ton of plastic for every three tons of fish."
"Not only that, but the chemistry of our ocean is changing rapidly. Why? Because nearly a third of greenhouse gasses that are coming out of tailpipes of cars and smokestacks of power plants end up getting absorbed by the ocean," Kerry explained. "And that may seem helpful, but when carbon dioxide dissolves into saltwater, it forms an acid – carbonic acid. And as a result, the sea is acidifying 10 times faster than at any point in history, stunting the growth of shellfish, degrading coral reefs, and putting the entire marine food web at risk."
At the Chile conference, countries, organizations and foundations are discussing pledges and proposing initiatives to fight pollution, overfishing and acidification of the ocean.
Norway, for example, has committed over US$150 million for global fisheries development and management.
Late last month New Zealand announced the creation of a new marine sanctuary in the Kermadec Islands region of the South Pacific, covering a total area of 620,000 square kilometers.
Copyright Environment News Service (ENS) 2015. All rights reserved.