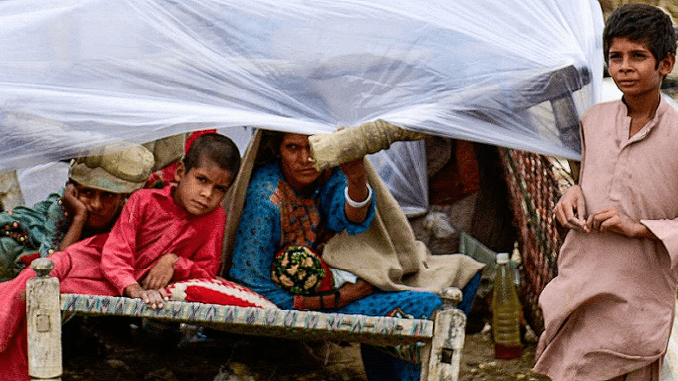 ISLAMABAD, Pakistan, August 30, 2022 (ENS) – More than 1,100 people, including 350 children, have lost their lives since June as the worst monsoon rains in decades, severe floods and landslides have changed the lives of more than 33 million people across Pakistan.
Pakistani and UN officials blame climate change for the extreme rainfall – 2.9 times the national 30-year average in some parts of the country. Today they released a flood response plan that calls for US$160.3 million in funding to provide humanitarian help to 5.2 million people out of the 6.4 million in need.
"Pakistan being a negligible contributor to the overall carbon footprint, is still among the top 10 countries that are vulnerable to climate change, and with extreme weather events which we have experienced from earlier this year like the heat waves, forest fires, multiple glacial lake-outburst-floods and now these disastrous monsoon floods," Minister for Planning Ahsan Iqbal said.
The UN Resident and Humanitarian Coordinator Julien Harneis said, "This super flood is driven by climate change – the causes are international and so the response calls for international solidarity."
"Across Pakistan, I have seen government workers, ordinary people, out in the rain and water, saving lives and giving the little they have to those who have lost everything. We, in the international community, need to step up and stand with the people of Pakistan," Harneis said. "This appeal is the absolute minimum we need from the international community for life saving assistance and services. The people of Pakistan deserve our support."
More than 1,600 people have been injured, over 287,000 houses have been fully and 662,000 partially destroyed, over 735,000 head of livestock have perished and two million acres of crops have been adversely impacted, besides severe damage to communications infrastructure.
To date, 72 districts across Pakistan have been declared 'calamity hit' by the Government of Pakistan, and officials say these numbers will certainly increase given the ongoing rains.
Southern and central Pakistan have been most affected, particularly Balochistan and Sindh provinces.
Balochistan, normally an arid province, has received 5.1 times its 30-year average rainfall as of August 27, while Sindh's is 5.7 times its 30-year average.
Hill torrents occurred in Balochistan, Sindh and south Punjab, while most districts of Sindh were inundated, with water unlikely to recede soon.
According to the National Disaster Management Authority, the higher rainfall in Balochistan represents a change in the monsoon pattern, as the province is not usually affected by the monsoon.
As floodwaters rose across the country today, the Government of Pakistan and the United Nations held a news conference to launch the 2022 Pakistan Floods Response Plan, FRP, simultaneously in Islamabad and Geneva.
The FRP focuses on the needs of 5.2 million people, with life-saving response activities amounting to US$160.3 million covering food security, assistance for agriculture and livestock, shelter and non-food items, nutrition programs, primary health services, protection, water and sanitation, women's health, and education support, as well as shelter for displaced people.
Instructions on how to donate to make the response a reality are at the end of the FRP document.
Introducing the new Floods Response Plan, Foreign Minister Bilawal Bhutto Zardari said, "The government's efforts are being supported by the Pakistani nation with people, civil society and humanitarian organizations stepping forward in a big way to complement the relief work with our characteristic generosity and philanthropic spirit."
"The Prime Minister's Flood Relief Fund 2022 has also been established to facilitate people all over the country and overseas to contribute to the flood relief efforts," said Zardari.
The FRP sets out a coordinated plan of action covering food security and agriculture, health, nutrition, education, protection, shelter and non-food items, water, sanitation and hygiene.
Pakistan continues to host more than three million Afghans, and the 421,000 refugees living in flood-affected areas are included in the Pakistan Floods Response Plan.
In his video message, UN Secretary General Antonio Guterres said, "The people of Pakistan face the unrelenting impact of heavy rains and flooding – worst in decades."
"Pakistan is awash in suffering," U.N. Secretary-General Antonio Guterres told the event in his pre-recorded video message.
"The Pakistani people are facing a monsoon on steroids – the relentless impact of epochal levels of rain and flooding," he warned. "Millions are homeless, schools and health facilities have been destroyed, livelihoods are shattered, critical infrastructure wiped out, and people's hopes and dreams have been washed away."
Guterres praised the government, but said the scale of the disaster merits world attention. "The Government of Pakistan's response has been swift. It has released national funds, including in the form of immediate cash relief. But the scale of needs is rising like the flood waters. It requires the world's collective and prioritized attention."
Chairman of the National Disaster Management Authority Lieutenant General Akhtar Nawaz gave a detailed briefing on the current humanitarian situation and efforts of the Government of Pakistan, supported by humanitarian partners in carrying out rescue and relief operations.
Filippo Grandi, United Nations High Commissioner for Refugees, said, "Today, the international community – including my own agency – must help the people in need in Pakistan. We urgently need global support and solidarity for Pakistan."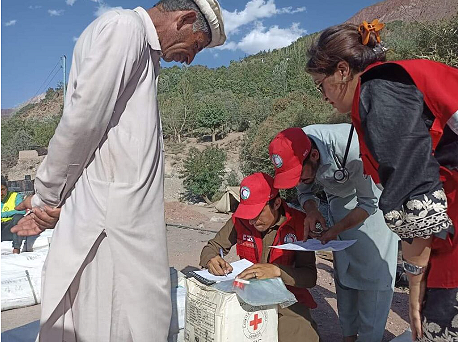 Some NGOs are already on the ground offering aid. The Pakistan Red Crescent Society, PRCS, with the support of International Federation of Red Cross has widened its rescue and relief operation in Balochistan and other parts of the country.
In addition to cash assistance per household, clean drinking water, hygiene kits and non-food items will be distributed among the flood victims.
A high-level meeting at PRCS National Headquarters took decisions for the relief and rehabilitation activities in the flood-affected areas in Balochistan cities of Quetta, Pashin, Qila Saifullah, Gilgit-Baltistan, and Azad Kashmir.
PRCS Chairman Abrar ul Haq said that Red Crescent has deployed Mobile Health Teams with doctors, paramedics and free medicine in district of Tank, Jhal Magsi and Jafferabad to provide health services to flood-affected populations.
Water treatment plants will be installed in Kirk, Tank, Jhal Magsi and Jafarabad in the coming days, each plant has the capacity to generate 30 thousand liters of clean and safe drinking water per day.
He said hygiene kits, jerry cans, dengue kits will be distributed to 900 households in the affected areas while relief materials will also be distributed to the victims of Muzaffargarh with the support of Turk Red Crescent. "A cash grant of Rs 16000 per household will also be given to 1,400 households in the affected areas to cover their basic needs" Haq promised.
Xavier Castellanos Mosquera, Under-Secretary General for National Society Development and Operations Coordination, International Federation of Red Cross and Red Crescent Societies, said, "IFRC is committed to assisting the affected communities in these unprecedented floods in Pakistan. Together with Pakistan Red Crescent, we have launched an initial emergency appeal though which we are seeking funds to assist 324,000 people in health, safe drinking water, emergency shelter, and livelihoods. The IFRC is working together with the Government of Pakistan and the UN agencies to have a coordinated response to ensure we reach the most vulnerable and affected populations, providing access to basic necessities to all."
Featured image: Flooded out of their home, this Pakistani family is one of the millions who need assistance. (Photo courtesy Government of Pakistan)