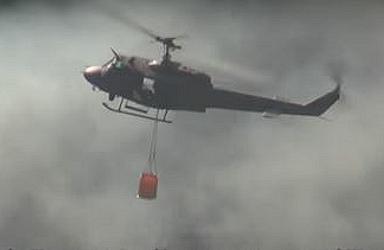 TOKYO, Japan, May 9, 2017 (ENS) – Firefighters have been battling a wildfire in an area contaminated with radiation near the Fukushima Daiichi nuclear plant that melted down after the 2011 earthquake and tsunami off the northeast coast of Japan.
The blaze has consumed about 20 hectares (50 acres) of forest on a mountain since it started April 29 in the Tohoku region close to the town of Namie in a no-go zone near the damaged nuclear power plant.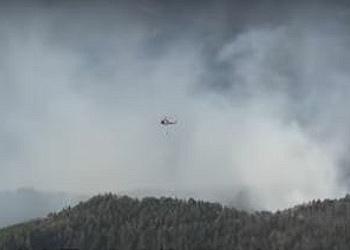 Namie was severely affected by the earthquake and tsunami on March 11, 2011 and the resulting Fukushima Daiichi nuclear disaster. The town was evacuated as it is within the 20 kilometer exclusion zone around the nuclear power plant. On April 1, residents were allowed to return.
The area still has high radiation levels as a result of the 2011 nuclear accident. But Fukushima's prefectural government says that to date monitoring posts near the site have shown "no significant change" in radiation levels due to the fire.
Firefighters and Self-Defense Force members tried to put out the flames using helicopters on Thursday. About 240 personnel in hazmat suits battled the fire on the ground, according to NHK TV.
Local officials and firefighters say the blaze abated on Monday afternoon due to rainfall.
The fire near Fukushima Daiichi is just one of many wildfires that have been raging across the Miyagi, Iwate, and Fukushima Prefectures in northeastern Japan, driven by strong westerly winds.
A fire that broke out Monday in Kamaishi City has burned 400 hectares of forest and was only 300 meters away from houses at one point, the "Asahi Shimbun" newspaper reports.
City officials issued an evacuation order for nearly 350 residents and set up temporary shelters on Monday. No deaths or injuries have been reported.
Japanese Self-Defense Forces are using helicopters to help fight the forest fires threatening residential areas. Some of the fires have been doused.
A blaze in Kurihara, a city in Miyagi Prefecture, was put out around 8:00 pm on May 8, about eight hours after it broke out. The city issued an evacuation order to nearly 400 people.
Eleven buildings, including homes, were destroyed by the blaze, according to the city's fire department. Suspecting the Kurihara fire originated from a bonfire, the prefectural police are investigating.
Another forest fire in Fukushima Prefecture broke out in Aizubange, far from the Fukushima Daiichi nuclear plant. It was brought under control this morning after five Self-Defense Force and prefectural helicopters fought the blaze.
The Japan Meteorological Agency said low atmospheric pressure in the Tohoku region caused the strong westerly winds. Dry winds are causing widespread dry conditions in the region with humidity of only 30 percent along the Pacific coast.
The agency has issued a storm warning for the eastern part of Miyagi Prefecture.
Copyright Environment News Service (ENS) 2017. All rights reserved.
Environment News Service (ENS) © 2017 All Rights Reserved.