SEATTLE, Washington, May 8, 2017 (ENS) – Twenty-six activists were arrested today as local indigenous leaders and Seattle climate activists disrupted business at 13 Chase Bank branches across Seattle in a major escalation in their campaign to keep banks from funding projects catastrophic to the climate and to indigenous rights.
About 200 activists were involved in the 13 protests. At two of the bank branches, several activists locked themselves together and refused to leave, said Emily Johnston, communications manager for 350 Seattle, a nonprofit that organized the demonstration.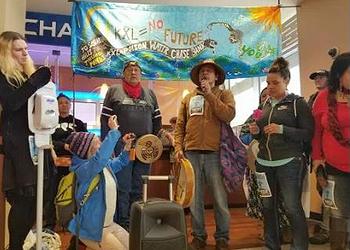 JP Morgan Chase is one of the biggest funders of tar sands development, the activists say.
The bank did not respond to activists' demand two weeks ago that it issue a statement indicating that it would not fund TransCanada's Keystone XL pipeline, or any other new tar sands infrastructure.
The same group helped to lead the successful fight in February to persuade the City of Seattle to take its money out of the Wells Fargo bank due to funding of the Dakota Access Pipeline.
"We have to withdraw our consent from business as usual," says Valerie Costa of 350 Seattle. The nonprofit aims to keep the concentration of carbon dioxide in the atmosphere below 350 parts per million. The concentration hit 400 ppm last year.
"We know that if we stay on the path we're on, it ends in disaster. Today we showed one way that people can withdraw consent," Costa said.
"Chase's money is funding these fossil fuel projects," said Northern Cheyenne Water Protector Ray Kingfisher. "They are killing and poisoning our children, our animals, our water, and our land. We need to stand for our rights and those of our future generations."
The Keystone XL pipeline, rejected by President Barack Obama, was greenlighted by President Donald Trump on March 24. But it still has no project-level loans, and activists say it's not too late to stop the project.
They point out that with a climate denier in office, they have to take the fight straight to the funders, and they say that they intend to make this project as toxic politically as it is toxic for the planet.
Seattle City Councilmember Mike O'Brien was part of today's resistence action. "I'm taking part in this action to make it crystal clear to Chase – if the bank finances KXL or other tar sands projects, the City of Seattle will not do business with it," he said.
"Today was a success. We shut down banks and showed Chase that we're not going to tolerate these toxic projects," said Muckleshoot tribal member Rachel Heaton.
The entire action was live-streamed, with anchors narrating the process and explaining why they believe it's essential to stop business as usual, especially with regard to new tar sands infrastructure.
Speaking of the banks' stakes in the pipelines, 350 Seattle's Ahmed Gaya said, "It's a relatively small percentage of their overall portfolio. If you can make that very small part … have a vastly disproportionate effect on their public image, that's very persuasive."
Activists also pointed out that investors are currently being courted for funding of the Kinder Morgan Trans Mountain pipeline, a controversial oil pipeline that carries crude and refined oil from Alberta to the west coast of British Columbia. The say this tar sands pipeline is also devastating to indigenous rights and the climate.
In November 2016, the Canadian government approved Kinder Morgan Canada's plan to expand the existing Trans Mountain Pipeline system between Edmonton, Alberta, and Burnaby, British Columbia. The $7.4 billion pipeline runs parallel to the existing line. Oil producers say it is needed to get crude oil to export markets.
The project is opposed by tribes as well as environmental, conservation and wildlife interests on both sides of the border. There would be a sevenfold increase in tanker traffic through the Strait of Juan de Fuca and into BC's Burrard Inlet if the pipeline is built.
The activists hope that actions like today's can help to make banks reconsider the calculus of financing such projects.
"They have to care about their reputations," Costa says of the banks, "because that's their bottom line."
Copyright Environment News Service (ENS) 2017. All rights reserved.
© 2017, News Editor. All rights reserved.