Films, Photos, Reports, Websites Enrich World Environment Day
KIGALI, Rwanda, June 4, 2010 (ENS) – The United Nations is observing World Environment Day June 5 with warnings for the survival of the diverse species in the web of life and with hope that people will speak out to protect the planet and its biodiversity.
Rwanda, inhabited by more than 50 threatened species, is the global host for this year's celebrations, which will culminate on Saturday with a ceremony at which high-profile figures such as President Paul Kagame and Hollywood actor Don Cheadle will have the honor of naming baby gorillas.
This year World Environment Day celebrates the diversity of life on Earth as part of the 2010 International Year of Biodiversity, with the theme "Many Species. One Planet. One Future."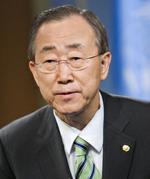 UN Secretary-General Ban Ki-moon (Photo courtesy UN)
"From frogs to gorillas, from huge plants to tiny insects, thousands of species are in jeopardy," warns UN Secretary-General Ban Ki-moon his World Environment Day message.
Species are going extinct at the fastest rate ever recorded, said Ban, who stressed the need to raise sufficient public awareness to stop this "mass extinction."
"I appeal to everyone – from Kigali to Canberra, from Kuala Lumpur to Quito – to help us sound the alarm. Get involved, speak out. Learn and teach others. Show leadership and help clean up."
Today, the UN Environment Programme, UNEP, launched an updated report and documentary warning that unless urgent action is taken to strengthen the enforcement of environmental law and counter poaching, endangered gorillas may disappear from the Greater Congo Basin in the next 15 years.
The documentary, "The Last Stand of the Gorilla, Environmental Crime and Conflict in the Congo Basin," shows how in parts of the Congo Basin forests are experiencing intensified exploitation and logging, even within protected areas.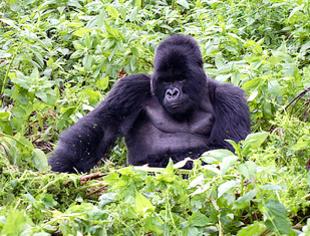 Gorilla in Rwanda's Volcanos National Park (Photo by Jason Hall)
In the DRC, many of these activities are controlled by militias illegally extracting gold, tin and coltan as well as producing charcoal for local communities, urban areas, camps for people displaced by fighting and communities across the border.
A network of multinational companies or their subsidiaries, neighboring countries and corrupt officials are involved in the transportation and procurement of resources which stem from areas controlled by militia, or for which no legal permits exist.
In Kigali, UNEP Executive Director Achim Steiner said in his World Environment Day message that the near invisibility in national accounts of biological diversity and of the economically-important services of ecosystems such as forests and freshwaters is short-changing the planet and its people.
He said, "2010 is a year in which this status quo needs to be firmly and decisively challenged in order to halt the loss of species and catalyze a far more intelligent management of the natural world."
"This is a central thrust of the Green Economy, an initiative of UNEP and a response to the multiple challenges, but also multiple opportunities at hand. It is gaining resonance and traction across the globe among world leaders, businesses, citizens and the UN system."
In New York, Secretary-General Ban called on all UN agencies, funds and programs to become climate neutral and "go green."
Today, the UN launched a new website, Greening the Blue, to improve the UN's communications on its internal sustainability performance. The site shows what is happening to make the UN more sustainable and provides advice to staff on how they can contribute.
It includes the greenhouse gas inventories of 49 UN organizations, as well as detailed tips and tools for staff in how to reduce their personal carbon footprints.
Alain Le Roy, UN under-secretary-general, Department of Peacekeeping Operations, says, "Some studies already show that climate change can be a "threat multiplier for instability" in some countries. It is therefore important and our duty that when peacekeepers arrive in the countries where we operate, they lead by example in our overall environmental management. And as One UN, it is our responsibility to contribute to the Millennium Development Goal 7, Ensuring Environmental Sustainability."
Other World Environment Day events include tree plantings and beach cleanups in Africa and environmental film screenings and poetry contests in Europe, as well as the launch of a global campaign to reduce carbon emissions by 10 percent in a year.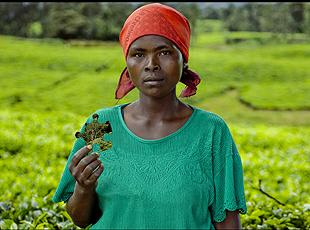 In Rwanda, a woman holds a piece of the puzzle created by Antonio Briceno to symbolize the unity and diversity of life on Earth. (Photo by Antonio Briceno)
In honor of World Environment Day, Nancy Stoner, deputy assistant administrator in the U.S. Environmental Protection Agency's Office of Water, spoke Thursday at the World Environment Day "Water Matters" conference in Pittsburgh. She joined environment leaders from around the world to discuss water safety.
"Millions of Pieces, Only One Puzzle," a new online photography exhibition created for World Environment Day 2010 explores the connections between humans and biodiversity.
The show was produced by the nonprofit group Art Works for Change, who invited the Venezuelan photographer-biologist Antonio Briceno to photograph the people and land of Rwanda.
"This work pays homage to the people of Rwanda," says Briceno. "Despite its dramatic history and the many problems it faces, the country is investing in a green economy where they are confident that respect for and preservation of nature will provide for the best health and wealth of its population. We cheer Rwanda on as an example to the rest of the world."
In another World Environment Day contribution, a panel of 27 of experts assembled by UNEP has surveyed the most authoritative global studies to diagnose which of the planet's many ailments cause the greatest harm, and so should be accorded priority treatment by governments.
Their report, "Priority Products and Materials," launched with the European Commission in Brussels on Wednesday, ranks products, materials and economic and lifestyle activities according to their environmental and resource impacts.
Topping the list is fossil fuel use followed by the mining and energy-intense production of iron, steel, aluminium and plastics, says the panel, co-chaired by IUCN President Ashok Kosla and German scientist Ernst von Weizsaecker.
Sharing the top tier of trouble is agriculture – cited by the panel as one of the three chief causes of humanity's environmental footprint Agriculture accounts for 70 percent of global freshwater consumption and 38 percent of total land use.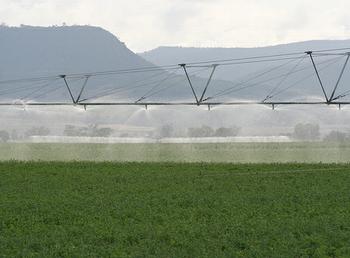 Irrigation on a farm in Warwick, Queensland, Australia (Photo by Stan Cochrane)
Food production causes 19 percent of world greenhouse gas emissions, 60 percent of phosphorus and nitrogen pollution, and 30 percent of toxic pollution in Europe. And, the report notes, meat and dairy products are agriculture's "most environmentally-intensive category." Animals are fed more than half of world crops.
Given a predicted 50 percent population growth by 2050, one solution, the panel says, is to feed people directly using the land and other resources now devoted to livestock. In short, people need to eat less meat, more grains and vegetables.
The report challenges the view that rising affluence leads automatically to environmental improvements. Instead, the panel finds that environmental impacts rise roughly 80 percent with a doubling of income, contrary to assertions that higher wealth leads to a greener planet by affording pollution abatement and efficiency gains.
Von Weizsaecker said, "In the case of CO2, a doubling of wealth leads typically to an increase of environmental pressure by 60 to 80 percent and in emerging economies this is sometimes even higher."
"In the case of food, rising affluence is triggering a shift in diets towards meat and diary products. Livestock now consumes much of the world's crops and by inference a great deal of freshwater, fertilizers and pesticides linked with that crop production in the first place," he said.
Khosla said, "Incremental efficiency gains in for example motor cars or home heating systems have provided some improvements but, faced with the scale of the challenge, far more transformational measures need to be taken. Currently we are fiddling, or fiddling around the edges, while Rome burns."
The report also finds that 20 percent to 30 percent of a nation's environmental footprint occurs beyond its territory due to imports.
"Given this fact," said Khosla, "perhaps the current way of structuring agreements on [greenhouse gas] emission reduction targets is becoming obsolete."
Says lead author Edgar Hertwich, director of the Industrial Ecology Programme at the Norwegian University of Science and Technology, "The report shows that there a steady increase in greenhouse emissions with wealth, both across countries and within countries. Emissions associated with mobility and the consumption of manufactured products increase fastest with increasing wealth, but even for food consumption we do not see any decoupling."
Hertwich said, "Decoupling does not happen by itself, it can only be the result of strong policy action."
Copyright Environment News Service (ENS) 2010. All rights reserved.
Environment News Service (ENS) © 2010 – 2012 All Rights Reserved.