Containment Cap Holding Over Broken Oil Well, But Spill Widens
NEW ORLEANS, Louisiana, June 4, 2010 (ENS) – BP fitted a containment cap over the damaged Deepwater Horizon wellhead last night and has started to move oil up a pipe to a ship at the surface. Still, thousands of barrels of oil are entering the Gulf of Mexico from the leaking well.
National Incident Commander for Deepwater BP oil spill response, U.S. Coast Guard Admiral Thad Allen, told reporters this morning that the reason oil is still gushing into the sea is related to the formation of icy crystals of gas hydrates that blocked BP's earlier efforts to contain the spill.
Hydrates form when oil and water meet under conditions of high pressure and low temperature.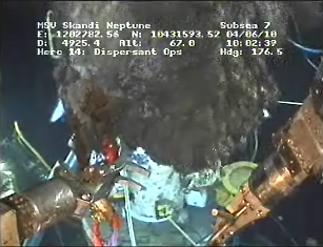 This video image from a remotely operated sub shows the light blue containment cap on the wellhead with oil still gushing out. Valves will be gradually closed to contain more of the oil. (Image courtesy BP)
Allen said the current containment cap system has been filled with nitrogen gas to keep the oil down until technicians are certain the system is free of hydrates. The system began working at about midnight, he said, and, "Through the day, BP will release the nitrogen slowly through valves to allow increasing amounts of oil and gas to go up the pipe."
"We have an ancecdotal report of up to 1,000 barrels a day right now moving up through the pipe," he said. "This is a very rough estimate, just a point they are passing. This rate will increase as the nitrogen is reduced and the valves are closed."
By comparison, the well is leaking between 12,000 and 25,000 barrels of oil a day, according to the most recent estimate by a government-appointed flow rate assessment team of experts.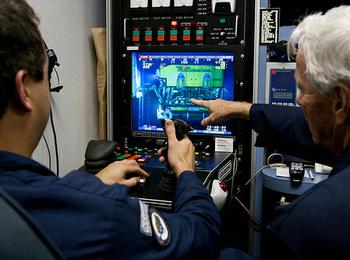 The remote operated vehicle control room onboard the Discoverer Enterprise directly above the leaking well as technicians prepare to lower the containment cap. June 2, 2010. (Photo courtesy BP)
"It is expected to take one or more days for flow rates of oil and gas to stabilize and it is not possible at this stage to estimate how much oil and gas will be captured by this containment system," BP said in a statement today. "All of these operations are complex, involve risks and uncertainties, and have to be carried out by remotely operated vehicles at 5,000 feet under water."
The goal is to bring the oil and gas mixture to the drillship Discoverer Enterprise, which is positioned directly above the leaking well. There, the oil will be stored for refinement onshore, the gas will be flared off, and any water in the mix will be poured back into the gulf.
Admiral Allen said subsea dispersants are being applied at the wellhead "to minimize oil on surface while we shift to the containment cap."
The admiral said that during the last 24 hours, increasingly southerly winds have been pushing the spilled oil to Alabama, Mississippi and Florida as well as into the Louisiana marshlands.
He was frank about the futility of cleaning the oil from the fragile Louisiana marshlands. "There really is no good way to clean up the marshes, mechanical means do as much damage as oil would do in the marshes," the admiral said. "We need to do everything we can to keep it from getting ashore, attack this containment at the source."
"None of us anticipated such a wide area," he said. "We now have a battle line from Terrebonne Parish in Louisiana to Pensacola, Florida, an extrordinarily wide area."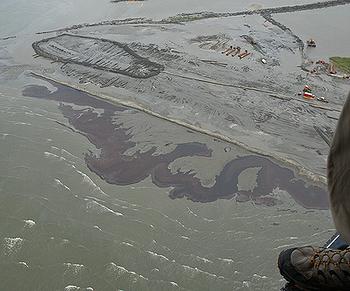 Newly constructed sand berm holds oil spill off fragile lowlands of East Grand Terre, Louisiana. (Photo courtesy Office of Governor Jindal)
"The scope of this thing is starting to extend to where it is unprecedented," said Admiral Allen, who describes the incident not as one massive spill but as a series of smaller spills.
Florida Governor Charlie Crist last night called Allen with a request for more skimmers – boats that remove oil from the surface. "We are trying to source those," said the admiral today.
Governor Crist's request for a fishery failure determination for Florida was granted by the U.S. Commerce Department today. The governor made the request Wednesday, based on the growing impact of the oil spill on fishing communities throughout the state.
"The quick response of the federal government to this request is a positive step towards protecting Florida's hard-working citizens," said Crist. "We are continuing to keep a close watch on the oil spill and are prepared to respond to any impacts we may experience. Florida is still open and we encourage everyone to go fishing and enjoy Florida seafood products."
President Barack Obama travels to Louisiana today to assess the latest efforts to counter the BP Deepwater Horizon oil spill, and to meet with Admiral Allen and state and local officials. The President is scheduled to arrive at New Orleans Louis Armstrong International Airport at 1:20 pm local time.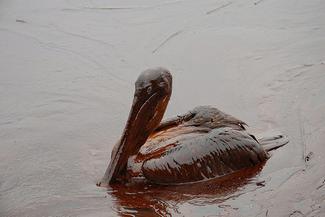 An oil-soaked pelican near Grande Isle, Louisiana (Photo courtesy Office of Governor Jindal)
Meanwhile, at a BP shareholders meeting in London, BP Chairman Carl-Henric Svanberg and Group Chief Executive Tony Hayward said that the company's response to the Gulf of Mexico oil spill is their top priority, along with rebuilding trust and confidence in BP and ensuring that such an accident never happens again.
Both Svanberg and Hayward expressed their deep regret and sorrow for the tragedy.
Hayward said, "Everyone at BP is heartbroken by this event, by the loss of life and by the damage to the environment and to the livelihoods of the people of the Gulf Coast. It should not have happened and we are bound and determined to learn every lesson to try and ensure it never happens again."
"We will stand by our obligations," Hayward said. "We will halt this spill and put right the damage that has been done. We will rebuild the confidence of the American people and the world in BP."
BP has already spent over US$1 billion in gross direct costs for the response, clean up and relief wells, the company told shareholders at the meeting.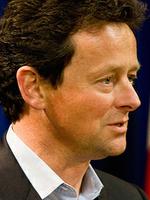 BP chief executive Tony Hayward (Photo courtesy BP)
Spending at this rate is expected to continue for some time beyond successful completion of work to stop the flow of oil from the damaged well. Any fines and penalties would present additional costs.
The costs of containment, removal and clean up are likely to be largely complete in 2010, company executives said. Looking to the future, they said, "The longer-term costs of environmental remediation, claims and litigation are not predictable at this stage, but they will be sizeable and are likely to be spread over many years."
But Hayward said the company is in a good financial position to cover these costs.
In its March presentation, prior to the Gulf of Mexico incident, BP indicated that its cash inflows and outflows were balanced at an oil price of around $60 per barrel. Today, oil prices, while declining, are hovering around $73 per barrel.
"Under the current trading environment we are generating significant additional cash flow," Hayward said. "In addition, our gearing is currently below the targeted range, and our asset base is strong and valuable, with more than 18 billion barrels of proved reserves and 63 billion barrels of resources. All of this gives us significant flexibility in dealing with the costs of this incident."
Hayward announced that BP will create a separate stand-alone organization to manage the company's long-term response once the spill is over.
"This step will ensure that we maintain focus on both the massive response effort and our duties towards our ongoing businesses," said Hayward. "I remain personally committed to making this right."
Copyright Environment News Service (ENS) 2010. All rights reserved.
Environment News Service (ENS) © 2010 – 2012 All Rights Reserved.