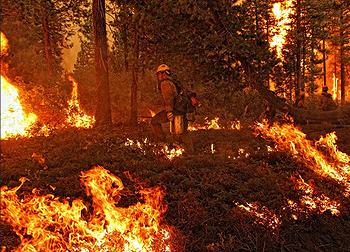 SACRAMENTO, California, September 14, 2015 (ENS) – One person is dead and up to 1,000 homes and buildings have burned down in a fast-moving northern California wildfire that exploded through dry brush and trees, fire officials said.
Started Saturday, the Valley Fire had set 50,000 acres ablaze as of Sunday night, forcing thousands of people in Lake and Napa counties to flee their homes. The cause of the fire is under investigation.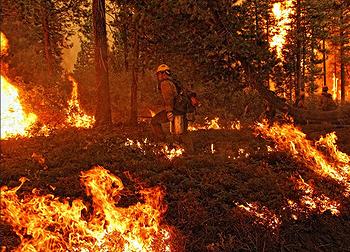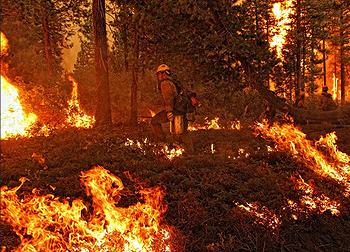 California Governor Jerry Brown Sunday issued an emergency proclamation for Lake and Napa counties due to the effects of the Valley Fire, which he said has burned thousands of acres of land and caused the evacuation of more than 10,000 residents and damage to highways and other infrastructure.
On Friday, Brown declared a state of emergency in Amador and Calaveras counties to help fight the destructive Butte Fire.
The governor has mobilized the National Guard to help the thousands of firefighters already on the front lines.
Cal Fire is investigating the reported death, spokesman Daniel Berlant told reporters. The Lake County Sheriff's Department said it plans to release more information Monday.
Governor Brown said a Federal Fire Management Assistance Grant has been requested and approved for the Valley Fire.
The governor blamed the "extreme drought that has caused millions of trees to die, and increased the severity and spread of the fires throughout the State."
He said that because of the Valley Fire, combined with the drought conditions and other wildfires burning in the state, "California's air quality has significantly deteriorated and impacted public health."
Napa County officials today warned residents in the northern part of the county that smoke from the Valley Fire could be hazardous to their health.
High concentrations of smoke over a period of several hours could harm respiration of vulnerable individuals, said officials with the county's health and human services agency, mentioning particular danger to the young, the elderly and people with lung or heart disease.
Copyright Environment News Service (ENS) 2015. All rights reserved.